Just after Labor Day, the SF Symphony will kick off its season with its annual Opening Night Gala, featuring acclaimed violinist Itzhak Perlman. But the Gala isn't just an opportunity to drink champagne and dance at the tented afterparty on Grove Street.
It also doubles as the biggest fundraiser for the Symphony's educational programs, including its educational collaboration with the San Francisco Unified School district, Adventures in Music (AIM).
AIM, which started in 1988, is turning 30 this year. The program brings small ensembles (like string quartets, brass bands, and more) to perform at every public school in San Francisco. Each year, a common theme is chosen for the performances and discussed beforehand in the classroom.
"If it hadn't been for the Symphony and AIM, our first through fifth grade students would have limited exposure to music," explains Marlene Callejas, principal of Spring Valley Elementary School in Nob Hill.
"Here at our school, we have music education really for fourth and fifth graders, and it's a specialized music program. Children wait until fourth and fifth grade to get their hands on a violin, a flute, a clarinet. With AIM, all our students get to see different musical genres, learn about instruments, rhythms, and meet the artists and musicians up close and personal."
The Symphony also buses in students for concerts at Davies Symphony Hall, where they get to hear the orchestra in its full glory.
"A lot of the kids would never get the opportunity to go there," Callejas said. "They go with their classmates and at the same time as schools from other part of the city, and they all go and hear symphonic music. That's special." 
AIM is filling a gap in the city's public schools, as funding for arts in public schools has dwindled over the last 40 years. Since the passage of Proposition 13 in 1978, school funding in California has declined from roughly 10th in the nation to as low as 48th. 
We asked Ron Gallman, director of education for the Symphony, if there was any data showing that the students who went through AIM 30 years ago have become Symphony attendees as adults. 
"Of course, it's important for us that we create future music lovers and future orchestra patrons," he responded. "But our more immediate concern is to partner with the SFUSD, and to ensure that the kids have music as part of a balanced and well-rounded education."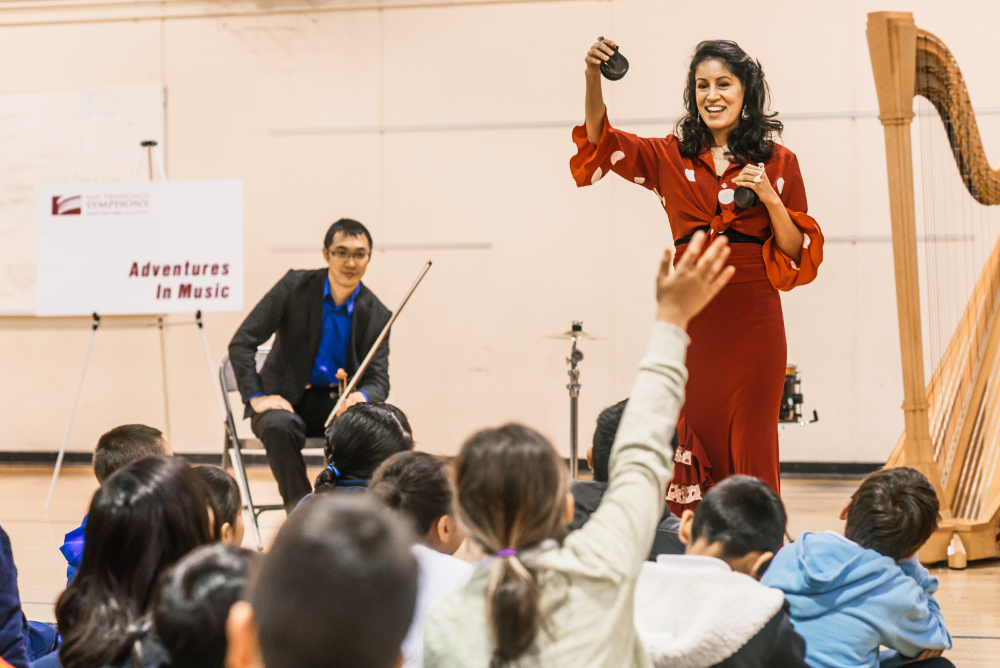 The AIM curriculum is tailored for the SFUSD, with the interdisciplinary theme changing every year.
Gallman recalled a year dubbed "The Sound of Music," in which students learned "what sound is, and the properties of sound. They learn that sound is made of sound waves, of vibrations that are invisible ... When learning about the acoustical properties of different materials, like wood, or membrane, or brass, different instruments coming in that are made of these materials help bring this alive to the student."
Another program, "Brass Roots," explored the history of brass instruments from brass bands to parades to jazz in New Orleans, integrating music with history, geography and social science.
"That shows you the threads that run through it: the big band sound, playing Duke Ellington, an African-American composer who wrote in a distinctive style, the history of the instruments," Gallman said. "When the kids come to Davies, there's going to be a piece that they have heard before and have a relationship with."
Callejas, who has been with the district for 37 years, has seen several famed musicians visit in partnership with the AIM program, including Grammy-nominated percussionist John Santos, who attended Flynn Elementary.
"When he came back to Flynn, some of the teachers were proud of his success," he said. "And the students were so excited. They could envision themselves playing."