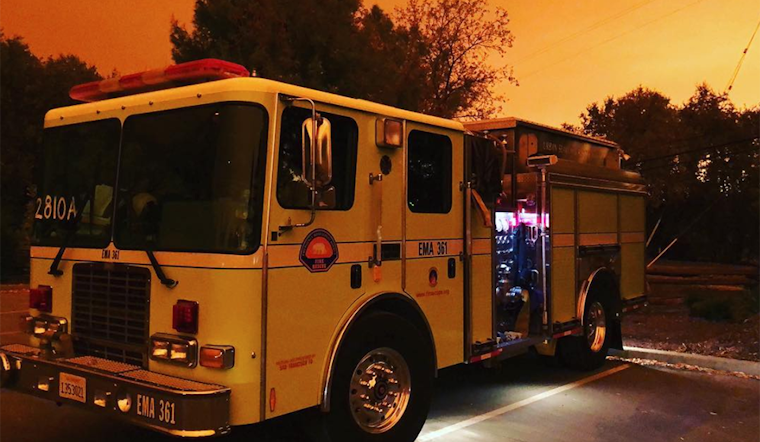 Published on November 13, 2018
As three massive wildfires continue to burn in Northern and Southern California, sending clouds of smoke over the Bay Area, many locals may be wondering how they can help. 
The Camp Fire in Butte County has already claimed the lives of 42 people, making it the deadliest in the state's history. The fire, which has burned about 117,000 acres, is currently 30 percent contained.
There's also the Woolsey Fire west of Los Angeles, which tore through 90,000 acres and is 30 percent contained, while the Hills Fire in the same area burned down 4,500 acres and is 85 percent contained.
Much of the coverage of the fires has noted that donations can be made to the American Red Cross, the United Way of Northern California's disaster relief fund, or for animal lovers, the North Valley Animal Disaster Group.
But for those who'd like to offer some support with a local twist, many businesses and organizations in San Francisco and Oakland are stepping up to support those who lost their belongings and homes. Here's how you can help.
Provide hygiene kits to firefighters
San Francisco-based nonprofit Simply the Basics is working to provide basic need kits to firefighters, including eye drops, protein bars and face wipes. Monetary donations are being accepted to help put those kits together.
Satisfy your sweet tooth for a good cause
This Thursday, November 15, SoMa's Chronicle Books (680 2nd St.) is hosting a bake sale for the Camp Fire victims from 11:30 a.m. to 2:30 p.m. Sweet and savory baked goods, along with allergy-friendly treats, will be available.
Buy art to support relief efforts
Outer Sunset printmakers and painters Eric Rewitzer and Annie Galvin, also known as 3 Fish Studios, have put together a bundle of their artwork "to honor the spirit of the Golden State that we know and love," they wrote. The $35 bundle includes a print, three cards and a postcard, with 100% of the purchase price donated to help relief efforts. According to an Instagram post, the pair have already raised $20,000.
Over in Oakland, woodworker Aleksandra Zee announced that she will donate a part of her proceeds from sales at the upcoming West Coast Craft fair to fire relief efforts.
Foster an animal fleeing the fires
Many displaced families will need to temporarily rehouse their animals as they seek new places to live. Oakland's Rocket Dog Rescue is helping to place some of the animals streaming into Butte County's overflowing shelters, and is looking for foster families to give a temporary home to these pets. If you're interested in taking in a displaced pet, get in touch.
Rocket Dog is also accepting donations of N95 respirator masks, which it will take up to Butte County.
Help raise money at Castro bar
On November 17, Castro bar Hi Tops on 2247 Market St. will donate all of their sales to the North Valley Community Foundation to benefit the victims of the Camp Fire.
Eat Mexican lunch or dinner to support fire relief efforts
Starting November 20, Mexican restaurant Doña Tomás at 5004 Telegraph Ave. in Oakland will donate 10 percent of its proceeds from their lunch and dinner sales to Grant Kerber's GoFundMe. The campaign is set to support the victims of the Camp Fire, the restaurant said in a statement. 
Doña Tomás will continue the support on November 27 and December 3, restaurant representatives added.
---
Have you heard about other donation drives or fundraisers for fire victims in San Francisco and Oakland? Text Hoodline at (415) 200-3233, or let us know in the comments.