This story is part of a series on Oakland's mayoral candidates, in advance of Election Day this Tuesday, November 6. See our previous interviews with incumbent mayor Libby Schaaf and candidates Cat Brooks and Jesse A.J. Smith.
---
"Listen to this," says Saied Karamooz, who is running for mayor of Oakland in tomorrow's election. "There is this thing [for Oakland political candidates] called a 'voluntary expenditure limit,' where you accept a total limit of $400,000 in campaign contributions in exchange for being able to quadruple how much you're allowed to collect from each individual."
Wary of duplicity in campaign financing, Karamooz has refused to sign on to the limit.
"It's a bogus upper limit. No one has ever hit it. People are like, 'Wow, this candidate agreed to a spending limit!' But agreeing to sign a voluntary expenditure limit is like making an agreement with [the] California Highway Patrol that you will not drive 400 miles per hour on the highway, when in exchange, you can drive 80 miles per hour in a school zone."
We sat down with Karamooz at Peet's Coffee in the Cathedral Building in downtown Oakland. Mere days from the conclusion of a long and exhausting campaign, he brimmed with the kind of enthusiasm that's impossible to fake.
Reaching into a satchel hung on the back of his chair, he pulls out a pamphlet. The cover boasts an ornate insignia that reads 'Inshallah,' the Arabic expression for "God willing." 
The pamphlet states in meticulous detail the entirety of his platform, big promises and small. He says he wants to lay his cards completely on the table.
"My objective was to make people say, 'Oh, look at this guy. He put all his details on paper. I'm going to demand that from everybody else,'" says Karamooz. "It didn't happen. It happened some, but it didn't happen enough."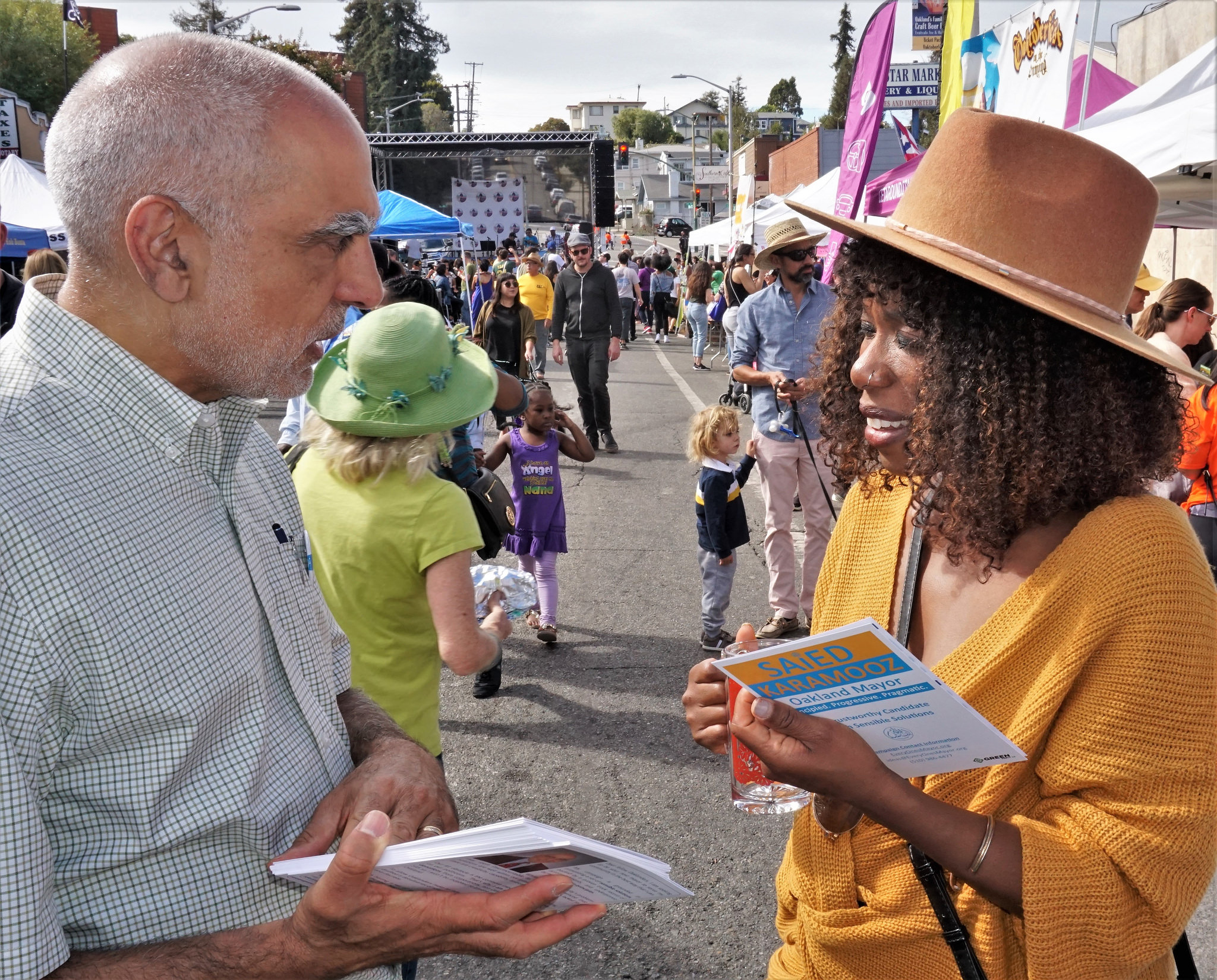 A native of Iran, Karamooz emigrated to the United States in 1978 to escape the Iranian Revolution. Holding master's degrees in business administration and information sciences, he worked as a senior executive at a technology consulting firm and a software company before starting a skincare company with his wife, Vida. 
While he hasn't previously held political office, he has served on the Oakland Privacy Advisory Commission, and is the former president of the Jack London Business Improvement District. He said he's also been active in progressive campaigns, ranging from Fight For $15 to No Coal in Oakland.
His biggest campaign promise is that he will reallocate $75 million from the city's budget to fund jobs, housing, and education. Asked where he would take the money from, he doesn't hesitate to answer.
"A good starting point is drastically reducing unbudgeted police overtime," he says. "In Oakland, we have $250 million budgeted for the police each year. On top of that, they burn through another $30 million of unbudgeted overtime, which is predominantly for crowd control and eviction of homeless encampments."
He also wants to bring the OPD into compliance with its negotiated settlement agreement with the federal government, which has been monitoring the police department for 15 years.
"It's a disgrace that the city of Oakland is one of the two or three cities within the country that is under federal receivership for racially biased practices," says Karamooz. "Every 90 days, the federal government comes in, reviews practices within the OPD, and certifies that we continue to have racially biased practices within our police department."
Asked his opinion on the California Peace Officers' Bill of Rights, which grants special protections and privileges to police officers who are under investigation, Karamooz is uncharacteristically ambiguous.
"Yes, the Peace Officers' Bill of Rights does protect a few bad, misbehaving officers who get away with misconduct," says Karamooz. "But at the end of the day, they do put their own lives at risk. I would try to collaborate with the police union to come up with a different paradigm in policing in our community."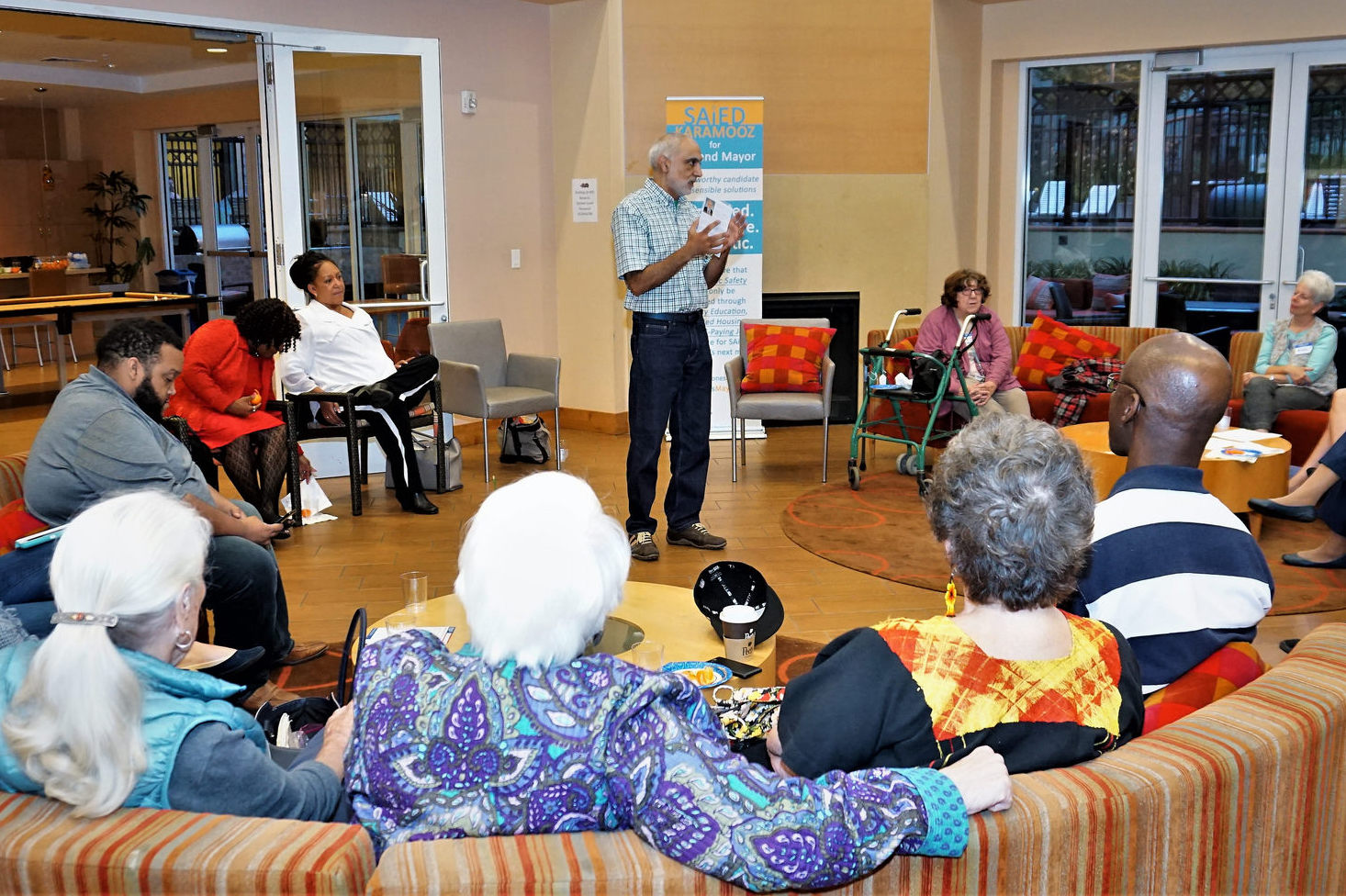 He overflows with enthusiasm again when the question of the housing crisis is raised.
"The name of the game, I tell you, is homeownership," he says. "There's three paradigm shifts that happen when you own a home, economically. Number one, your cost of housing becomes fixed. As opposed to escalating rent, your mortgage is fixed. And Prop 13 fixes your property taxes. Number two, every month, you build a little bit of equity. And number three, you're taking advantage of the appreciation of property values."
"All of those are absent in a renting system," he points out. "We need to promote home ownership."
To fund a citywide transition to home ownership, Karamooz said he looks to other parts of the world for examples and inspiration.
"First off, I would create the Public Bank of Oakland. The state of North Dakota has a public bank, for example," says Karamooz. "The thing that stands between people going from renting to ownership is a down payment and a credit rating. I would use the Public Bank of Oakland to fund low-interest and no-down-payment mortgages for the people of Oakland."
Asked about the potential conflicts of city government being in the real-estate business, Karamooz cites Vienna, Austria, where the government owns 60 percent of homes.
"Market-rate and affordable homes are different markets. It's no different than an SUV and a Corvette — they're both vehicles, but they're completely different markets. It's not an uncommon thing for a city to own a good portion of the homes."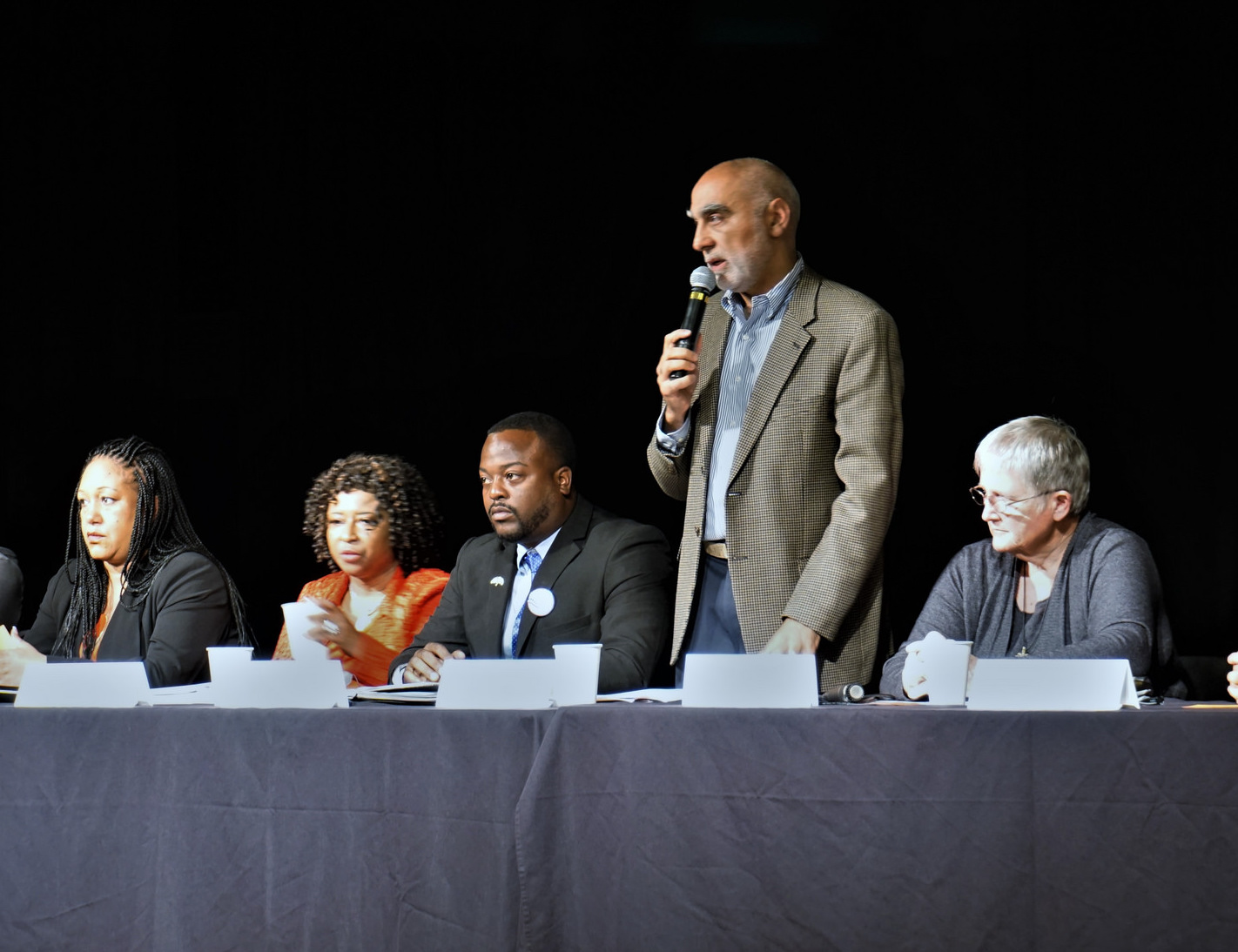 Citing a business background as an asset to governing is typically the domain of more conservative politicians. But Karamooz believes his familiarity with money and management can also boost his progressive platform.
"The mayor's number-one job is ensuring that every morning, 15,000 public employees show up to work," he says. "By the end of the day, we should have generated 15,000 work days' worth of productivity."
"It's all in the execution. People have ideas and talk a lot about them, but staying in the game, the grind of being constantly engaged, watching that thing go forward — that's what makes a difference in an effective executive or a mayor."