Variations of hot pot can be found throughout multiple Asian culinary traditions. But the general concept is the same: start with a simmering broth boiling on a tabletop burner, add in and cook your desired proteins, mix in some veggies and other goodies, such as instant noodles for good measure, and slurp it up with your preferred dipping sauce. 
Beyond pleasing your taste buds, a big part of the experience is cooking with friends and family around the table, and as such, hot pot is surging in popularity around the country. 
To boil it down to the best in the nation, Hoodline crunched the numbers to find the top 50 hot pot spots around the country, using Yelp data and our own special sauce* to produce a data-driven breakdown of where hot pot reigns supreme across the U.S.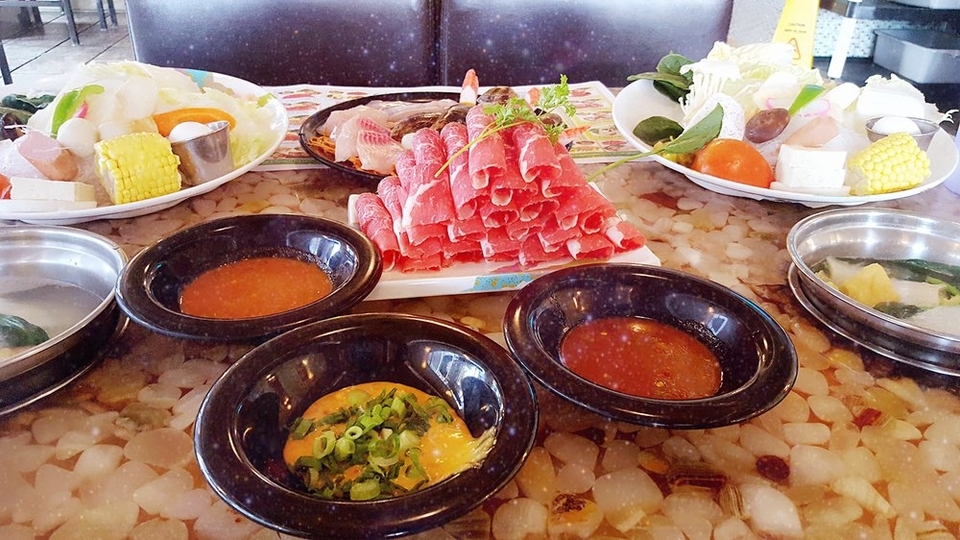 Topping the list is Georgia's J's Mini Hot Pot, located at 2174 Pleasant Hill Rd., Suite 101, in Duluth. With 4.5 stars out of 310 reviews on Yelp, this spot is making an impression with its more than a dozen hot pot offerings, like beef, lamb, snow crab legs; clam, shrimp and fish; and tripe and tendon. A wide array of additional hot pot mix-ins round out the dish, such as wood ear and oyster mushrooms, Chinese vegetables, ramen, dumplings and more. The restaurant also features a quick lunch special option, where you can choose from a streamlined selection of ingredients to create a hot pot for one.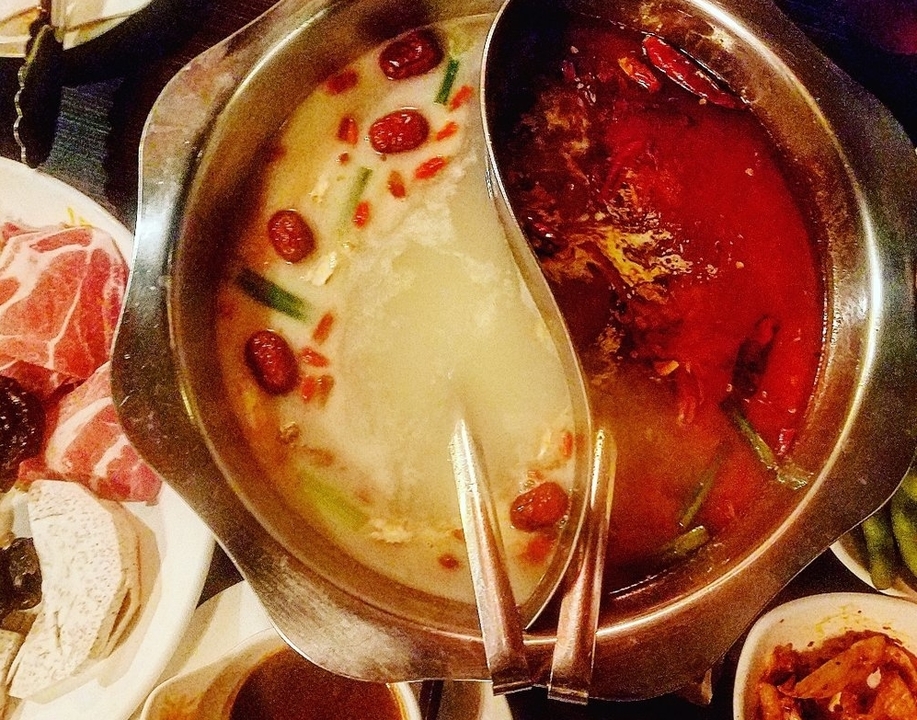 In second place is Philadelphia's Nine Ting with four stars out of 861 reviews. Located in Chinatown at 926 Race St., this all-you-can-eat joint features cuts of thinly sliced beef, chicken and pork, along with pig brain, beef tripe and stomach, sausages and more. Add in veggies like corn, napa cabbage, winter melon and watercress, and finish it off with four different kinds of tofu, instant noodles or udon.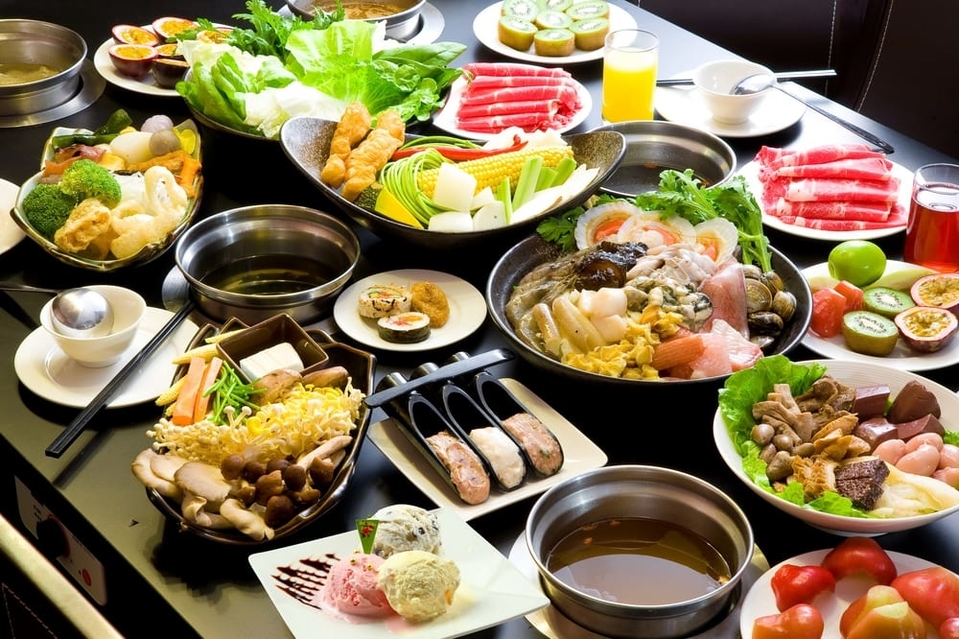 The third-place spot goes to Lemongrass Hot Pot in Boca Raton, Florida, with a solid 4.5 stars out of 340 reviews. Located at 21073 Powerline Road, Suite 41-43, this eatery also features an all-you-can-eat component to its menu. In a hot pot twist, look for fusion-style soup bases to start with like Italian marinara, tom yun-style, Taiwanese hot and spicy and sweet tomato mala.
When it comes to hot pot's popularity across the country, Yelp data show that businesses tagged with the "hot pot" category are largely clustered around urban metros on the East and West coasts, with Texas, Illinois, Florida, Ohio and Hawaii also seeing notable numbers of hot pot-focused restaurants.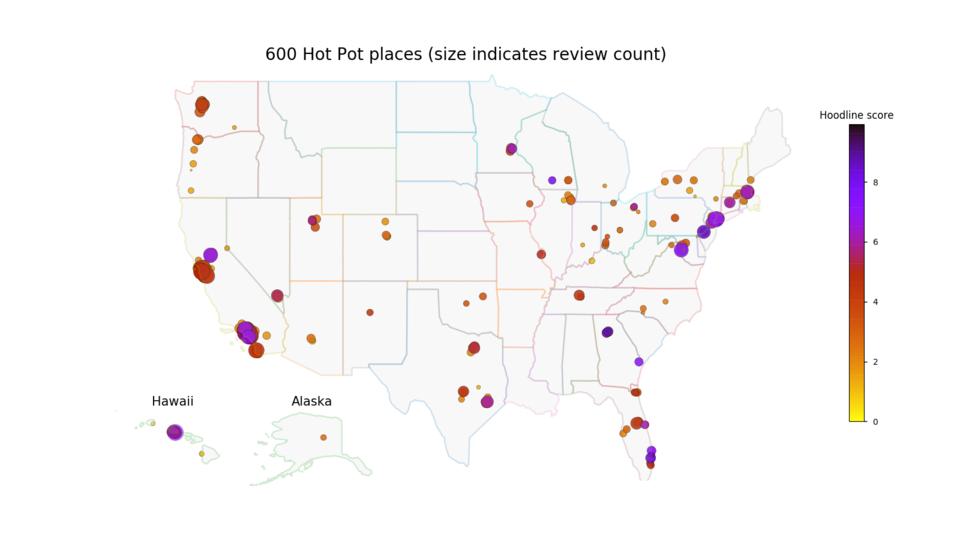 As for relative popularity across the nation, measured by average ratings for a given category, Yelp data indicate that Idaho, Montana, the Dakotas, Arkansas, Mississippi, the Virginias, Vermont and South Carolina may not be home to the biggest hot pot fans, comparatively speaking.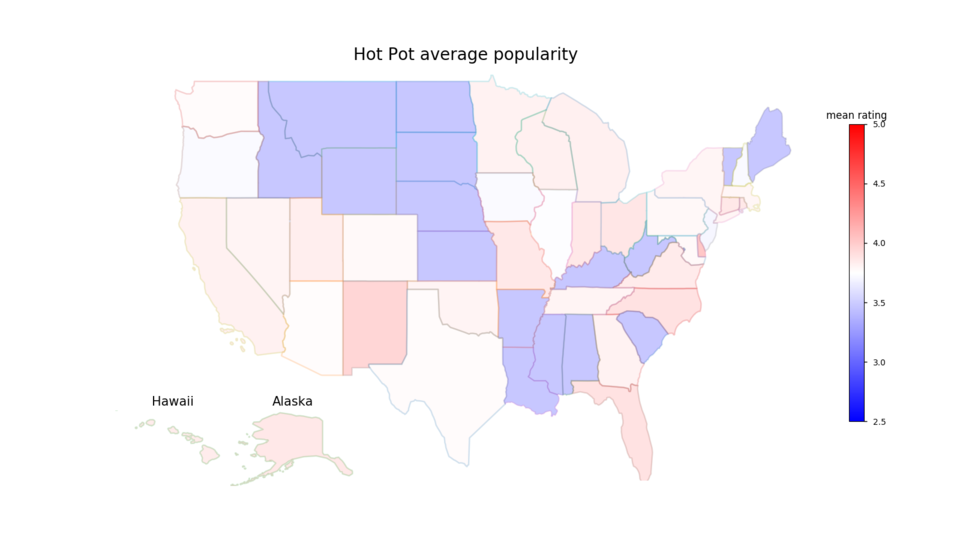 When it comes to how prevalent hot pot businesses are, state by state, Hawaii shows the strongest ratio of hot pot outlets compared to all other categories, with Washington, Massachusetts, California and New York the runners-up. So, Hawaii should be your top stop if you want a diversity of hot pot options to choose from.
Want to know where to score the most satisfying hot pot the country has to offer? Here's the rundown of the 50 American hot pot shops to knock off your bucket list:
---
* To determine "best" businesses, Hoodline took into account the business's Yelp rating and the significance of that rating proportional to the number of reviews, as well as regional variations, to ensure that states with a stronger pattern of reviews don't have an unfair advantage over states that tend to review businesses less frequently.