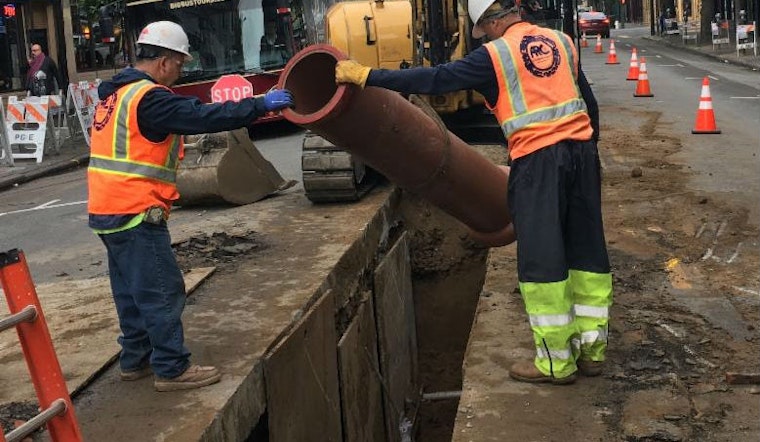 Published on January 24, 2019
Tuesday afternoon saw yet another gas leak during street construction in the Upper Haight.
The leak on the 1400 block of Haight (between Masonic and Ashbury) started around 2:35 p.m., when contracting crews chipping away at concrete slurry near the Topdrawer storefront nicked a half-inch gas service line. 
Tipster Susan S. said that SFFD engines first responded at 2:45 p.m., shutting down the block to traffic for about an hour. She said the area smelled of leaked gas for the duration.
SF Public Works spokesperson Alex Murillo confirmed the leak, and said that his agency is still investigating. 
"Proper protocols were followed, and SFFD and PG&E were notified right away," he said. "There were no injuries, nor property damage. All traffic was detoured at the Masonic and Ashbury intersections until repairs were completed around 4 p.m."
While this is the first construction-related gas leak on Haight Street since October, it's another in a long, long line of gas leaks to occur over the last six years. The most notable period of leaks was in 2015, when the Haight infrastructure project caused five gas leaks and two sinkholes, leading to a public hearing and the firing of subcontractor Synergy Project Management. 
But that hasn't stopped the recurrence of gas leaks, which continued into the subsequent years. This is now the second leak to take place on the two-year Upper Haight Transit Improvement and Pedestrian Realm Project, which commenced this past Labor Day under contractor A. Ruiz Construction Co.
Many of the leaks have forced shelter-in-place and evacuation orders for the street. For this leak, Murillo said, SFFD responders called for a shelter-in-place along the first third of the block, west of the Masonic intersection. 
---
Thanks to tipster Susan S.