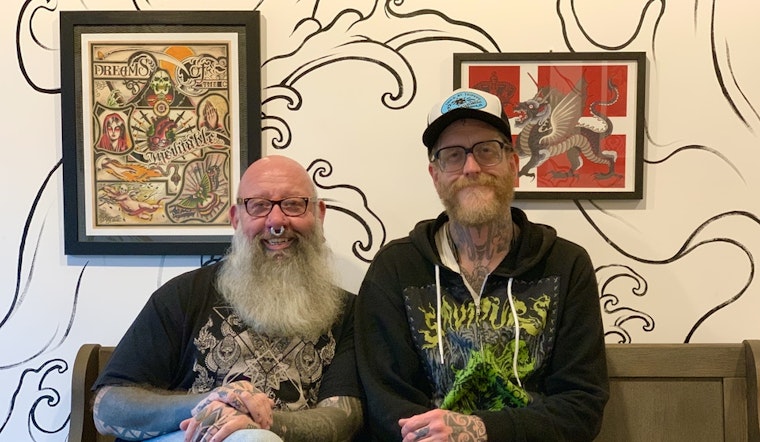 Published on May 22, 2019
After a decade in the neighborhood, the Castro's Bulldog Tattoo has moved into a new, larger space at 2275 Market St. (at 16th St.)
With the new space comes a name change: Bulldog Tattoo has rebranded as Trudy's Tattoo Parlour.
Owner and tattoo artist Gauge Strongarm decided to change the name because "Bulldog sounds super-aggressive."
"I felt like the name was a turnoff," Strongarm said, eliciting negative stereotypes about tattoo shops like heavy metal music and big burly bikers. The business is still named for a bulldog — Strongarm's pet, Trudy — but it aims to be more inviting and welcoming to everybody.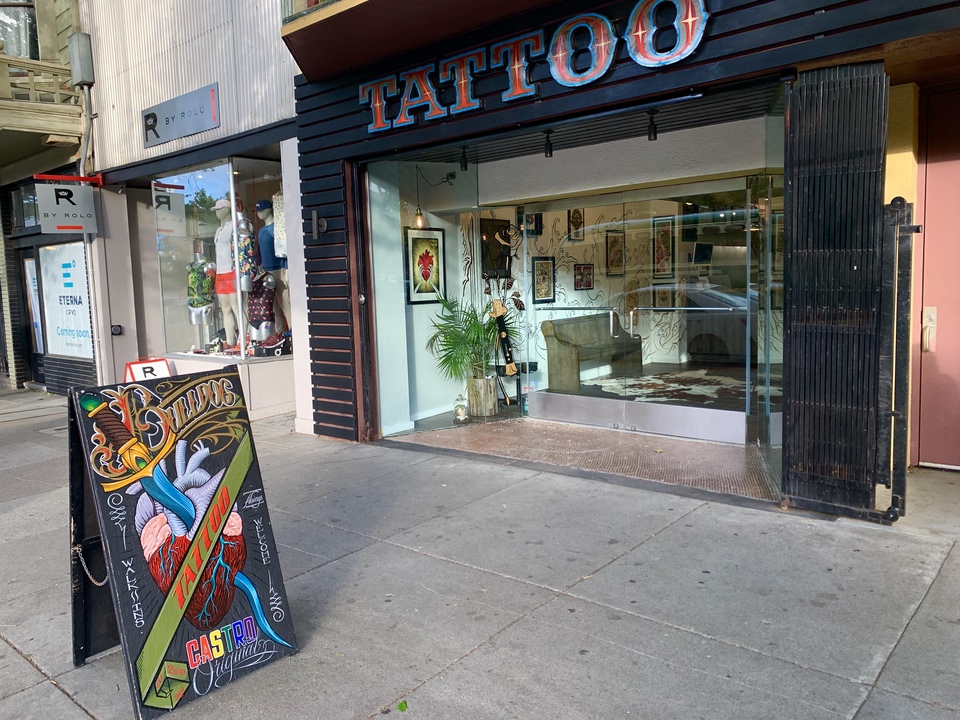 Inclusiveness is important to Strongarm, a transgender man who previously worked as an ER nurse. When he was living in a female body and trying to get started in the tattoo industry, finding an apprenticeship was difficult.
"There were very few females in the industry in the early '80s, and they didn't want any more females," Strongarm said. "They made it damn near impossible ... It took me 10 years to actually get an apprenticeship."
Originally from Seattle, Strongarm moved to San Francisco in 1996 after completing his apprenticeship, and now resides in Oakland. He tells Hoodline he's comfortable using either male or female pronouns, and commonly refers to himself as "a queer tranny."
"I'm an old-school tranny, I'm not hung up on pronouns," he said. "You can call me anything you fucking want as long as you don't call me late for dinner."
But despite being a queer person working in the Castro, he no longer plans to identify the shop as queer-owned and operated in its advertising. 
"I don't want people to get the idea that if they're not queer, they're not welcome," he said.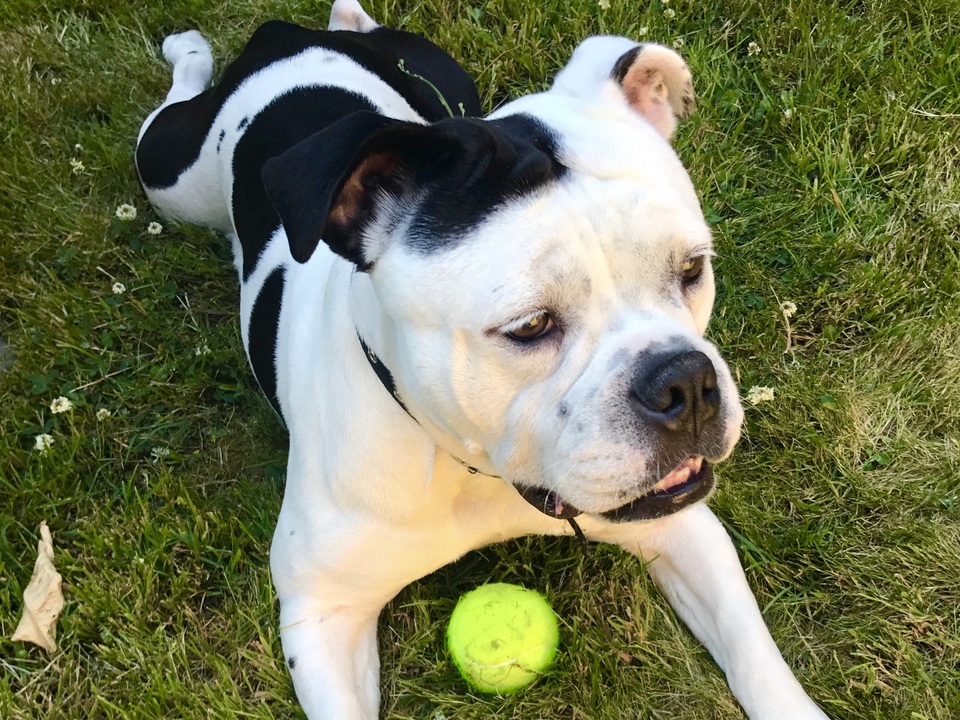 Strongarm has decades of experience in the tattoo industry. He got his start at an Excelsior tattoo shop before moving to the now-closed Erno Tattoo at Haight and Fillmore.
Strongarm then worked at the Haight's Cold Steel and 17th Street's Gotham (now Castro Tattoo) before opening Bulldog Tattoo on his own in 2009. 
He said his training as a nurse has informed his approach to tattooing. "I've always wanted people to feel super comfortable, taken care of and very welcome," he said.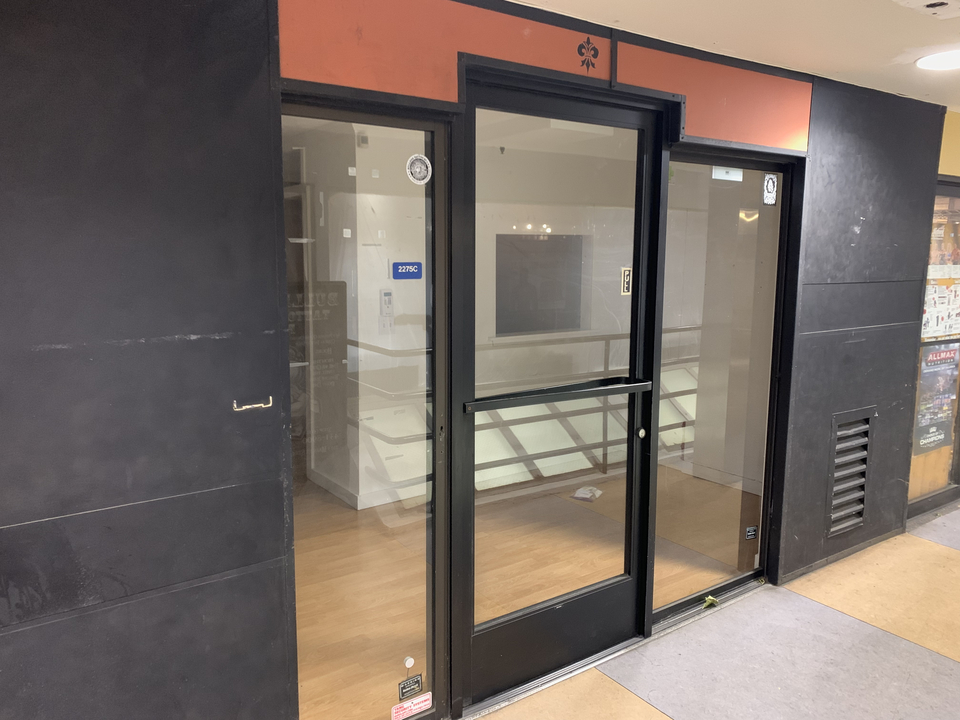 The tattoo parlor's new home is the street-facing space previously occupied by Books Inc., which closed in 2016.
After Books Inc. closed, the space was subdivided by the building owner into four separate businesses. Comic Book Beardies HQ (formerly Whatever Store) and SF Nail Bar currently occupy two of the spaces, while the fourth remains vacant. 
Strongarm decided to move because he "literally outgrew" his old space at 2275 Market St., and needed room to house more tattoo artists. At Trudy's, he will add an additional two tattoo artists for a total of six, including Strongarm.
Trudy's move was significantly delayed by construction issues caused by the building's owner. Strongarm originally signed a lease to move into the larger space two years ago, but the work on the space done by his landlord's contractors failed inspections by the Health Department and Department of Building Inspection, and had to be completely redone. 
Luckily, Strongarm was not required to pay rent on the new space while the work was redone. He signed a five-year lease with a five-year extension option, and plans to extend immediately.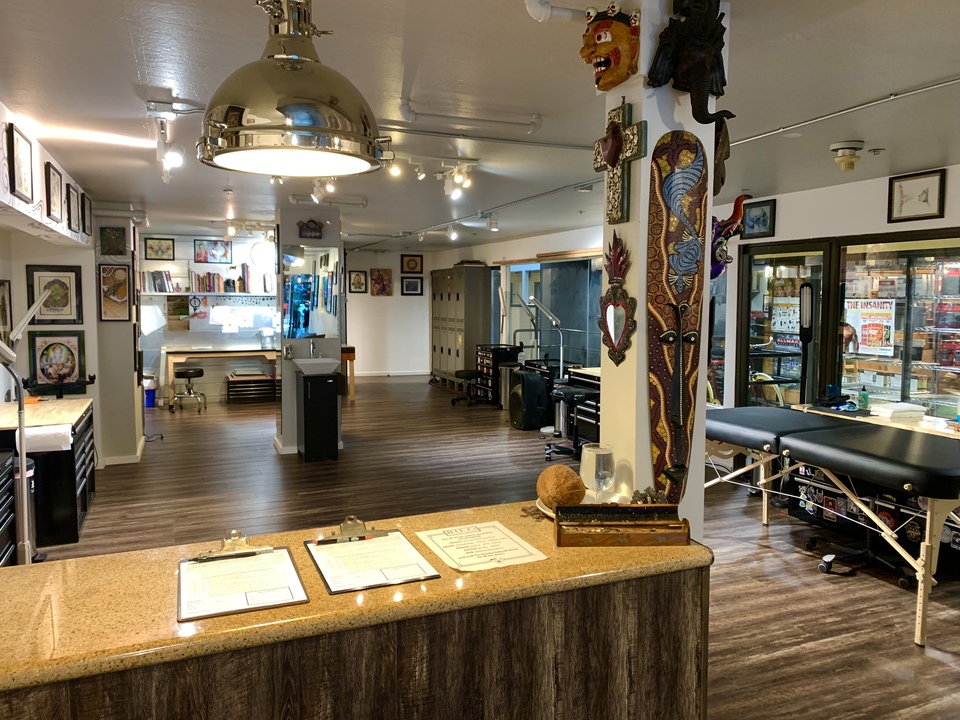 While many small businesses have moved out of the neighborhood in recent years, Strongarm said that maintaining his business in the Castro was important.
"This is my community," he said. "I feel like I have a service to my community."
As part of his commitment to the Castro community, he gives away $2,000-3,000 worth of tattoos annually to any organizations that ask. He says it's especially important to him in the current political climate.
"With the Trump administration taking away so much right now, I didn't want to abandon that," he said.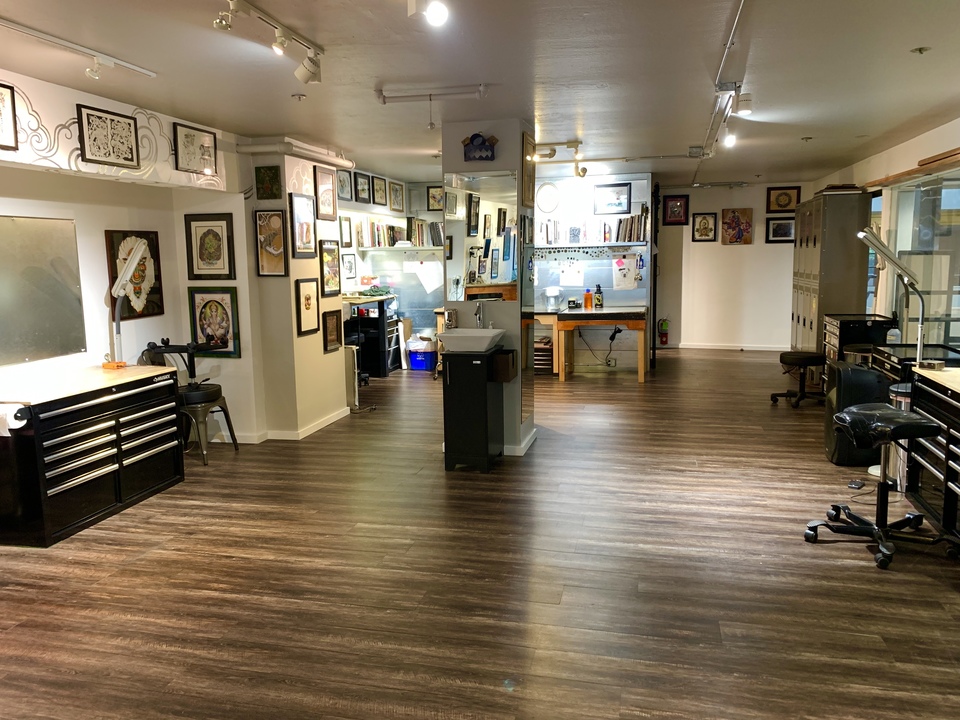 Strongarm said he loves the large windows in his new storefront, which allow people to look in like a fishbowl.
"I want all the windows I can get," he said, noting that he also opened up the windows that line the hallway.
Tattoo artist Joshua Hughbanks, who's worked at the shop for four years, says he's looking forward to increased business and a larger workspace.
"We're such a good family here, we all get along," said Hughbanks, adding that customers have provided lots of positive feedback about the new space and name change. 
To celebrate the shop's move, Strongarm will be hosting a Pink Saturday party at the shop on Pride Weekend, coinciding with the end of the Dyke March. Everyone is invited to stop by Trudy's for a drink and food, starting at 4 p.m.
"I want an old-timey feel to it," said Strongarm of the new space. "I want people to feel welcome."