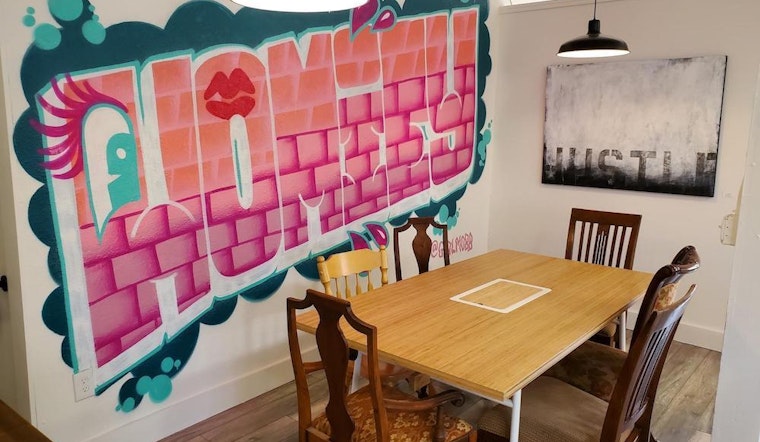 Published on June 11, 2019
Last month, entrepreneurs Ebonie Cobb and Amelia Vergel de Dios debuted Homiey, a new coworking space in Fruitvale. 
Located at 1232 Fruitvale Ave., a five-minute walk from the Fruitvale BART station, Homiey is a black-owned, woman-owned, queer-owned business that offers remote workers, entrepreneurs, and nonprofits an affordable place to work in Oakland.
In addition to workspace for approximately 45 people, Homiey also offers a 1,200-square-foot event space, which can be rented out by the hour, half-day or full day, and a shared backyard that accommodates 20 people.
Cobb, who is from Chicago, has lived in the Bay Area for five years. She was between jobs and deciding on her next move when she came across the empty Fruitvale space, which she thought could serve as a sister location for Homiey, which was started in Chicago's Humboldt Park neighborhood by her brother and sister-in-law. 
East Oakland's Fruitvale district is one of the last ungentrified neighborhoods in the city, Cobb says. While Homiey is open to all, she's particularly excited about creating a space for the black and brown entrepreneurs who make up so much of the community, allowing them to showcase their talents.
"The area is great," says Cobb. "There's a lot of family-owned businesses nearby and nonprofits. I thought we could put a Homiey here for people who need a home base."
She partnered on the project with Vergel de Dios, who grew up in the South Bay and has a background in administrative and customer service work. With Vergel de Dios serving as Homiey's community manager, the pair got the new business up and running in about a month.
Having worked at a WeWork before, Cobb understands the coworking space from the inside out. Now under the umbrella of The We Company, the coworking giant is expected to IPO this year, and has been increasingly targeting large companies over individuals, leasing space to major players like Adidas, IBM and Microsoft.  
While Cobb acknowledges that WeWork is largely responsible for the popularity of shared workspaces, she's eager to target a different demographic, people from the community seeking an affordable space to work solo and network with others like them.  
"We're just looking to find a good community of people who want to work and grow together," she says.
Homiey memberships are priced accordingly. A WeWork "hot desk" in Oakland runs around $400/month, while an unlimited monthly "Big Homiey" membership is just $175. Those who don't want to commit to a full membership can drop in for $5/hour or $10/day, or pre-purchase 10 visits a month for $75.
For many, paying for workspace at any price is a luxury. Aware they "put 'affordable' in [their] title," Cobb and Vergel de Dios are instituting a system called "Fund-a-Homiey," which provides memberships to those in need with funds they raised from their community on Kiva. Each time someone purchases an annual membership, the pair will grant a free membership to a community member.
Aspiring "Fund-a-Homiey" recipients will be asked to complete a short application and attend a meeting to discuss their vision, plan or project, why they want to join and how they might benefit from having a dedicated workspace.  
In addition to the "Fund-a-Homiey" memberships, Cobb and Vergel de Dios also plan to host free events for nonprofits once a week. For hosts who are unable to afford their event rental fees ($75 per hour on weekdays and $100 per hour on weekends), they are open to discussing fundraising options, like selling tickets, to cover the cost of renting the space.
Cobb credits "the power of Oakland" for making Homiey Fruitvale a reality. Local graffiti artist Girl Mobb tagged the walls of the main workspace and conference room, a local installation artist donated a phone booth, and Grand Lake nonprofit Uhuru Furniture provided repurposed dining tables for the work stations. Oakland-made Hella Tea stocks the kitchen with flavors like "NipsTEA Hustle" and "I Got Chai On It."
Oaklanders are also responsible for all of the art on the walls, including abstract paintings from La Tinta by Fernanda Martínez and vibrant portraits by Tiffani Rahmati, who hosted her first art show at Homiey a few weeks ago.
Each quarter, Cobb and Vergel de Dios plan to host an art show in the space. The next call for artists will be in July, with the show itself to be held in August. Between shows, selected artists will be invited to display work for sale at Homiey.
While their coworking business is growing, Cobb and Vergel de Dios say they're getting the most requests for event space. Last week, they began hosting Crush Comedy, a weekly Thursday-night open mic for women and queer comics run by comedians Alexandria Love and Kelly Anneken.  
Cobb has faith that Homiey will find its footing in Fruitvale.
"I trust that we're in a good community," she says. "If we keep to our purpose, we'll be OK."