On Friday, city officials cleared their second and third Castro-area homeless encampments in two weeks, focusing on an area that had attracted neighborhood attention.
The encampments cleared were located at 16th and Market streets and the 200 block of Sanchez Street (between 15th and 16th streets). They follow an August 11 encampment clearing on Noe Street, along the fence line of the California Pacific Medical Center's Davies campus.
While encampments around 16th and Market have been problematic for years, they've become more entrenched during shelter-in-place. Neighbors' longstanding concerns about noise, drug dealing, trash and human waste intensified further after a homeless man nearly burned to death at the intersection in late June. 
The encampment clearing was "a long time coming," said District 8 Supervisor Rafael Mandelman. "It felt like a weight had been lifted off the neighborhood."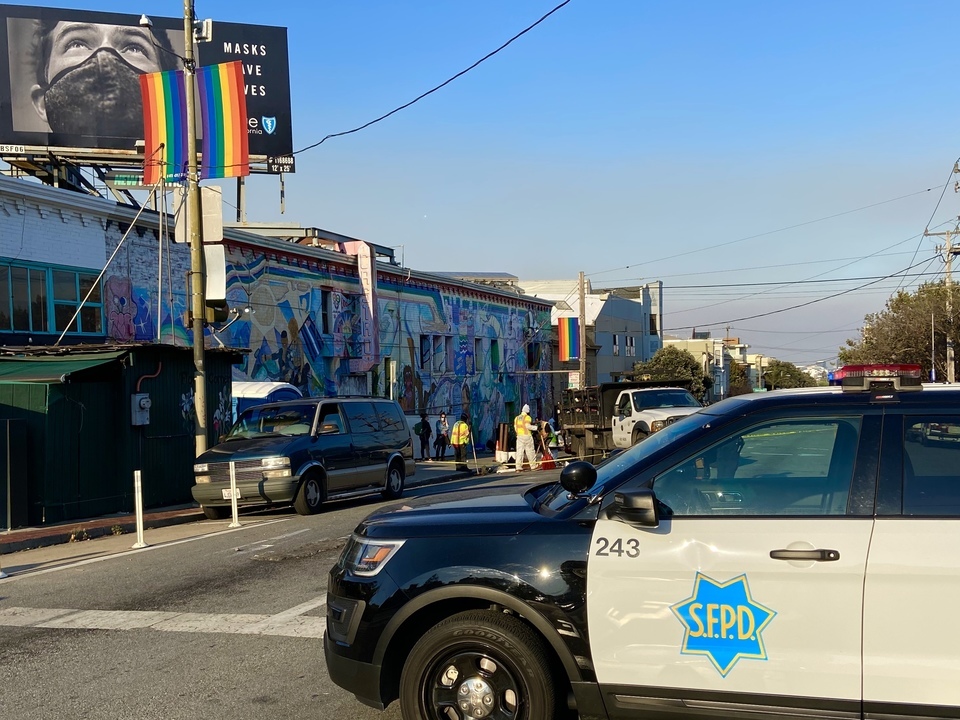 A SF Department of Emergency Management (SF DEM) spokesperson said that there were eight homeless campers at the 16th and Market site, and six on the 200 block of Sanchez.
Six of the 16th Street campers and two of the Sanchez campers accepted alternative shelter; the remaining six declined services and left the area. The spokesperson declined to specify where the campers who accepted shelter were taken.
According to Mandelman, one of the homeless people tested positive for COVID-19, and is currently receiving care at a local hospital.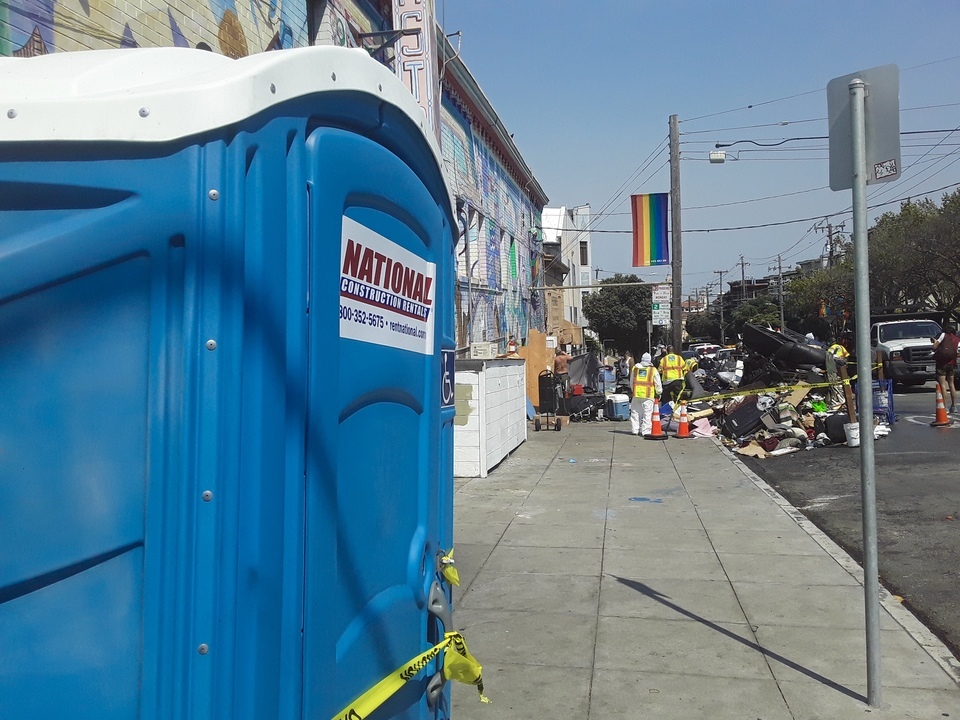 City agencies spent more than 12 hours clearing the two encampments, and "they found a lot of troubling stuff," Mandelman said. 
According to multiple Hoodline tipsters, homeless people from the encampment had broken into the former Harvest Ranch Market space (2285 Market St.) and created a meth lab.
Mandelman confirmed that homeless people were found inside the Harvest space, but could not say whether drugs had been manufactured inside. SFPD spokesperson Tiffany Hang said she could not confirm whether citations were issued for drug-making paraphernalia. 
About halfway through the 12-hour clearing process, firefighters had to be called to the scene to extinguish a blaze that ignited in a Public Works packer truck. 
Hang said that the fire was caused by a camper who was blocking a fire door, and declined shelter services. Public Works officials disposed of hazardous materials as they bagged and tagged the person's property, but something inside the bags caught fire once they were inside the truck. 
Many neighbors say they're relieved to see the encampments cleared. Since shelter-in-place began in March, SF 311 has seen 257 complaints for blocked sidewalks, encampments and "homeless concerns" along 16th Street, and 124 complaints for the 200 block of Sanchez Street.
Joe C., a homeowner on the 200 block of Sanchez, said the encampment there had been around since the beginning of the year. Once shelter-in-place started, it began to grow, and its conditions worsened.
"It started with one tent, then seemed like another each week," he said, adding that campers had shoved neighbors and fought with each other so aggressively that the police had to be called.
Joe said he empathizes with people living on the street, but that he and his neighbors had reached a tipping point.
"The bottom line is that using the sidewalks and common areas on our street as junkyards, living spaces and toilets is not a viable alternative to the shelters and services that the city offers," he said.
He added that he was pleased to see city workers had already come back to Sanchez Street over the weekend, clearing homeless campers who had returned.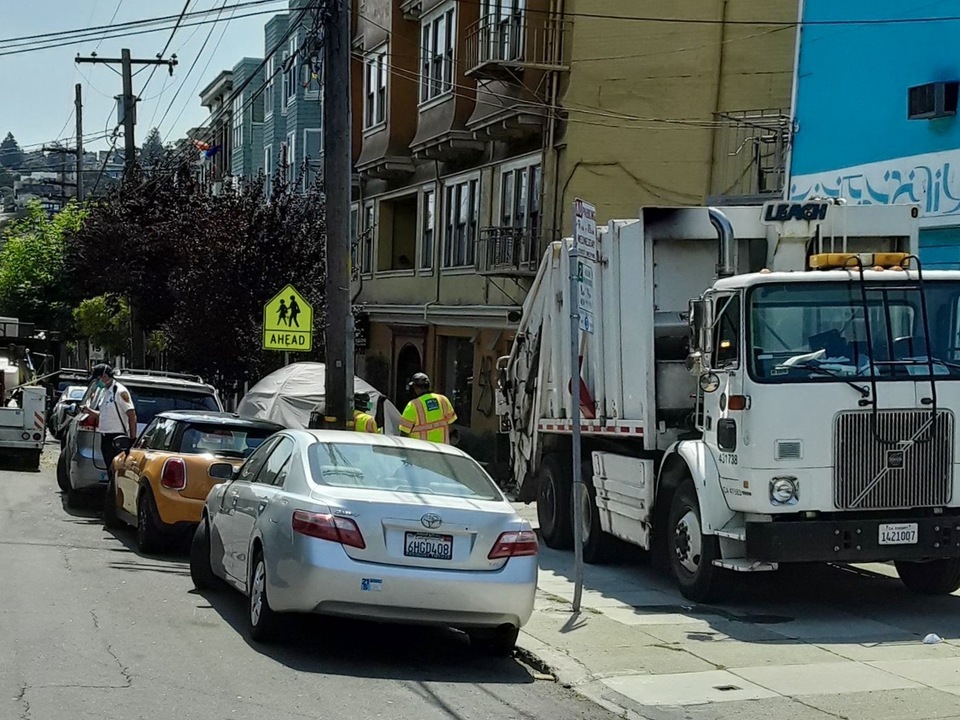 Even with the dissolution of the three Castro and Duboce Triangle encampments, others remain in the neighborhood, including outside the former Pottery Barn (2390 Market St.) and in the parking lot behind Joe's Barbershop and Lucky 13 (2140-50 Market St.). The DEM declined to comment on whether it plans to clear them in the coming weeks.
One option for mitigating the remaining camps could be reviving the Castro's safe sleeping site, which housed 36 homeless campers on the playground of Everett Middle School (450 Church St.) for five weeks in June and July.
But while the Mission is set to get a new sleeping site (1515 South Van Ness Ave.) at the end of August, and another is being considered for the border of the Mission and Hayes Valley (33 Gough St.), the DEM has no plans to resurrect the site at Everett, a spokesperson said.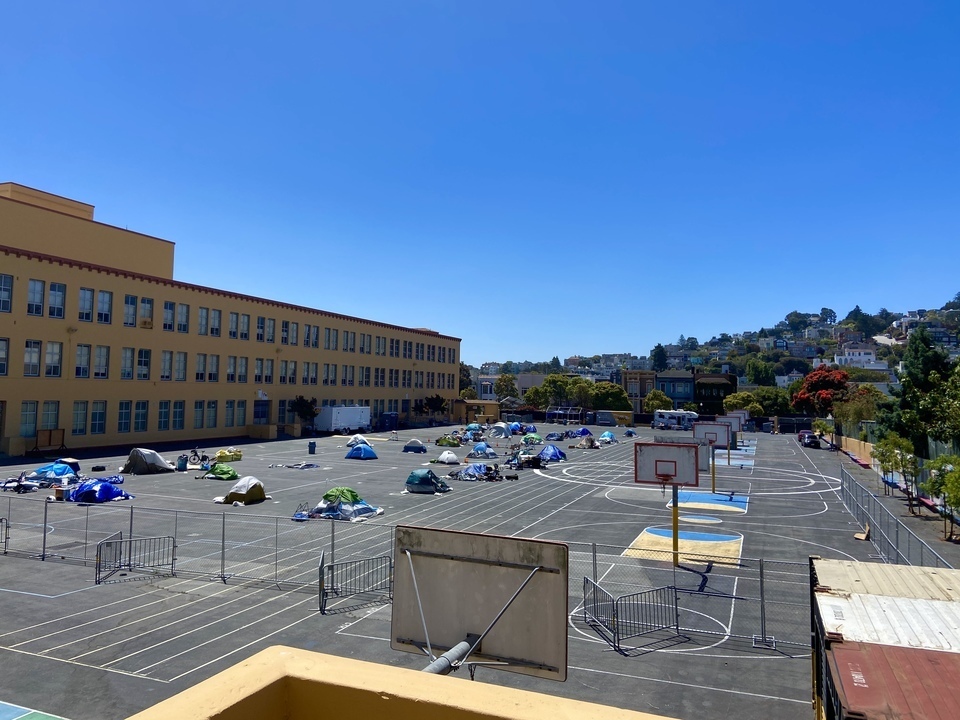 Currently, Everett's playground is being used by the San Francisco Unified School District to disperse back-to-school materials for remote learning, including backpacks, books and tablet computers.
In June, officials released a list of 42 potential safe sleeping locations around the city, including Everett. However, they have yet to utilize any of them — both the South Van Ness and Gough sites weren't on the original list. 
"The city continues to not have enough sanctioned spaces for people to go to," Mandelman said. "It's just not right to allow encampments to fester."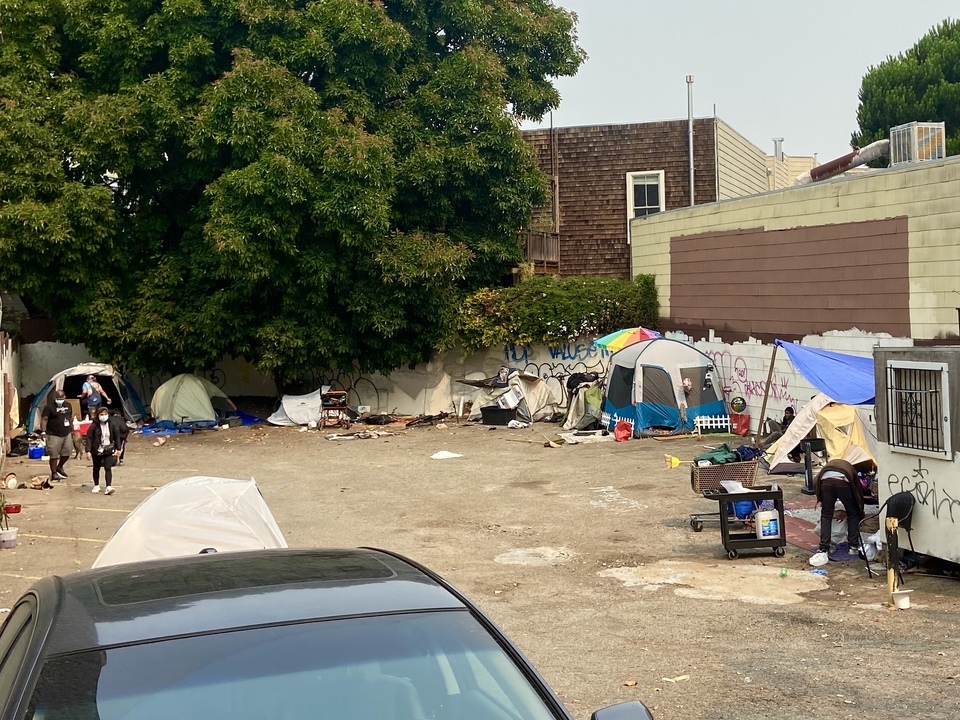 Mandelman expressed his gratitude for city workers' efforts to clear the encampments: "They left the neighborhood in much better shape."
And despite the homelessness challenges still facing the Castro, "I feel like we're moving in a positive direction," he said.
"But it's not done. It's a citywide challenge."