Last week the Castro/Upper Market Community Benefit District (Castro CBD) announced plans to seek immediate community feedback regarding a controversial proposal to install a private network of security cameras.
The move comes after the Castro CBD initially stated it would only seek community feedback once the grant funds were approved, however the CBD changed their approach after significant community pushback from both the Harvey Milk LGBTQ Democratic Club (Milk Club) and the Castro LGBTQ Cultural Historic District (CQCD).
Hoodline readers will recall it was back in September that we broke the news about the proposal.
According to presentation materials about the proposal made to the Castro CBD, property owners are "encouraged" to contribute funds to cover 10 percent of the implementation and ongoing maintenance costs of the camera network.
The Castro CBD plans to host a virtual town hall and send out an online survey to area merchants regarding the proposal to install 125 security cameras around the neighborhood. Andrea Aiello, executive director of the Castro CBD, tells Hoodline that a date for the virtual town hall and sending out an online survey has not been set at this time.
However, it appears the Castro CBD intends to move quickly as it has set a December 31 deadline to decide on accepting the grant and installing the cameras.
Ahead of the Castro CBD meeting on Thursday, the CQCD sent a letter in opposition to the proposal. During the meeting, CQCD interim secretary Stephen Torres read the statement.
"The [Castro LGBTQ Cultural District] board has concerns about the oversight, funding, and implementation of a system that would capture images of our community members to be easily accessed by private, law enforcement, and federal entities at a time when black and brown bodies are in peril by these same organizations," the statement reads. [Full disclosure: Steven Bracco, Hoodline's Castro reporter, is a board member of the CQCD.]
"The board feels strongly that funding of this size would be better applied to community resource programs that can help address some of the issues this company's system purports to solve," writes the CQCD. "At the bare minimum, we urge the Castro CBD to hold a public forum to adequately inform the community and allow the opportunity to the members to weigh in on this proposal before the Castro CBD would implement such a costly and invasive system that would directly affect the communities that we collectively claim to serve and advocate for."
Similar to a letter sent earlier this month by the Milk Club, both groups have also opposed the proposal due to privacy concerns. "We have serious concerns about this proposal and urge you to reject these funds or at least postpone your vote to allow a broader coalition of concerned citizens to engage in this process," wrote the Milk Club executive board.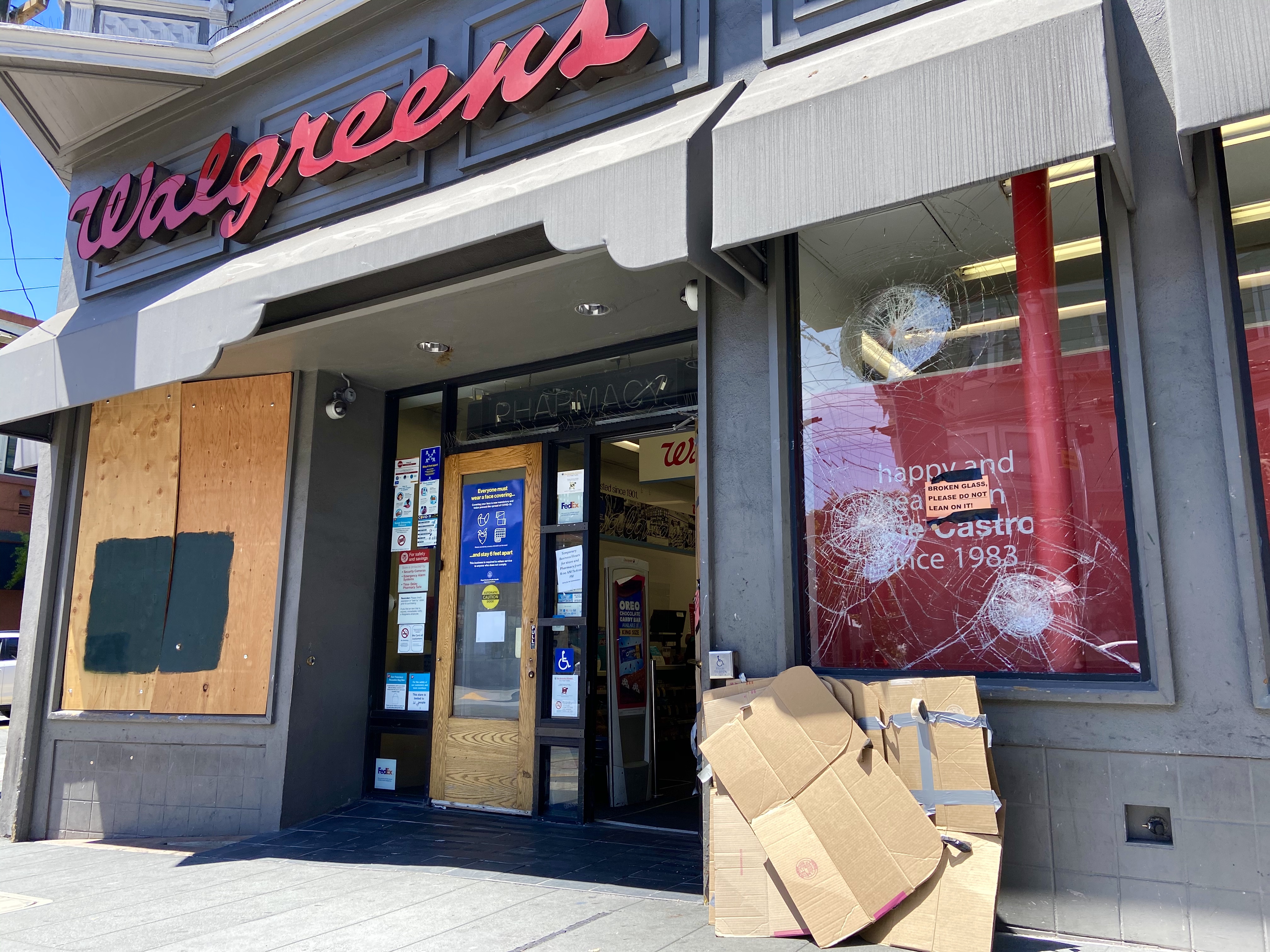 Walgreens' smashed window, after vandalism on May 31. | Photo: Steven Bracco/Hoodline
Earlier this month, three protestors along with the American Civil Liberties Union (ACLU) sued the city of San Francisco after police reportedly accessed the Union Square Business Improvement District's (Union Square BID) network of security cameras to surveil and prosecute protesters and alleged looters back in late May, during the unrest following the killing of George Floyd.
According to the CQCD, District 3 Supervisor Aaron Peskin is working on legislation to address these issues. "[Supervisor Peskin] is working on legislation to curb abuses of these surveillance networks and to ensure that members of the public have an opportunity to weigh in before they are acquired in the first place," wrote the CQCD.
Hoodline reached out to Supervisor Peskin's office for comment but did not receive a response.
During the meeting, Castro resident Jacob Schaaf spoke in support of the security cameras. Echoing many residents and business owners' concerns about public safety and petty crime Schaaf said, "I've never felt more unsafe in the Castro."
"I'm here because of the conditions we have in our community," said Schaaf. "I know a number of folks are opposed to cameras but it is part of the process and I am here to voice my support for what we do going forward."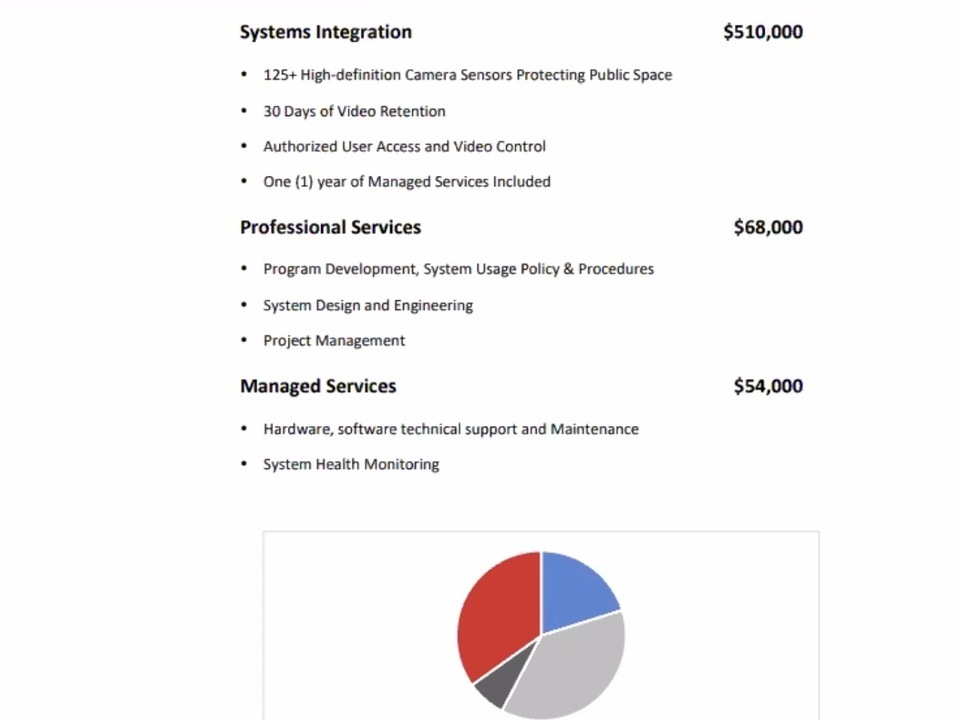 Proposed security camera budget from AVS. | Image: AVS
Hoodline readers will recall the Castro CBD delayed a vote on October 8 to accept the $695,000 grant from tech entrepreneur Chris Larsen after community members raised concerns during a virtual board meeting. Larsen will also be contributing $50,000 to the Castro CBD's new Public Safety Ambassadors program.
For comparison, Larsen's $745,000 contribution represents a nearly 90% increase to the Castro CBD's projected fiscal year 2020-2021 budget of $866,274.
"The whole concept of a sophisticated surveillance network throughout the Castro is contrary to the values that have made the neighborhood a beacon for creative self-expression," said Lee Hepner, Milk Club board member, at the time.
"Today, San Francisco bans SFPD use of facial recognition, but once those cameras are installed, they will collect images at high enough resolution... to identify you not just from your face but from the patterns in your iris," stated Jesse Oliver Sanford, CQCD board member.
Larsen, who lives in Russian Hill, is the co-founder of cryptocurrency company Ripple and mortgage lender E-Loans. Larsen has been gifting security cameras to the city's community benefit districts since 2012, and his network now spans 1,000 cameras.
Larsen's camera network is currently spread across five CBDs in the city: Fisherman's Wharf, Japantown, Mid-Market, the Tenderloin and Union Square. The Lower Polk CBD also has a camera network that was funded independently.* If approved, the Castro CBD would be the seventh district to be wired with these cameras.
Maintained by Mission-based Applied Video Solutions (AVS), the cameras would only be installed on homes and businesses with their owners' permission. Aiello says the exact number and locations of the cameras haven't been decided this early in the process. If it moves forward, they'd likely be chosen based on crime data and consultations with SFPD.
The next meeting of the Castro CBD is scheduled for November 3, however security cameras are not scheduled to be discussed at any upcoming meetings. All CBD virtual meetings are open to the public.
During the meeting, the Castro CBD also addressed two other community safety measures.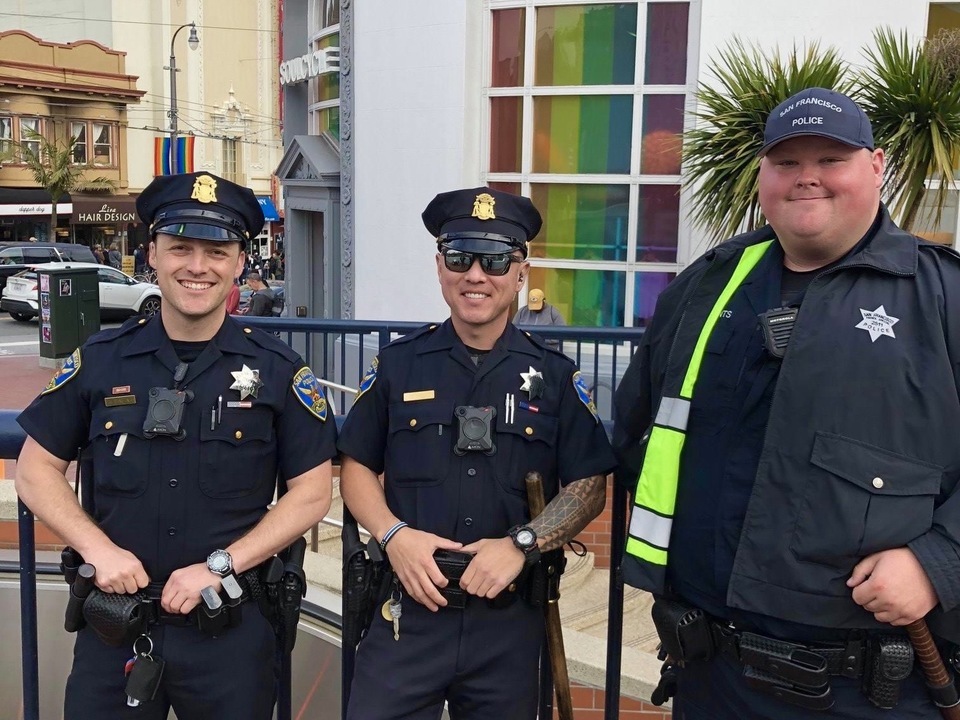 SF Patrol Special Police Officer Cody Clements (right) with two SFPD beat officers. | Photo: Ken Craig/Facebook
Once on the chopping block due to budget constraints, the San Francisco Patrol Special Police (Patrol Special) has been funded through a grant to the Castro CBD's Castro Cares program from the Office of Economic and Workforce Development (OEWD).
Patrol Special Officer Cody Clements, and three other officers, patrol public spaces, including Jane Warner Plaza, Harvey Milk Plaza, the bikeway behind Safeway, and public restrooms.
In September the Castro CBD was notified it secured the $215,000 Castro Cares grant, however, Patrol Special funding was in jeopardy as the CBD discussed how it wanted to allocate the funds.
Earlier this summer the Castro CBD was renewed by property owners for another 15-year term. The CBD uses tax assessments from these property owners to clean and brighten the neighborhood, promote public safety, and lobby for larger, city-funded improvements. Those city grants, along with private donations, help flesh out its overall budget.
But with the city's budget deficit ballooning and a recession underway, the CBD has had to cut back significantly on spending. Its 2020-2021 budget is $866,274, down from $1.1 million in 2019-2020. (That's despite a sizable increase in the assessment fees on property owners, which rose from $534,000 in fiscal year 2019-2020 to $819,403 in fiscal year 2020-21.)
Ultimately after receiving overwhelming support from community members and businesses, Patrol Special services were funded by the Castro CBD. The one-year contract beginning January 1 was funded for $101,658. Previously a portion of Castro CBD assessment dollars had gone towards the PSP funding, however now the entire program will be funded through the Castro Cares grant.
"I'm really thankful and looking forward to starting next year and providing public safety to the neighborhood," said Clements.
"Getting the full support from the Eureka Valley Neighborhood Association (EVNA), SFPD Mission Station, SFPD's Pride Alliance, neighbors, and businesses really means a lot as a small biz owner myself," said Clements.
Currently, the Castro CBD and Clements are working on a new contract. Potential modifications include the Patrol Special having more of a visual presence by being on foot more often, distributing the Patrol Special dispatch number to area merchants and residents, and using a smart system for data collection and tracking officers while on duty.
The Castro CBD is also set to begin a new pilot Public Safety Ambassadors program.
Not to be confused with Castro CBD's Ambassador program Aiello says, "Public Safety Ambassadors are unarmed personnel trained in de-escalation strategies, crisis intervention, and social service outreach."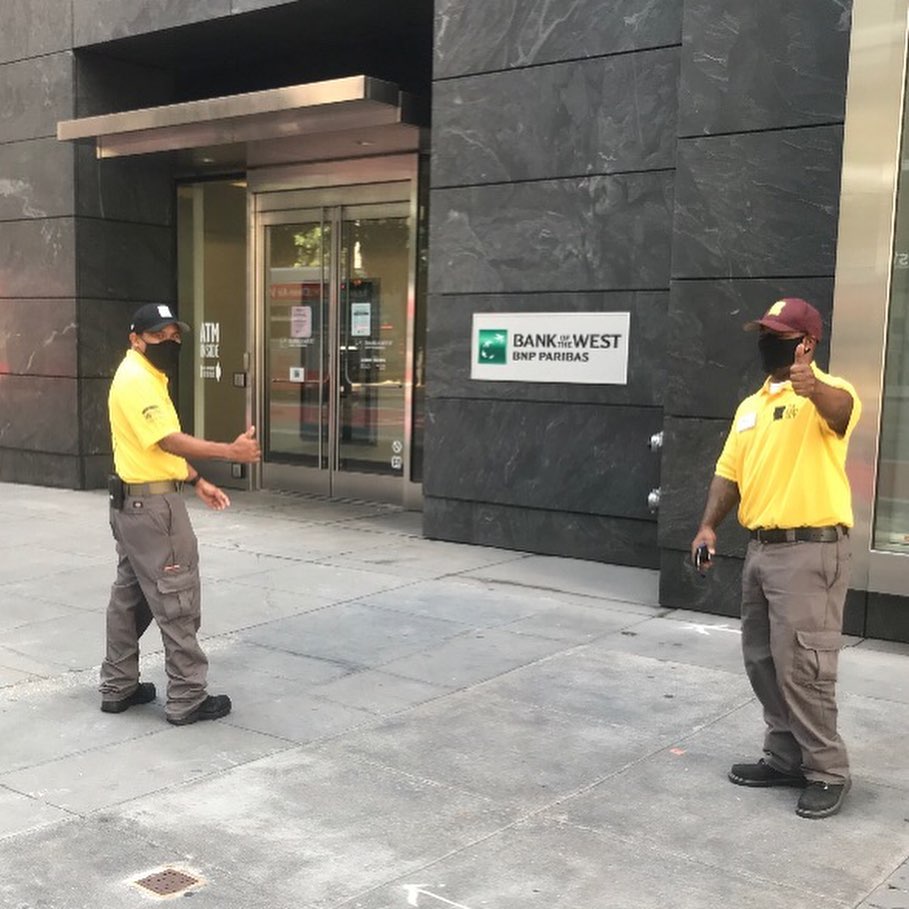 Two East Cut CBD public safety ambassadors. | Photo: East Cut CBD/Facebook
Aiello explained that the ambassadors are "deployed to bike and walk the district in a uniform to help deter crime and provide merchants and residents with an added feeling of safety in the neighborhood." While in uniform, they will not be wearing a police-style uniform.
Public safety ambassadors can currently be found in the Union Square BID, East Cut CBD, and Uptown-Oakland Downtown CBD.
"They are a highly trained extra pair of eyes and ears on the street," Aiello added.
Funding for the program was allocated by the Board of Supervisors through an additional OEWD grant during the budgetary add-back process in September.
Tom Temprano, legislative aide for District 8 Supervisor Rafael Mandelman, tells Hoodline the pilot program has been funded for two years; $195,000 for fiscal year 2020-2021 and $200,000 for fiscal year 2021-2022.
Initially, the Castro CBD will hire a team of two ambassadors working five days a week says Aiello. If the first year is successful, the Castro CBD hopes to have enough funding to expand to seven days a week. According to Aiello, Castro CBD's ultimate goal is to have two teams of ambassadors working seven days a week. "But that would require a significant amount of funding," said Aiello.
Aiello is hopeful to have the program up and running by early January 2021. Salaries for the public safety ambassadors are currently unavailable as Aiello says the contract is currently out to RFP (Request for Proposal).
Update 10/28: At Tuesday's Board of Supervisors meeting, District 3 Supervisor Aaron Peskin introduced a legislation-drafting request to City Attorney Dennis Herrera that would subject CBDs and BIDs to the same good government standards as city departments and other public offices. Peskin shared this statement with Hoodline:
Earlier this year, it came to light that security cameras owned and operated by the Union Square Business Improvement District had allegedly been used by the San Francisco Police Department to actively surveil peaceful protesters. We don't need to point fingers or adjudicate those allegations in order to suggest that all of this could be avoided if CBDs and BIDs were subject to the same surveillance oversight provisions as the City and County of San Francisco, as set forth in Chapter 19B of the Administrative Code. I also don't think we need to wait for controversy to strike in order to subject CBDs and BIDs to the same good government standards set forth in Chapter 12X of the Administrative Code, which prohibits contracting in states with restrictive abortion laws, or anti-LGBTQ laws. CBDs and BIDs are creatures of state and local law. They live and die by our pen, and public tax dollars supplement their special property tax assessments. In the spirit of expanding the reach of standards that our government has sought through legislation to apply to itself, I think it is more than reasonable to hold these quasi-public entities to those same standards. I look forward to engaging with CBD leaders and the Office of Economic and Workforce Development on this legislation.
Update 12/4: The Castro CBD has released its survey seeking feedback from the community members, merchants, and property owners regarding the security camera proposal. The 26-question survey is currently available through Survey Monkey.
Survey question topics include demographic information, experience with crime and reporting incidents to police, privacy concerns, and overall impression of security cameras.
Andrea Aiello, Castro CBD executive director, tells Hoodline there is currently no deadline to complete the survey. "We don't want to release a hard deadline due to the holidays," Aiello told Hoodline. "We will have another push for the survey in early January."
Aiello tells Hoodline that the results will be made public however, a release date is not yet known. "We will be analyzing the data and sending our analysis before the CBD board makes a decision," said Aiello.
Originally the Castro CBD set a December 31 deadline to decide on accepting the grant and installing the cameras however Hoodline has learned that has now been delayed. "I don't anticipate the board of directors will make a decision until February or March of 2021," said Aiello.
A date for the previously announced virtual town hall has not been set.
*This article has been corrected to show that the Lower Polk CBD independently funded their camera network, which was not funded through a grant from Larsen.