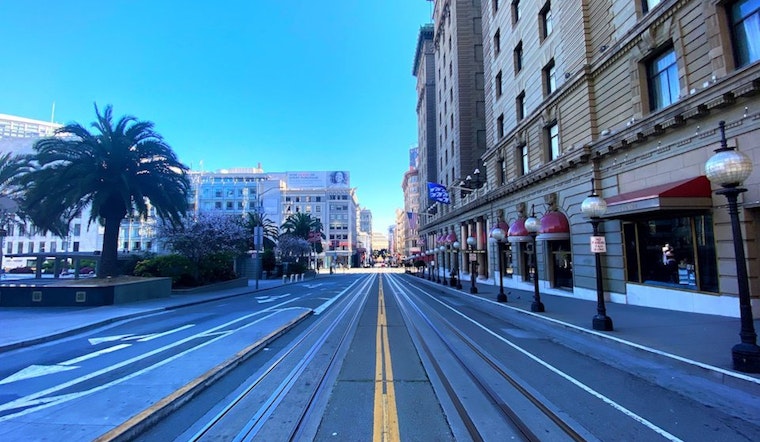 Published on October 07, 2020
Three protestors are suing the city of San Francisco after police reportedly accessed a privately-run network of security cameras to surveil organized protests against police violence this summer. 
The protesters, represented by the Electronic Frontier Foundation (EFF) and the American Civil Liberties Union (ACLU), say the San Francisco Police Department (SFPD) violated a city ordinance intended to monitor the use of surveillance technology to protect citizen's privacy.
The lawsuit, filed today in San Francisco County Superior Court, builds off of information initially uncovered by the EFF in July. 
EFF found that SFPD sought historic and real-time surveillance footage from a network of more than 400 cameras in the Union Square Business Improvement District's (USBID) service territory. 
Like other similar districts in the city, the USBID receives fees via tax assessments from property owners in its service territory and uses those funds to clean the sidewalks, boost security, provide neighborhood greeters, and install improved trash cans. 
Businesses in the Union Square area also have high-definition video surveillance cameras that "allow remote control of zoom and focus capabilities, and are linked to a software system that can automatically analyze content," according to the complaint filed today. 
The lawsuit seeks a judgment that the SFPD violated San Francisco's Surveillance Technology Policy Ordinance that was unanimously adopted by the Board of Supervisors in 2019. The ordinance requires city departments to receive Board of Supervisors' approval prior to "acquiring or borrowing new surveillance technology."  
The complaint states that between May 31 and June 7, the SFPD sought and was granted remote, real-time use of USBID's network of cameras, without the Board of Supervisor's knowledge or approval. All three of the plaintiffs in the case – Hope Williams, Nathan Sheard, and Nestor Reyes – participated in several protests against police violence during that timeframe.  
The complaint also seeks an injunction preventing the SFPD from using or borrowing any private camera network without prior Board approval, and for the city to pay the plaintiff's legal fees. 
"It is an affront to our movement for equity and justice that the SFPD responded by secretly spying on us," Williams said in a press release about the lawsuit issued by the ACLU and EFF. "We have the right to organize, speak out, and march without fear of police surveillance."
While it's unclear from the suit what footage the SFPD captured, it clearly involved at least one of the plaintiff protesters in question. 
Speaking to the Chronicle, EFF attorney Saira Hussain, says this use of surveillance technology "makes it so that people think twice before they venture out to these protests. It makes the job harder for organizers like Hope, who try to bring people out and get them to participate and speak up to try to end police violence against Black communities."