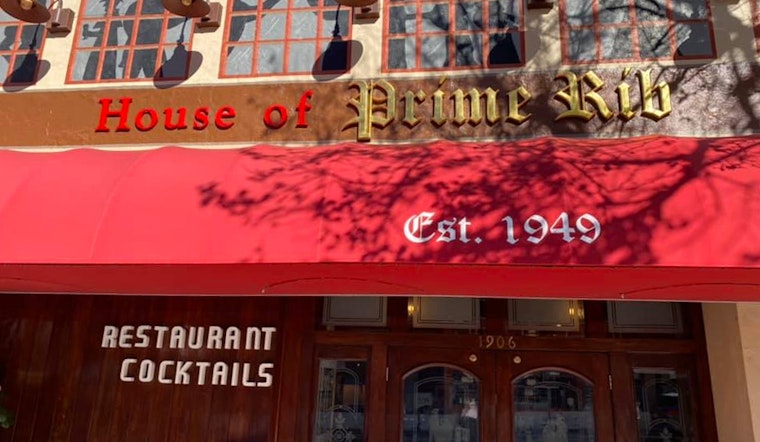 Published on October 06, 2020
The House of Prime Rib is waking from its pandemic slumber, and surely a large segment of San Francisco meat-lovers is excited to have a martini and a hunk of hand-carved prime rib in one of those leather booths again.
The storied, well-loved, 71-year-old temple of beef announced on Twitter last week that it will reopen later this month, on a date not yet specified, under the city's new guidelines for indoor dining.
"We are very happy to be allowed to reopen," 81-year-old owner Josef Betz (or his son Steven, the restaurant manager) wrote. "After 6 months of being closed, it will take us roughly 2 weeks to rehire employees, properly age the beef, and prepare the salad dressing."
Many Twitterers got stuck on that last part, retweeting this message over 190 times with some asking why it takes them "10 days to 2 weeks to prepare the base for our dressing." Betz tells Eater that this is how long the dressing base takes to ferment — but for the curious, there are recipes for mock versions of the dressing on the internet, which involve vinegar and Lawry's seasoned salt but no lengthy fermentation, here and here. Getting the real thing, though, prepared tableside in a spinning bowl over ice: priceless.
The House of Prime Rib is among a lucky subset of San Francisco restaurants that are large enough to be able to seat more a dozen or 20 people under the current COVID guidelines — and old enough where rent likely isn't a major factor, or a factor at all, in their bottom line. At 280 capacity in normal times, House of Prime Rib will be welcoming in around 70 guests at a time — and with the added benefit of those big booths, some distancing is already built into the space. Even so, Betz says, "We're going to lose money, no question about it."
Betz further explains to Eater that the restaurant will institute temperature checks at the door, and a new filtration system on the air conditioner, as well as offering hand sanitizer with a "two-hour lifespan."
Reservations aren't yet available on OpenTable, but they'll likely go fast once they are — even if a large segment of San Franciscans, like many restaurateurs, are taking a wait-and-see approach with this indoor dining stuff, just in case it blows up in everyone's faces with an uptick in coronavirus cases. You can also call 415-885-4605 for more info, and maybe someone will answer in the coming days. According to Yelp, the scheduled reopening date is October 15.
The House of Prime Rib opened in 1949, on the steakhouse strip of Van Ness Avenue, and the place retains much of its original mid-century character. Betz has owned the place since 1985, and many fans say it's been since then that the place has truly shined, and kept up the quality of the food. It's been a fixture on the Chronicle's Top 100 for years, and it would have been again this year but the restaurant was instead included among 13 restaurants not yet open for takeout or anything (or permanently closed) when the paper published its "Top 87" last month.
Notably, for about 30 years, the restaurant has donated an annual prime rib dinner serving some 3,000 people on Christmas Eve at Glide Memorial Church in the Tenderloin.
And you can expect Betz to be around to see the House of Prime Rib emerge from its long closure. As he told the Chronicle back in 2011, "I won't retire. I'll expire."