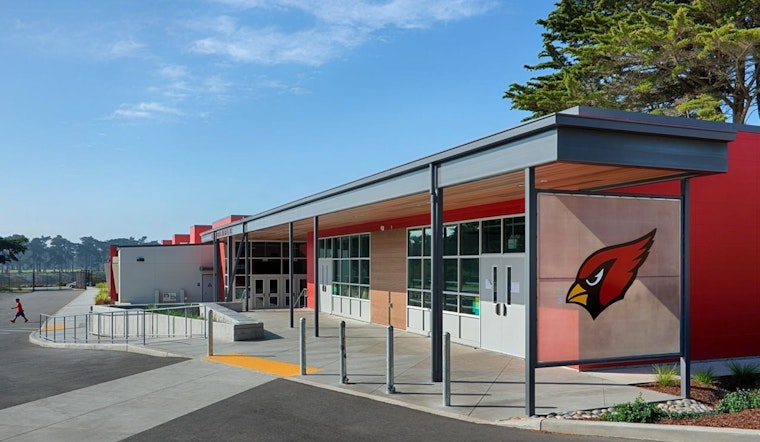 Published on October 13, 2020
Lowell High School has long been considered a bastion of elite public education in San Francisco, a status many fear is now under threat.
The COVID-19 pandemic has rocked just about every norm, including how students learn and how their success is measured. Students at Lowell High are traditionally admitted based on annual standardized test performance, grade point average, and essays, but the sudden shift to distance learning in March threw a wrench into just about all of that, as the Chronicle reports this week. 
California schools struggled to meet the chaotic moment at the end of the last academic year. As teachers frantically worked to develop remote lesson plans, many parents found themselves overwhelmed and students often lacked technology needed to make it work. As a result, the state had to adjust expectations of both faculty and student body, moving to a pass/fail grading system and canceled annual standardized tests. 
Serious efforts over the summer helped rectify many of those issues, but students who worked hard to shine were left without the marks to show for it, and merit-based schools were left without a system to base admittance on. For that reason, Lowell High School is proposing a one-year move to the lottery system used by other public school campuses in the San Francisco Unified School District. 
The system would allow Lowell to prioritize siblings of existing students, those coming in from Willie Brown Jr. Middle School, and others who live in low-scoring census tracts nearby — but the remaining spots would be filled randomly. The district's first fall enrollment preference deadline is quickly creeping up on Feb. 5.     
Lowell High parents and teachers received an email Friday from Assistant Superintendent Bill Sanderson and Educational Placement Center Executive Director Jeff Kang as notification of the potential change for Class of 2025 admissions, according to a student communications post. 
The announcement was met with resistance. By Tuesday afternoon, nearly 4,000 people had signed a petition urging the district to "explore options for admissions." 
The petition reads:
"San Francisco families caught off guard by the proposal for a 100% lottery admission at Lowell would like to know the district has exhausted all options to maintain the academic legacy at Lowell High School. Parents, students, and alumni are worried that the transition will become permanent and remove one of the two remaining academic and merit-based public high schools in the city."
As reported by the Chronicle and reiterated in the campus student news post, many students think the change is "unfair" and some believe it could lead to excessive pressure on kids "who are unprepared for Lowell's rigor." A student who chose to remain anonymous in the campus news article said:
"Lowell isn't going to adapt to you. You adapt to Lowell, and if you can't handle it, that's on you."   
On the flipside, some believe the quality of education offered at Lowell High should be accessible to all students. Points can be made that the elitist nature of the campus has created a lack of diversity, a fact backed up by the school's accountability highlights report from the 2017-18 school year. Reporting that year reflects that more than 50 percent of the students admitted were Asian, whereas less than 2 percent were Black and just over 10 percent were Latino.
Lowell faculty member Adam Michels wrote in a letter to the editor of the Chronicle today that while more diversity may be the assumed outcome of the lottery, the system may have the "unintended effect" of "get[ing] more Asian and white kids with lower academic abilities." He writes that he believes in the goal of recruiting students from more diverse backgrounds, but he suggests this ought to be done thoughtfully using the many "different factors" besides test scores used by universities to "achieve a richly diverse and qualified group of students."
The school board was set to review the lottery proposal at a Tuesday committee meeting, with a final vote scheduled for Oct. 20.