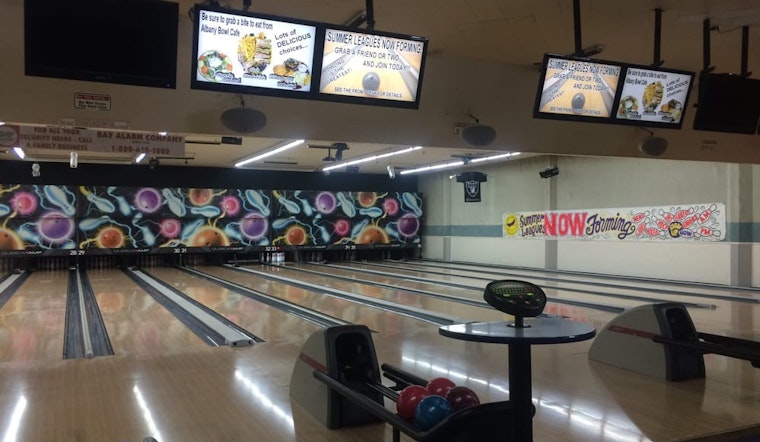 Published on December 23, 2020
Bowling alleys had been a slowly dying breed for decades, with only a dozen or so dotting the Bay Area even before the pandemic. All of them are temporarily closed under statewide stay-at-home orders. But one one of the most iconic of these remaining alleys is now permanently closed, as the East Bay Times reports that Albany Bowl will not reopen. Albany Bowl has been operating a block south of El Cerrito Plaza for 71 continuous years.
"I had to lay off 40 employees. I called them all individually to tell them," Albany Bowl owner John Tierney told the Times. "I've spent $700,000 out-of-pocket [during the pandemic], and I can't keep going that way."
He refers to COVID-19 safety precautions he'd sunk into modifying the place, only to have the rug pulled out by purple-tier restrictions that Alameda County enacted in mid-November. The bowling alley had modified the lanes, repainted with social distancing markers, and installed plastic partitions between lanes and the arcade games. All of these were barely ever used.
Albany Bowl opened in 1949, and was recognizable for its old-school neon sign evoking that era. And while the alley has kept its original cocktail bar and billiards lounge, the interior has modernized with 10-foot video screen and computerized scoring services. But they still kept their retro spirit alive by retaining their larger than life bowling pin mascot Mr. Pin, who popped up for kids' parties and busy nights.
Tierney owns the property, and will probably have no problem finding a buyer. But it's long odds that the location will remain a bowling alley. Per the Times, the city of Albany had already identified the lot as the site for a dense residential housing project. The closure of the bowling alley makes it all the more likely that some developer will want to strike that deal.