Since 2013, Fremont's Halal Food Festival has drawn thousands each year to sample the Bay Area's diverse halal food offerings. This year, organizers adapted to life under pandemic by launching Halal Restaurant Week instead, with giveaways and special offers at area eateries through Dec. 13.
Halal Restaurant Week is featuring six different restaurants each day, where diners can sample a wide variety of food prepared in accordance with halal standards, or Muslim dietary requirements. It's the first-ever such event in the U.S., according to organizers.
The event's offerings include something for every palate, from tacos to tandoori, falafel to pizza – and even Halal Fried Chicken (HFC). Dozens of restaurants throughout the Bay Area are offering specials to diners who mention Halal Restaurant Week when ordering.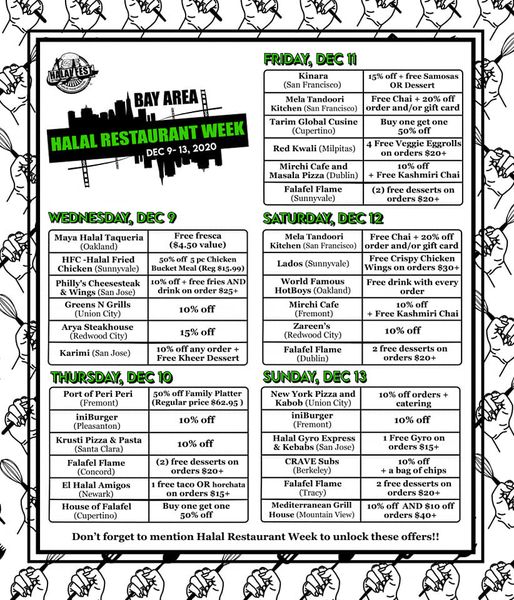 Schedule of offers for Halal Restaurant Week. Photo: Halalfest.com
For example, patrons can take advantage of offers including two free desserts on orders of $20 or more at a different Falafel Flame location each day this weekend, 10 percent off their orders at Zareen's in Redwood City on Saturday and a free gyro on orders $15-plus at San Jose's Halal Gyro Express & Kebabs on Sunday.
"As a Muslim who's lived in quite a few places, I've never seen such a cool initiative like this," said Yasmeen Rasheed, a member of the Bay Area Halal Foodies Facebook group.
Halal Restaurant Week is organized by Halal Food Fest and Abbas Mohamed, founder of the 8,500-plus-member Bay Area Halal Foodies group on Facebook.
Organizers are also giving away more than $2,000 in prizes, including gift cards and halal food products from Whole Foods and prepared-food company Saffron Road, among others.
Participants earn points by getting food from participating restaurants, posting on social media, and completing various challenges, such as eating at restaurants in multiple zones and taking part in a scavenger hunt.
"Food is always a great source for people to come and learn about culture and to learn about religion — and I'm a big advocate for that," Hisham Abdelfattah, owner of Fremont's El Halal Amigos, told SFGate. "So Halal Restaurant Week is not just for people who are Muslim, but it's for everybody. It's to open the door to everyone to learn more about us and to learn more about the things that we believe in. "
To find out more about Halal Food Week, view the detailed schedule and see an interactive map of participating restaurants, visit halalfest.com.