By
Hoodline
- Published on December 04, 2020.
With only a few remaining Trump-supporting sycophants who believe the election is not yet over, Barack Obama's former Vice President Joe Biden is in full transition mode in preparation for his time in office. Perhaps no more fitting a time could exist for the coming of Barack Obama Boulevard in San Jose. After three years of work by a community group seeking to honor former President Obama, the Mercury News reports that this dozen-member panel proposes renaming portions of Bird Avenue, South Montgomery Street, South Autumn Street, and North Autumn Street to become Barack Obama Boulevard.
While the proposal still needs city approval, it has the support of San Jose Mayor Sam Liccardo, who said in an interview with the Mercury News that when it comes to having community conversations about who is worthy of having streets and schools named for them, "President Obama's name offers a worthy place to start."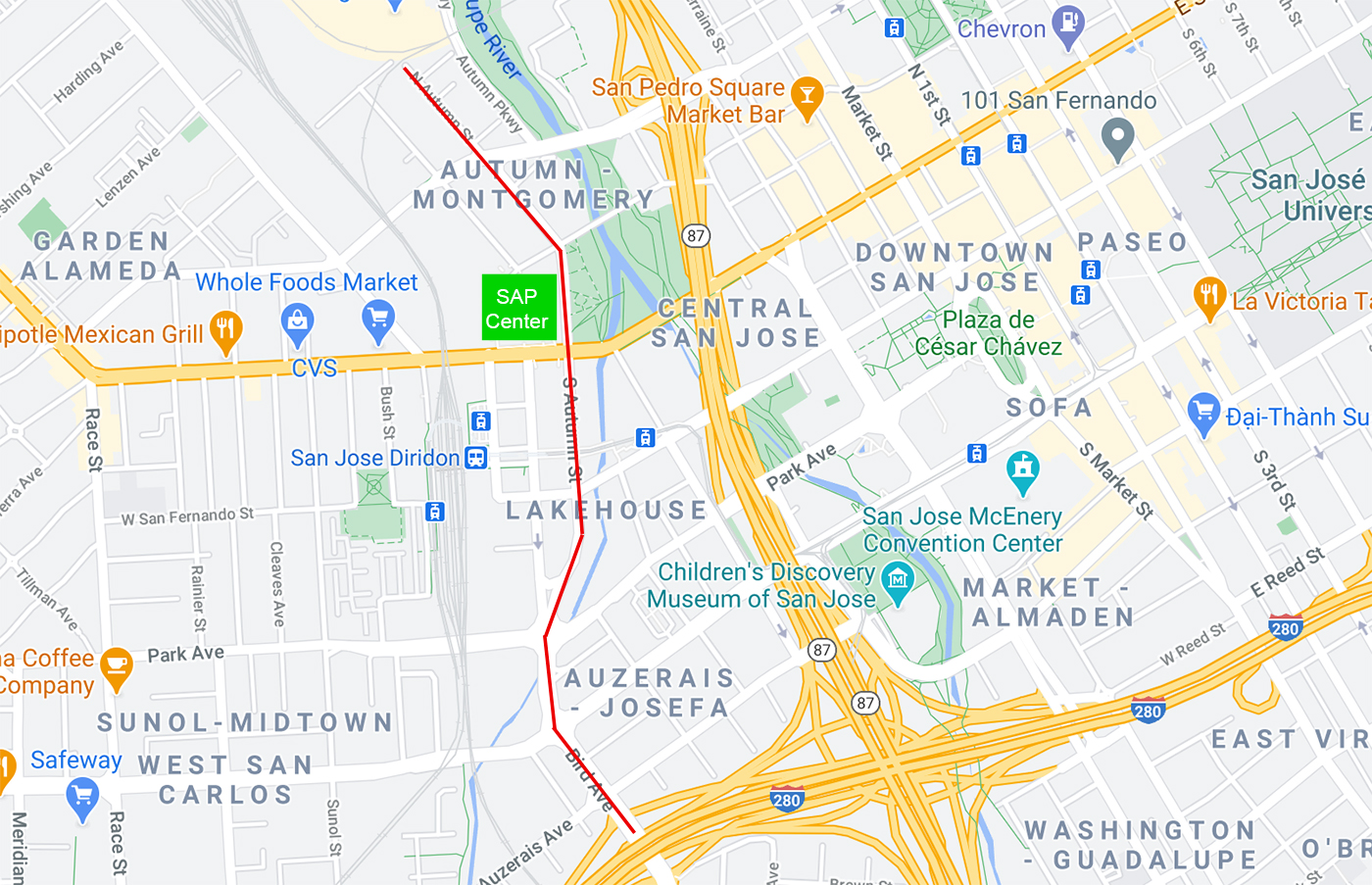 The proposed Barack Obama Boulevard in Downtown San Jose.
This new street — which stretches 4,300 feet and passes nearby the SAP center — looks not only to honor a former president who had a great many achievements while in office, but also to pay respects to a man who was able to inspire a generation as he became the first president of color in the history of America. This was certainly the intention of Alex Shoor, one of the community members who pushed for the proposal. When the San Jose Spotlight asked Shoor for his motivation, he told them, "At the end of the day, this is for young people, it's for the young Vietnamese girl who grew up in San Jose, whose family were refugees, or the third-generation African-American whose family has lived in San Jose for generations. They deserve to live in a city that shows them that anyone can be president by honoring the first person of color to become president."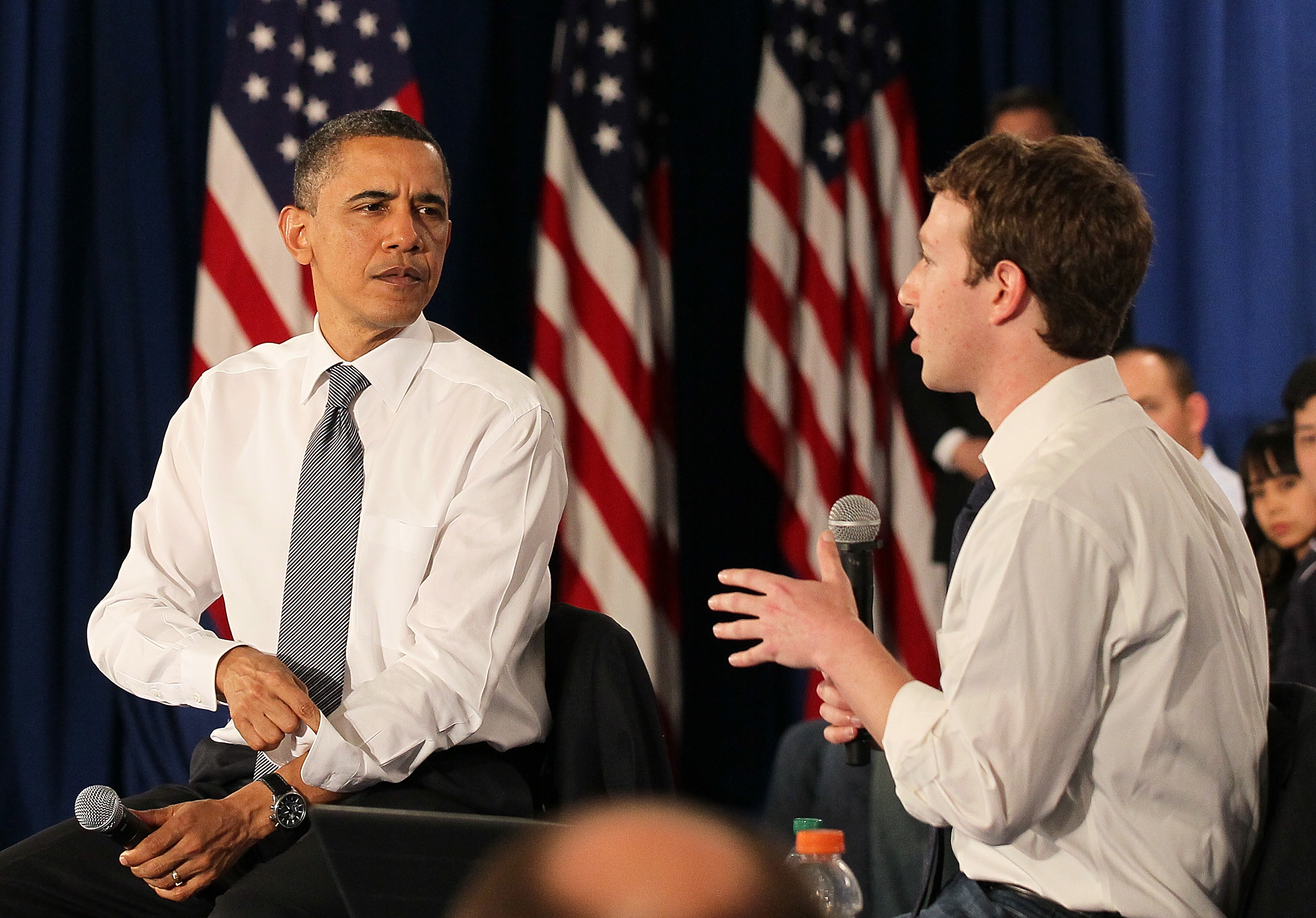 President Obama met with Mark Zuckerberg at Facebook headquarters in 2011 in Palo Alto. | Justin Sullivan / Getty Images
For obvious reasons, San Jose and the greater Silicon Valley have long been frequented by U.S. presidents. President Obama made numerous trips to the area both while in office and thereafter. In likely his first visit after leaving the White House, Obama participated in private tech meetings in which he met with tech executives and was welcomed by roughly 100 supporters, according to the Mercury News.
Even before becoming president, Santa Clara County had an affinity for Obama. During his first presidential campaign, an overwhelming 70% of voters in our county came out for the then Democratic nominee, a number that remained steadfast when he sought reelection in 2012.
Today, continued respect was evident in the powerful words from Alex Shoor. With nearly 3,000 signatures and over $9,000 raised this project carries an entire community rallied behind it. And it follows on an effort in Milpitas that has already renamed a section of Dixon Landing Road to Barack Obama Boulevard.
And while this project has not yet been approved through the City Council, it is apparent that in an area as culturally diverse as San Jose, this tribute to the former President will likely find widespread support.