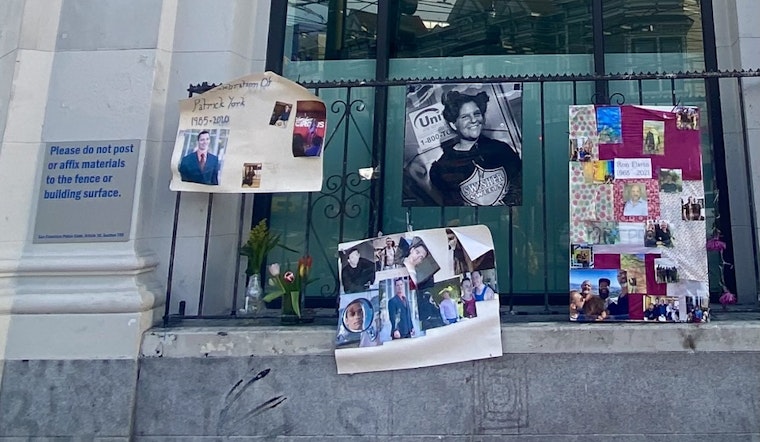 Published on January 16, 2021
Castro residents are up in arms after Bank of America (501 Castro St.) installed signs last week alerting residents and community members that posters, signs, and other materials could no longer be placed on the building — after decades during which the corner of the building at 18th and Castro has been a communal space for memorials to the recently deceased.
"Please do not post or affix materials to the fence or building surface," the signs read. The sign then references San Francisco Police Code, Article 10, Section 709.
According to the police code; "it shall be unlawful for any person to post or affix any sign to the exterior surfaces of any structure, including any building, on private property without consent of the owner of such property or the person in lawful possession of such property." The fine for violating the code can range between $50-500.
For over four decades, Castro residents have used 18th and Castro as a place to mourn, celebrate and honor their friends, family, loved ones, and other community figures. Originally known as Hibernia Beach, when this was a Hibernia Bank, the location was a place to pay tribute to those lost to the HIV/AIDS epidemic.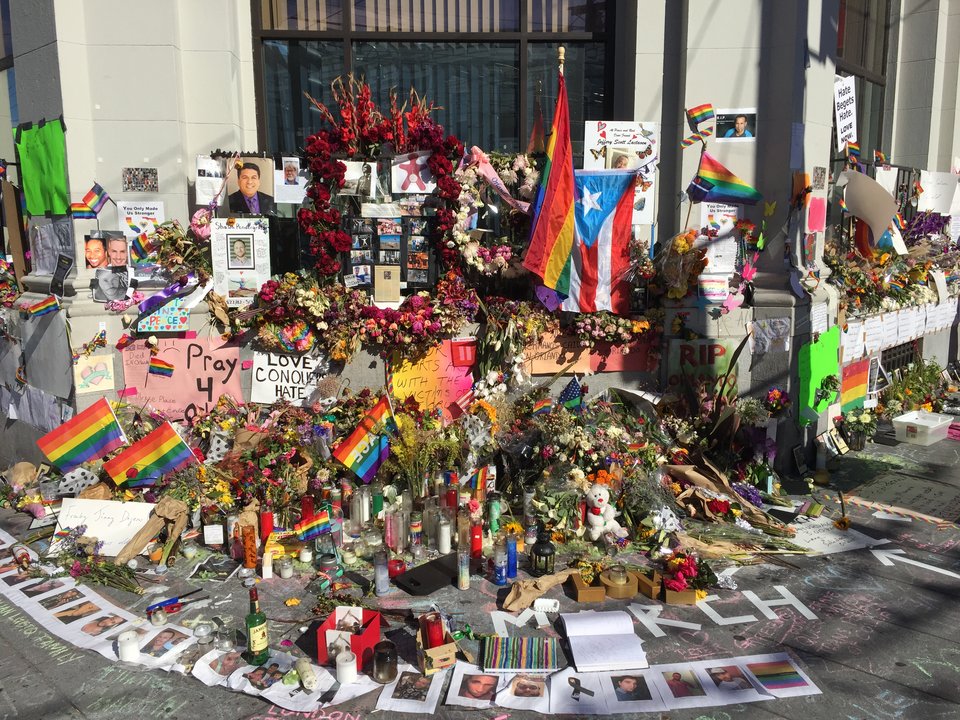 Memorial to the victims of the Pulse nightclub shooting (2016). | Photo: Steven Bracco/Hoodline
Along with being a community bulletin board honoring the lives of those recently lost, 18th & Castro has acted as the de facto neighborhood gathering spot for musicians, artists, registering voters, adopting animals, and even selling Girl Scout Cookies.
Bank of America spokesperson Colleen Haggerty tells Hoodline the decision was made while the building undergoes a $1.3 million remodel. "In recent months, the increased volume of items placed onsite in addition to being posted onto our walls and windows began to pose greater potential safety concerns," said Haggerty.
"The signage recently placed is to help curtail safety risks for neighbors and visitors," said Haggerty. Haggerty declined to provide more details on the specific safety concerns and if signs will be removed. Hoodline readers will recall Bank of America's ATMs were vandalized back in October.
"We remain committed to the Castro and are working with community organizations to find a solution that continues to allow mementos honoring the LGBT historical significance of this location while maintaining safety and appearance, especially once the newly renovated financial center reopens for business in March," added Haggerty.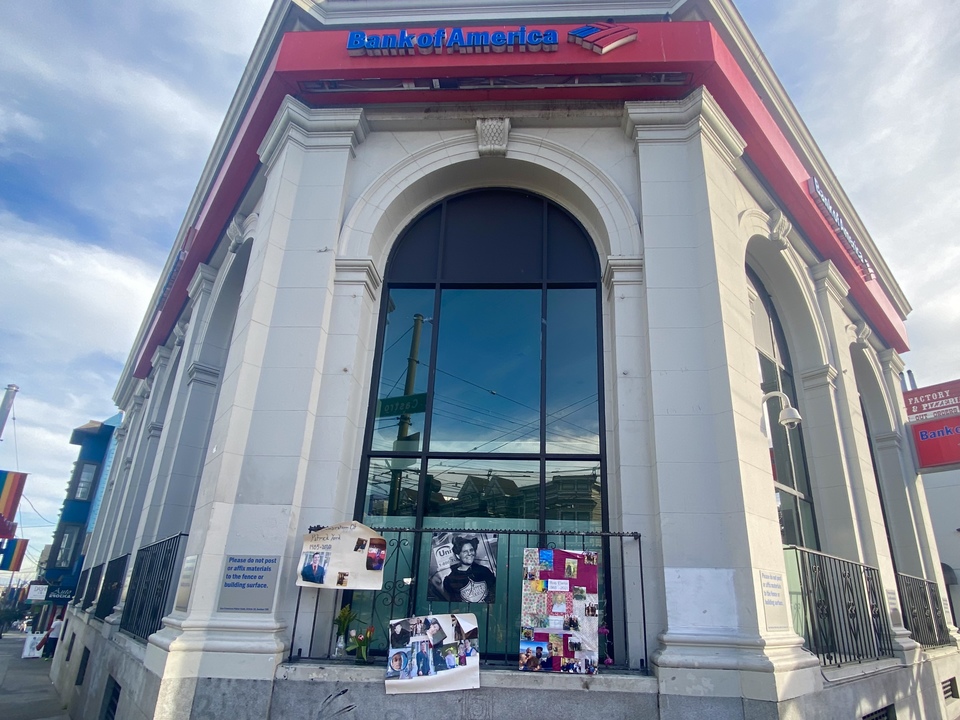 Bank of America at 18th and Castro Streets. | Photo courtesy of Jesse Oliver Sanford
Haggerty acknowledged the historical and cultural significance of the memorial site and said Bank of America is committed to finding a solution. "As a longtime business located at this historic location, we recognize the importance for people to honor this history and continue to temporarily preserve mementos placed onsite until regularly removing items for public safety and cleanliness needs," said Haggerty.
District 8 Supervisor Rafael Mandelman tells Hoodline "this is not the right response." "I communicated that to the property manager."
"This is sacred ground for the gay community that has been used for four decades," said Mandelman. Mandelman tells Hoodline it's unclear if Bank of America will be taking down any memorial signs in the meantime.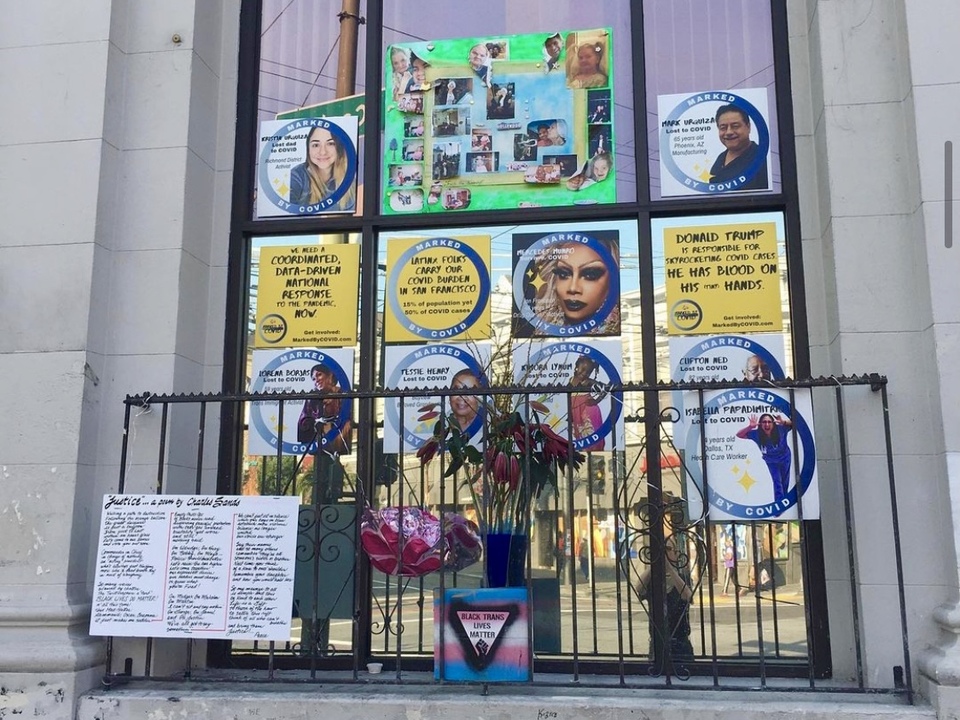 A recent memorial at Castro and 18th streets. | Photo: Matiasz/Instagram
"This is not the right move," said Mandelman. Mandelman tells Hoodline that he and State Senator Scott Wiener plan to have a conversation with Bank of America next week about the decision.
"The solution is for the Bank of America signs to come down," said Mandelman. Mandelman believes people should be allowed to continue to place memorial signs on the building.
Mandelman says he's open to the idea of including community groups like the Castro Merchants, Castro/Upper Market Community Benefit District, and the Castro LGBTQ Cultural District in the maintenance of the area however, more outreach work needs to be done. "I need to have more of a conversation about what Bank of America is trying to address," said Mandelman.
"What cannot be the case is the community no longer being able to use Hibernia Beach to commemorate important occasions and deaths," said Mandelman.
Castro resident and activist Cleve Jones tells Hoodline THAT the tradition long predates Bank of America at this location. "It shows extreme insensitivity," said Jones.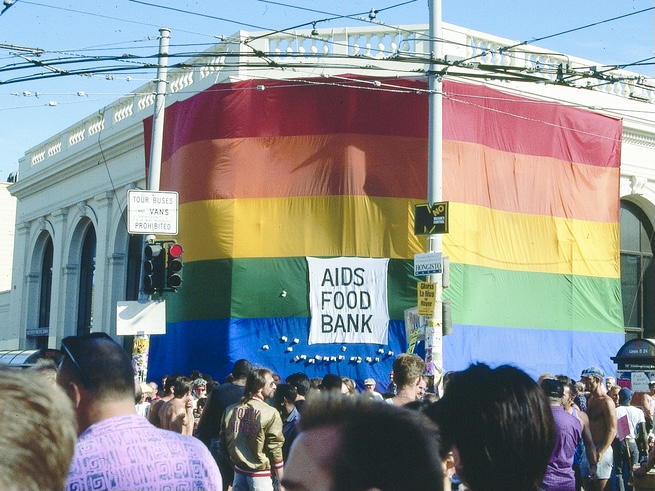 Castro Street Fair 1991. | Photo: Max Kirkeberg/SFSU
"The corner of 18th and Castro is sacred ground," wrote former Supervisor and activist Tom Ammiano on Facebook. "Many vigils, candles, flyers, flowers, and testimonials over the decades."
"Some sad, some joyous, some angry, all a collective gesture of a historically alienated community, now the morally Bankrupt of America, has posted a sign forbidding the practice," said Ammiano.
Longtime Castro residents will recall Bank of America had once been at the corner of Market and Castro streets, in the space now occupied by Soulcycle (400 Castro). The bank had been there since 1922 before moving to its current location at the former Hibernia Bank in the early 1990s.
In the 1970s and 80s, Hibernia Bank, or more commonly referred to as Hibernia Beach, served as a gathering spot for shirtless gay men. In 2016 Jones told the Bay Area Reporter, "back in the day, on any sunny afternoon, that area was just packed with shirtless men."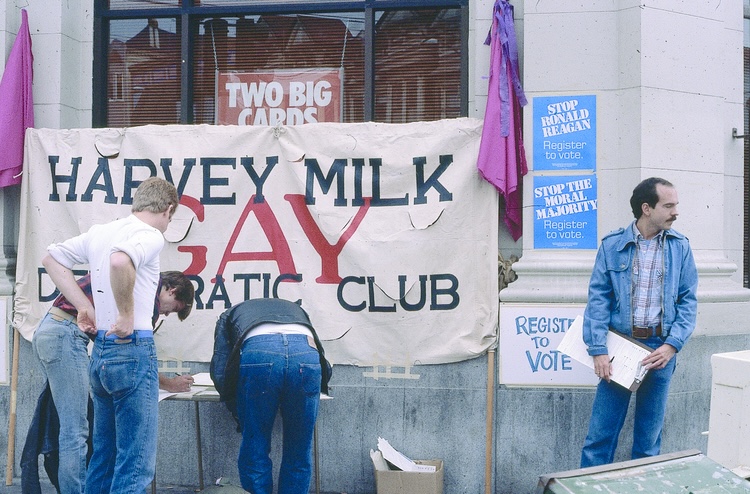 Members of the Harvey Milk LGBTQ Democratic Club registering voters (circa 1980s). | Photo: Max Kirkeberg/SFSU
Jones questioned Bank of America's community involvement in this decision. "Did they reach out to the community," said Jones.
"I've never banked with Bank of America but I'd move mine out," said Jones. "I'd encourage others to move it out as well."
"The timing of this is just awful," said Jones referencing the current Covid-19 surge. "The death rate from Covid is going up every week and more and more people from our community are being impacted."
"This is queer public domain," said Ammiano. "When I die, I want a big penis placed there with a sign that says, I'm dead, go fuck yourself BofA."
Update 1/16: As of this morning all of the signs posted by Bank of America have been removed. It appears that someone from the community has taken the signs down. Hoodline has reached out to Bank of America for comment.
All of the signs have been removed. | Photo: Steven Bracco/Hoodline
Update 1/17: Bank of America spokesperson Colleen Haggerty shared this statement with Hoodline about the removal of the signs: "We absolutely understand the significance and importance of the space and will continue working with the community to ensure it remains a memorial, as it has for decades. After speaking with community members, we realized the code enforcement signs created confusion and therefore we had them removed immediately."