The Castro/Upper Market Community Benefit District (Castro CBD) has extended the deadline on its security camera survey and delayed an upcoming virtual town hall.
Castro CBD executive director Andrea Aiello had previously announced in the organization's January 2021 newsletter that the security camera survey was set to end Wednesday, January 12. However, Aiello informed Hoodline Tuesday that the deadline had been extended through at least the middle of February.
During the Castro CBD Services Committee meeting last week, Aiello announced that the virtual town hall was set for January 19. Now that date has also been postponed till some time in February. Aiello says the survey will remain open until the town hall. An exact date for the town hall is not available at this time.
Aiello tells Hoodline after consulting with District 8 Supervisor Rafael Mandelman they've decided to take more time organizing the virtual town hall and allow for more feedback on the survey. Aiello explained the Castro CBD is reaching out to an outside facilitator to host the virtual meeting. No potential candidates have been announced.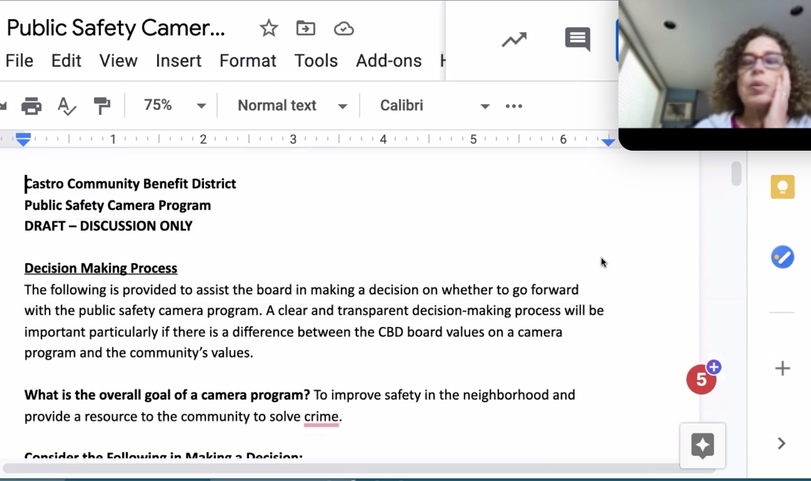 Castro CBD executive director Andrea Aiello speaking at the Services Committee meeting. | Photo: Steven Bracco/Hoodline
"There certainly are a lot of layers and the Castro CBD is committed to doing this correctly," said Aiello.
Once the town hall has been completed, Aiello says the data from the survey will be released and a decision about the proposal will be made. Survey question topics include demographic information, experience with crime and reporting incidents to police, privacy concerns, and overall impression of security cameras.
At the Castro CBD Services Committee meeting last week, the board voted unanimously to emphasize community feedback as the ultimate decision-maker on the camera proposal.
"The Castro CBD has made the decision that community input will be weighed heavily in the process, if a decision is made to approve the cameras it will be important to involve community leaders to develop strong policies people are comfortable with," said Aiello.
Aiello previously told Hoodline she's heard from numerous business owners and residents who've been dealing with smashed windows and break-ins for years and would like to see the cameras installed.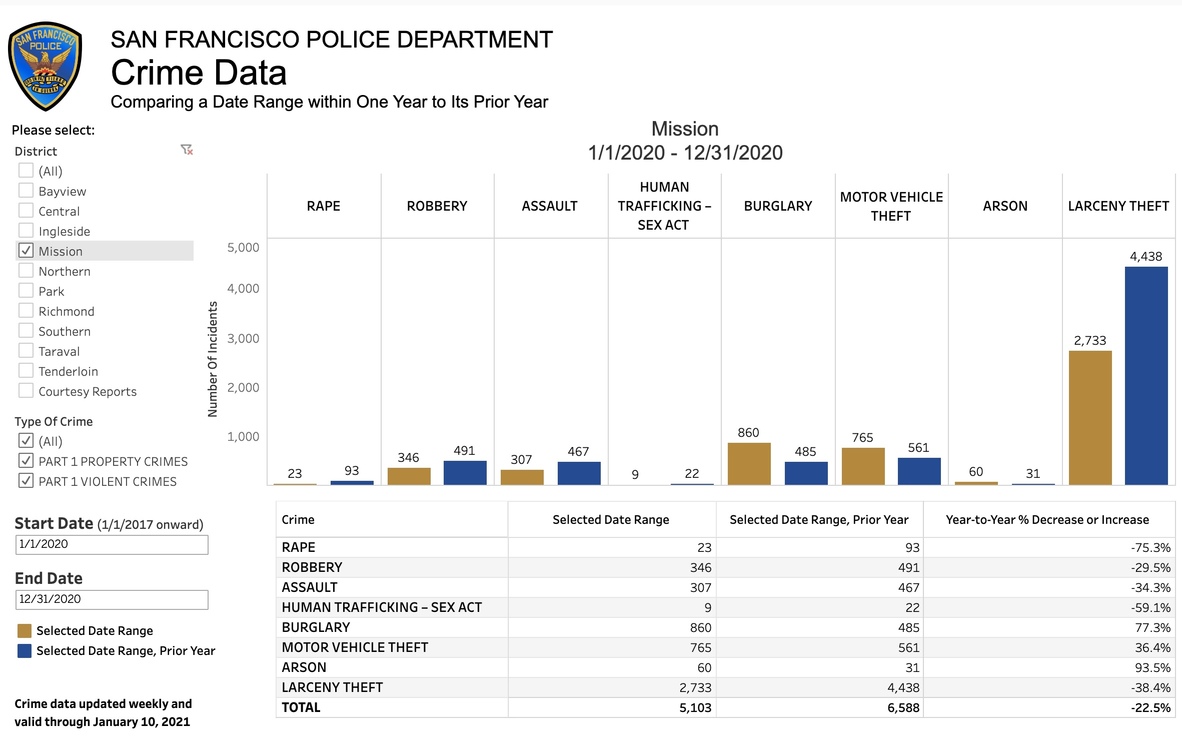 Year-over-year crime data from SFPD's Mission Station. 2020 crimes are in gold, while 2019 crimes are in blue. | Image: SFPD
Compared to 2019, burglaries in the Mission Police District (which includes the Castro) are up 77.3%. Vehicle thefts are up 36.4%, and arsons are up 93.5%. Not every crime category has increased — assaults and robberies are down, likely due to fewer people getting out and about during shelter-in-place.
The security camera proposal has received significant community pushback from both the Harvey Milk LGBTQ Democratic Club (Milk Club) and the Castro LGBTQ Cultural Historic District (CQCD). Both groups sent the Castro CBD letters of opposition last year.
On Tuesday, the CQCD released a statement in opposition to the proposal and the security camera survey. "The CQCD Advisory Board has taken a position opposing this proposed surveillance system due to key privacy and oversight concerns, and although we have additional concerns about the leading tone of this survey, we encourage as much of our community to participate before the deadline and let your voice be heard," wrote CQCD district manager Tina Aguirre. [Full disclosure: Steven Bracco, Hoodline's Castro reporter, is a board member of the CQCD.]
Both groups have also opposed the proposal due to privacy concerns. "We have serious concerns about this proposal and urge you to reject these funds or at least postpone your vote to allow a broader coalition of concerned citizens to engage in this process," wrote the Milk Club executive board.
In October, three protestors along with the American Civil Liberties Union (ACLU) sued the city of San Francisco after police reportedly accessed the Union Square Business Improvement District's (Union Square BID) network of security cameras to surveil and prosecute protesters and alleged looters back in late May, during the unrest following the killing of George Floyd.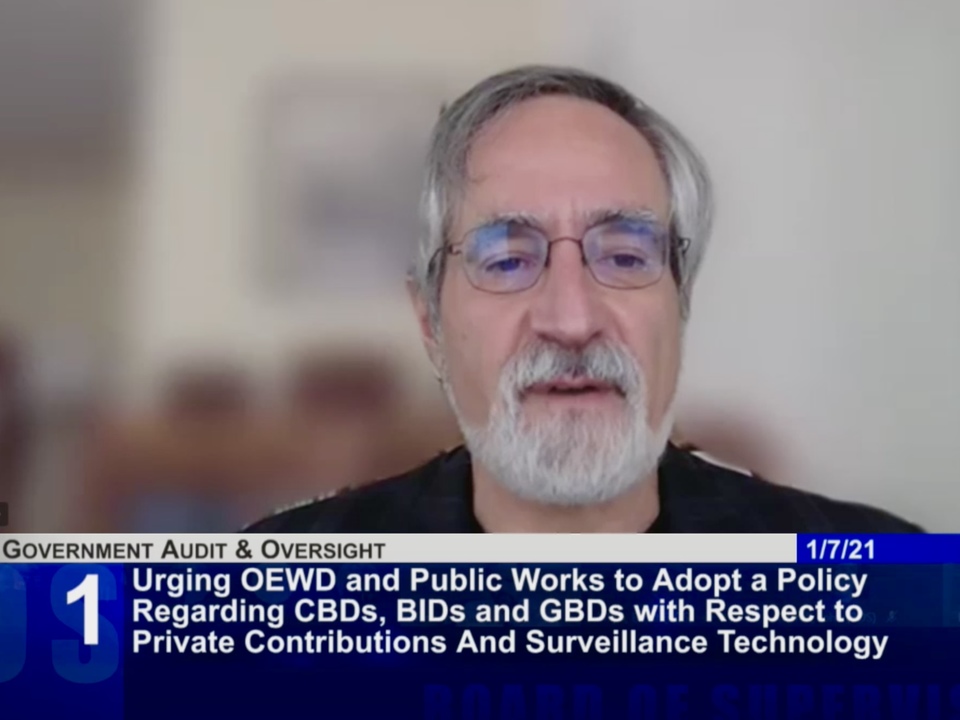 Supervisor Aaron Peskin speaking at the Government Audit & Oversight Committee on January 7. | Image: SFGovTV
Adding uncertainty to the outcome of the security camera proposal was a resolution passed last week by District 3 Supervisor Aaron Peskin at the Government Audit & Oversight Committee meeting.
Peskin's resolution would require all Community Benefit Districts (CBDs), Business Improvement Districts (BIDs), and Green Benefit Districts (GBDs) to "disclose all private contributions on an annual basis, cease accepting anonymous contributions, and disclose their use of surveillance technology to the Board of Supervisors at a public hearing." The resolution was supported by District 4 Supervisor Gordon Mar and District 6 Supervisor Matt Haney.
Lee Hepner, Legislative Aide to Supervisor Peskin, tells Hoodline the resolution will now go to the full board for a vote. Hepner anticipates the resolution getting a vote at the January 26 Board of Supervisors meeting.
Hepner explained that the non-binding resolution will ultimately be up to the Office of Economic and Workforce Development to implement (OEWD). OEWD is the city agency responsible for managing all CBDs and BIDs. According to Hepner, each CBD and BID seeking to install security cameras would present its proposal at the group's annual Government Audit & Oversight Committee meeting where they present an annual report and renew management agreements.
Hoodline readers will recall we broke the news about the proposed 125 security camera network back in September.
The Castro CBD then delayed a vote on October 8 to accept the $695,000 grant from tech entrepreneur Chris Larsen after community members raised concerns during a virtual board meeting. Larsen will also be contributing $50,000 to the Castro CBD's new Public Safety Ambassadors program.
Larsen, who lives in Russian Hill, is the co-founder of cryptocurrency company Ripple and mortgage lender E-Loans. Larsen has been gifting security cameras to the city's community benefit districts since 2012, and his network now spans 1,000 cameras.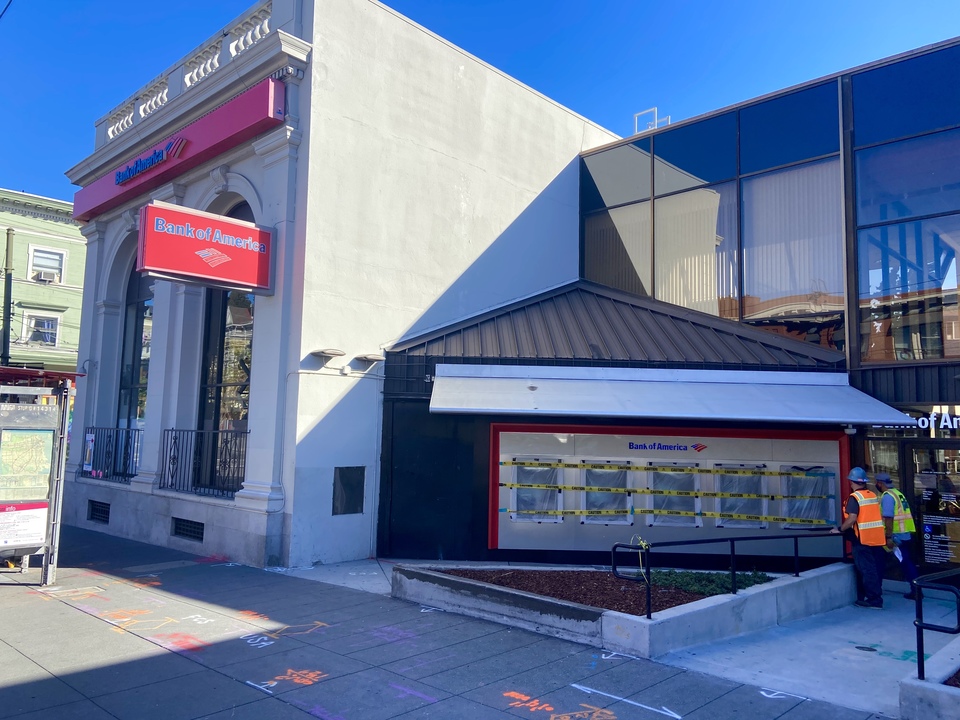 Bank of America's ATMs were vandalized in October. | Photo: Steven Bracco/Hoodline
"[Criminals] don't care at all — they don't care if they're being seen," Larsen told the New York Times in a July 2020 interview. "It's brazen."
Larsen's camera network is currently spread across five CBDs in the city: Fisherman's Wharf, Japantown, Mid-Market, the Tenderloin, and Union Square. The Lower Polk CBD also has a camera network that was funded independently. If approved, the Castro CBD would be the seventh district to be wired with these cameras.
Maintained by Mission-based Applied Video Solutions (AVS), the cameras would only be installed on homes and businesses with their owners' permission. Aiello says the exact number and locations of the cameras haven't been decided this early in the process. If it moves forward, they'd likely be chosen based on crime data and consultations with SFPD.
The next meeting of the Castro CBD is scheduled for January 28 however, an agenda has not been released at this time. All CBD virtual meetings are open to the public.
Update 1/13: Andrea Aiello tells Hoodline the security camera survey will close on February 8. A date for the town hall has not been set.