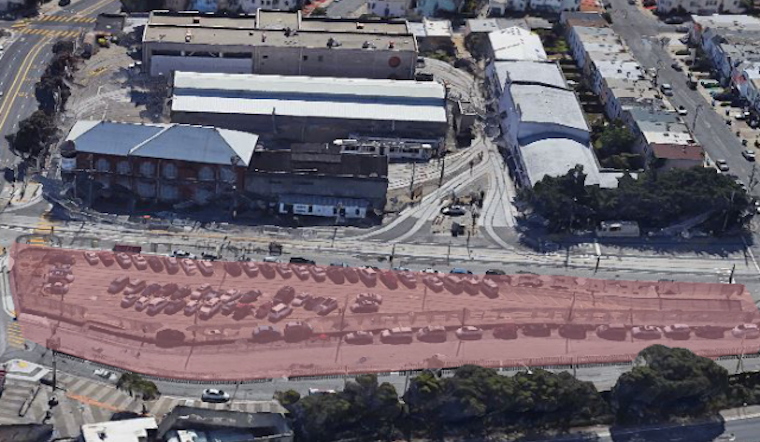 Published on February 10, 2021
It's unusual for the city to shut down a program that has generally been considered a complete success. But in this case, it's for a pretty good reason, and was planned all along. San Francisco's first and only city-sanctioned RV and vehicle dwelling camp for the homeless opened in December 2019 right next to the Balboa Park BART station. It's been very well received by the community, has operated almost invisibly because of its unique placement, and most importantly, has provided an estimated 75 people living in their vehicles with 24-hour security, electricity, potable water and pumping services for RVs.
And yet this Balboa Park Vehicle Triage Center is being shut down. The Examiner reports that the sanctioned RV encampment will be cleared out by March 1, just over two weeks from now. This had been the plan all along, as the Mission Housing Development Corporation that is developing the site has always intended to build a 138-unit affordable housing site called Balboa Park Upper Yard there. They announced in August 2019 that "the space would only serve as a temporary spot" as an encampment until the Upper Yard project broke ground.
"It far exceeded even my own expectations," Supervisor Ahsha Safai, who represents the district, told the Examiner. "We've gotten people housed. It's increased safety in the area. It's been super cost-effective."
The problem is that there is no site to take its place. According to the Examiner, "Users of the site must leave by March 1 and it will be decommissioned by March 15, according to a Department of Homelessness and Supportive Housing (HSH) email."
There's no way another site will be open by March 1, but there is a strong desire at City Hall to see other sites open. District 10 supervisor Shamann Walton told the Examiner he was working on "identifying a possible site in D10," and District 7 supervisor Myran Melgar also told the paper she would "definitely want a site in [her] district."
The RV encampments have been well-received even by their critics. One District 11 resident who'd opposed the triage site saw the results and told the Examiner, "I would love to see a triage area in each district, yes, each district should have at least one."