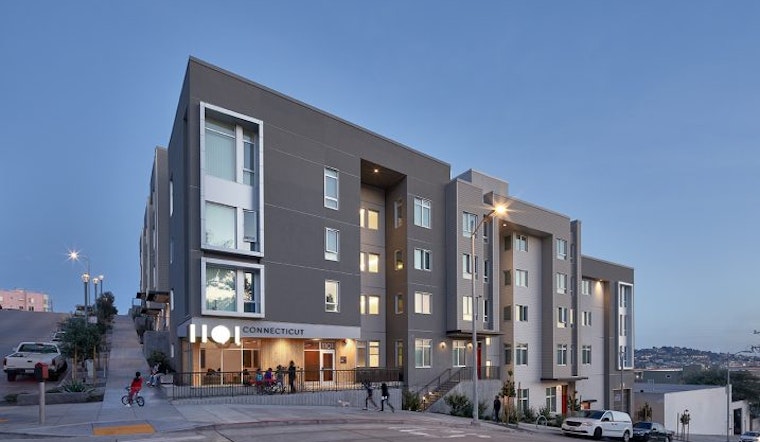 Published on March 05, 2021
Back in June of 2019, Google made a splash of announcing they were investing $1 billion to beat Bay Area housing crisis. The then-housing crunch was affecting everyone from their top engineers to the working poor who had nothing to do with Google, and everyone in between. The market has obviously cooled under COVID-19, but Google has started making good on their promise, as the Chronicle reports that three Bay Area affordable housing projects are getting a $30 million loan through the project.
One of the three is the Bridge Housing HOPE SF apartment buildings in Potrero Hill. The first of five planned buildings, the already completed 1101 Connecticut Street, is seen above. These are exceptionally nice units, and definitely on the high end of the design and amenity continuum for affordable housing.
"Affordable housing is needed now more than ever given the devastating impact of COVID-19 on our communities," Google's West Coast policy lead Rebecca Prozan said in a statement. "We continue to be as focused as ever on helping the Bay Area build more affordable homes in this time of need."
HOPE SF has four more buildings in the works in addition to the Connecticut Street project. Per the Chronicle, these will include "around 619 replacement units of public housing, which existing residents will move into, along with around 1,000 new affordable and market-rate units."
"This means more than 800 affordable homes plus a range of housing, amenities and open space that will lift up the entire community," Bridge Housing CEO Cynthia Parker said in the statement.
The other two Bay Area beneficiaries of the loan are Eden Housing in Mountain View, and the USA Properties Fund in Santa Clara, for a project on which they're working with the Pinyon Group.