By a factor of four, California has the largest population of Pacific Islanders in the continental United States, per the U.S. Census. It's no surprise that poke, a traditional Hawaiian dish that has evolved over generations into something of a Hawaiian-Japanese fusion, is a staple throughout the South Bay. Today, poke is among the trendiest, most Instagram-worthy meals to drop into your stomach or your newsfeed. And new restaurants serving up their takes on the poke bowl pop up around San Jose and the surrounding areas every second.
If you are not already a poke-fiend like me, let me explain that this dish consists of fish with Hawaiian-themed toppings and accoutrement like Maui onion, green onion, and soy-based sauces. Like a deconstructed sushi roll, those ingredients and more often sit atop a bed of sushi rice to complete your mostly-healthy snack. Of course every poke restaurant adds its own twist, but only a handful have done it in a such a unique or consistent way to make this list!
---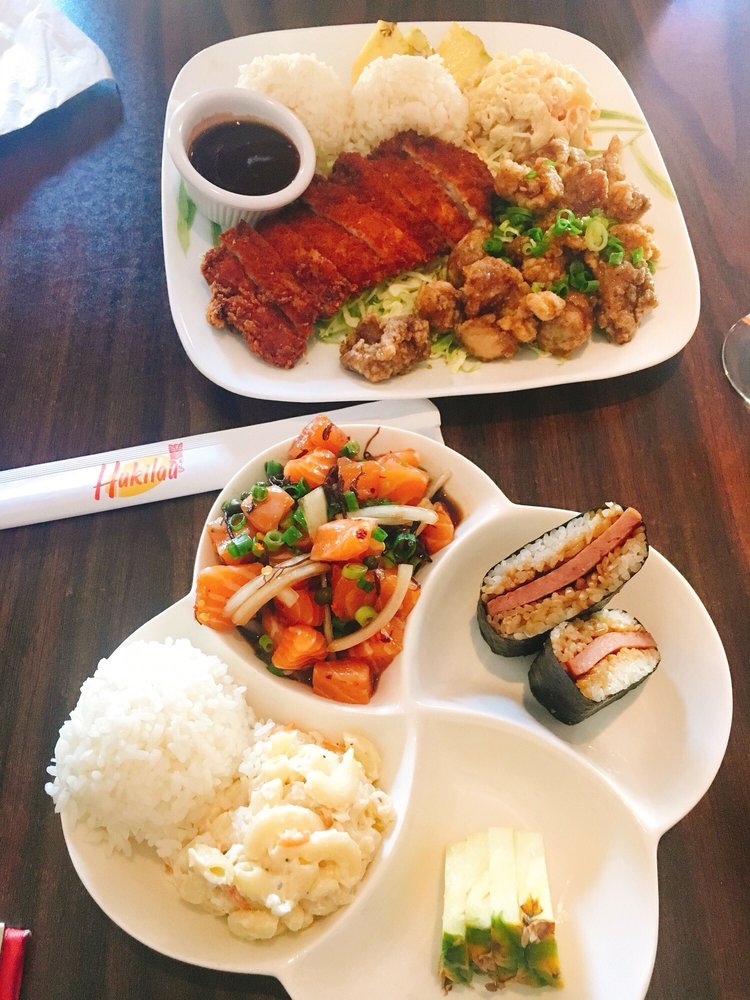 230 Jackson St, San Jose
Hukilau has won numerous awards and is always named among the best Hawaiian restaurants in the Bay Area. Their grilled mahi mahi sandwiches are amazing, and their saimin noodles warm the soul, but let's face it, you're here for poke recommendations. Hukilau's poke is on point with a number of variations from which to choose. Hukilau is located in Japantown where it is owned and operated by a group of guys from Hawaii, so all of the poke influences are coming from the right places. Their poke selection is actually smaller compared to other places, but everything they make is authentic and delicious. In Hawaii, poke was originally served as an appetizer without rice so Hukilau brings you poke pupus options that do justice to their origins. Fresh raw fish is tossed in a traditional soy sauce-based mixture, which is married with limu seaweed and onions to make up one of the most popular items on the menu. I might suggest that you try this poke the way it was originally designed and save room for more Hawaiian deliciousness, but as this is a list of top poke restaurants, by all means indulge in every poke they have - they are all delectable. If you are the kind of person that needs your poke mainland style with rice, the poke dinner bowl special is perfect for you. For around $16, you can get a massive poke bowl, a side of mac salad, and spam musubi.
---
---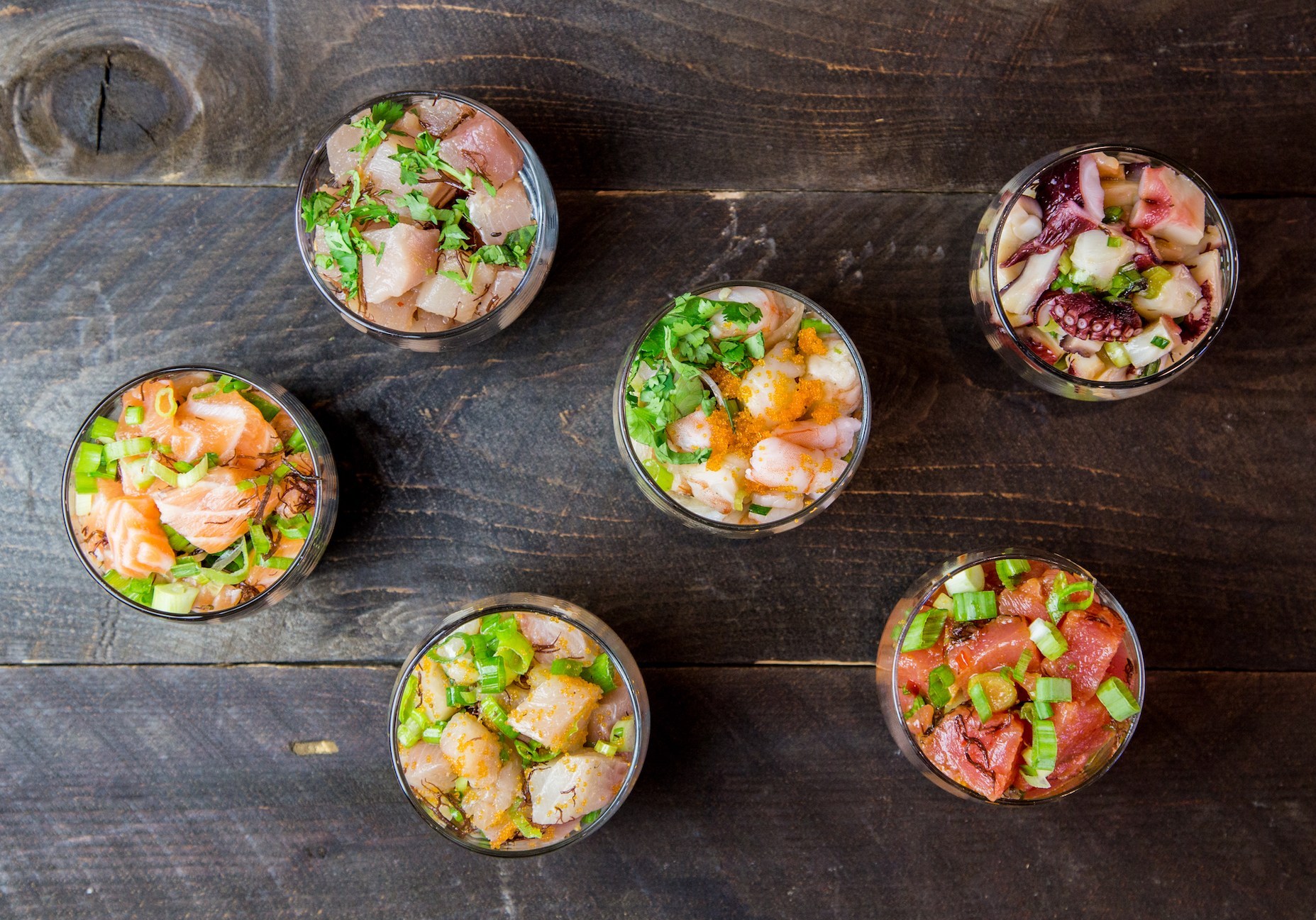 111 Paseo de San Antonio, San Jose
Family-owned and operated out of Santa Clara, Pokeatery's several Bay Area restaurants serve up some of the best poke anywhere. With additional spots in Castro Valley, San Mateo, and Walnut Creek, they even opened a location in Austin for any traitors who abandoned us for Texas in the past year. We may forgive you if you at least try out Pokeatery's Lone Star State location. Either way, there are a variety of reasons why you should try Pokeatery sooner rather than later. For starters, Pokeatery has Disney fans covered, serving up the one-and-only Dole Whip — a staple of Disneyland. If Dole Whip isn't enough to convince you, Pokeatery is also the innovator who created the pokeacado toast. You read that right. Your favorite overpriced toast dish is now a value proposition as it has been smothered in a heaping mound of high-grade poke and toppings. If you're still not already driving there, they have some pretty cool base options for their bowls. Kelp noodles, citrus kale, and uala chips accompany the usual rice and greens, and for those who are level 100 in Hawaiian dining, you can add Spam for top-notch deliciousness.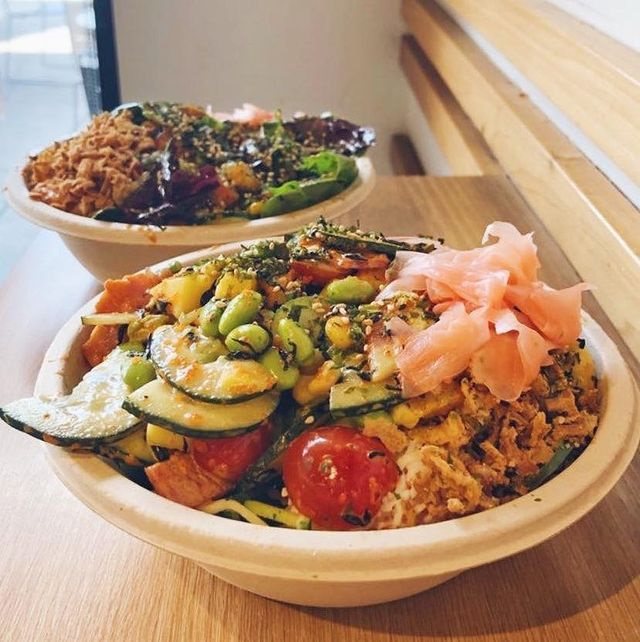 1698 Hostetter Rd #H, San Jose | 1308 S. Winchester Blvd, San Jose | 5160 Cherry Ave #50, San Jose
855 El Camino Real #9, Palo Alto | 3942 Rivermark Plaza, Santa Clara
1543 Pacific Ave, Santa Cruz | 515 Del Monte Center, Monterey


Poke House has become so successful that it is actually a chain of shops from Santa Cruz to San Francisco, with more on the way. One of the most popular poke destinations in the South Bay, Poke House sources all its ingredients from eco-friendly, fair-trade vendors and most of their ingredients are also local. You can either build your own or choose from a list of signature bowls, and there is much to love about both options. Poke House has some seriously authentic Japanese toppings like hijiki seaweed and togarashi, which is a Japanese spice mixture. They have some of the highest-grade fish delivered daily with a variety of authentic Japanese sauces from which to choose. The ponzu lime mixed with the miso aioli makes for a totally addictive combo that will have you coming back for more. Great for first-timers and poke connoisseurs alike, Poke House does not disappoint.
---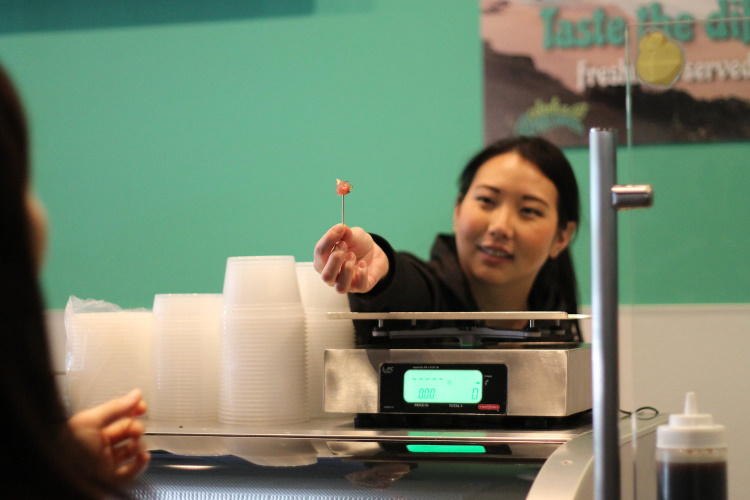 225 Jackson St, San Jose
Aloha Fresh was started by a team from Hawaii who were missing authentic Hawaiian poke in California. Since opening Aloha Fresh, they have been serious about their craft and keeping the Hawaiian tradition alive. All fish is caught off the shores of Hawaii and flown over hours later. You can't get much fresher than that. Nothing is ever frozen and everything is authentic. Originally, poke was served in Hawaii with kukui nuts and ahi tuna, so of course, that is their signature dish. If you are a Hawaiian food fanatic, they also have some killer kalua pork and mac salad. Have a sweet tooth? If you visit Aloha Fresh on the weekends, they are serving up house-made lilikoi butter and guava butter mochi. Aloha Fresh will most likely be your new go-to poke spot.
---
Spoonfish Poke (Website)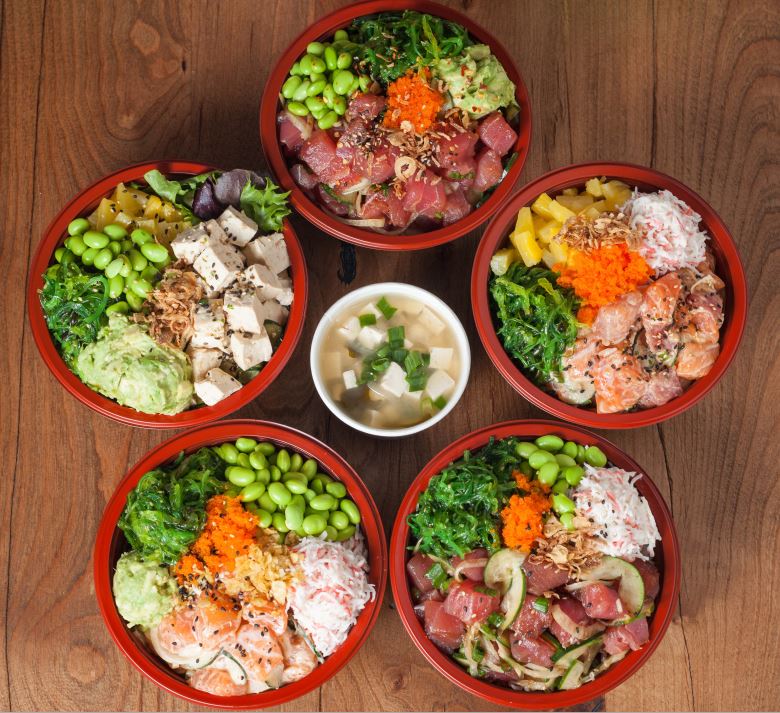 111 Paseo de San Antonio, San Jose
The people over at Spoonfish Poke in San Jose are believers that you will show up hungry and leave happy. Since opening in 2017, Spoonfish Poke has turned poke skeptics into regular customers. Their sauces are handmade in small batches, the ingredients are all locally sourced, and eating here is a heavenly experience. All components from the base to the fixings are executed perfectly. Their crab salad isn't loaded with mayo and fillers, and the ponzu octopus cucumber salad is absolutely divine. When it comes to poke, some folks like to keep everything separated and gram-worthy, and then the rest of us are hardcore mixaholics. Spoonfish chops their fish and toppings to the perfect size. While this may not seem like a big deal, for us mixaholics it is. You get a little bit of everything with every bite. Spoonfish Poke is a solid poke spot you don't want to miss out on.
---
View this post on Instagram
4750 Almaden Expy #100, San Jose | 5700 Village Oaks Dr, STE 10
81 Curner Ave, San Jose | 2532 Berryessa Rd, San Jose
The original Poki Bowl opened up in 2015 on Almaden Expressway in San Jose. Quickly gaining popularity, this restaurant now boasts 15 locations nationwide and often caters to a line out the door. Poki Bowl isn't just popular on Instagram and Yelp, it has won numerous awards including the Best Poke by Metro Magazine. Poki Bowl has a bit of a simpler approach to their food. They don't have a slew of protein options and sauces with fancy names like some of the other places in the area. But the options they do have are done right. I recommend sushi rice, fresh spicy tuna, yellowtail, mild sauce, and all the fixings. Poki Bowl offers all their toppings free, which is nice considering most places charge extra for the seaweed salad and avocado. If you need something sweet after your meals, Poki Bowl has a case of Maven's macaron ice cream sandwiches in some seriously cool flavors. Don't leave without trying one.
---
Poke Paradise (Website)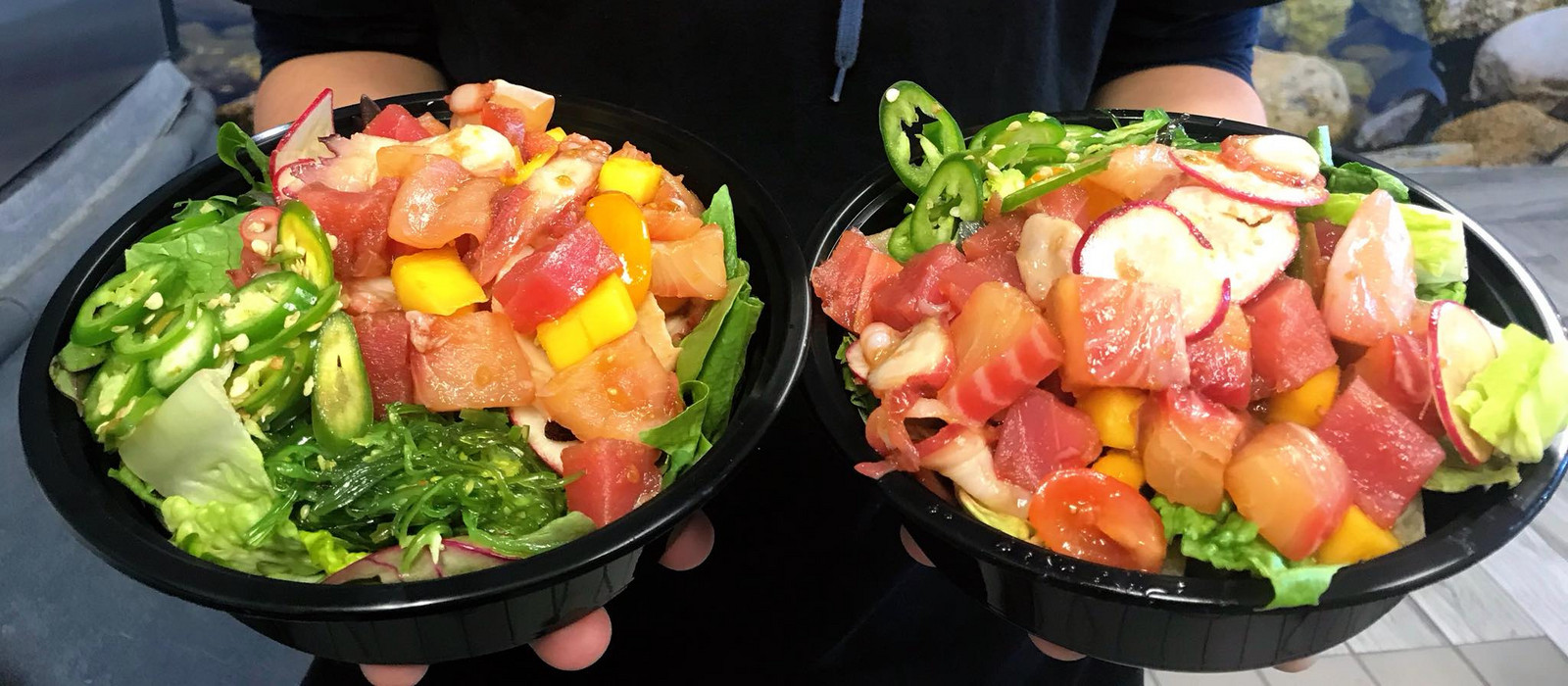 455 Saratoga Ave, San Jose
Poke Paradise lives up to its name and its ridiculously good Yelp reviews. Their poke has the perfect umami flavor, and there are some genuinely unique options here. Don't want rice or salad as your base? You can get Japanese soba noodles instead. You want to top your bowl with seaweed salad or avocado? No worries, it is free. Want something totally unique to top your bowl? Chicharones! Yep, they have deep-fried pork skins to amp up their already perfect poke bowls. To drink, they have a line of Hawaiian Sun in every flavor. If you have never had the pleasure of drinking Hawaiian sun, do so today. It's a vacation in a can.
---
Go Fish Poke Bar (Website)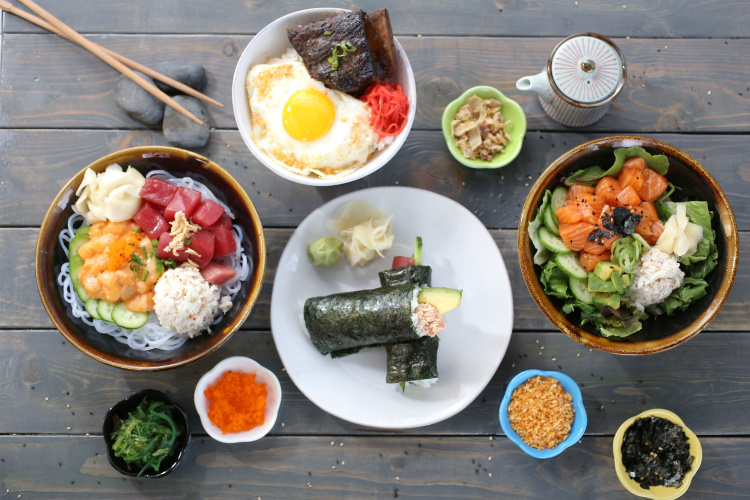 660 Stanford Shopping Center #244B, Palo Alto
With numerous locations around the South Bay, Go Fish Poke Bar is one of the most beloved poke spots, and for good reason. The mastermind behind the operation is Chef Jeremy Ito. Chef Ito has taken poke to the next level and fuses elements of his Japanese culture with modern concepts. Go Fish Poke Bar offers sauces and sides that are all made in-house from local ingredients and fresh fish. Their garlic used in all their dishes is even from Gilroy! Chef Ito also takes the culture of the Bay Area into mind by offering vegan and gluten-free options and using only eco-friendly compostable materials. If you like trying a spin on the classics, Go Fish Poke Bar has rotating weekly specials like Miso Short Ribs and Potato Mac Salad. Regardless if you are a seasoned poke enthusiast or a first-timer, Go Fish Poke is a spot that needs to be on your list.
---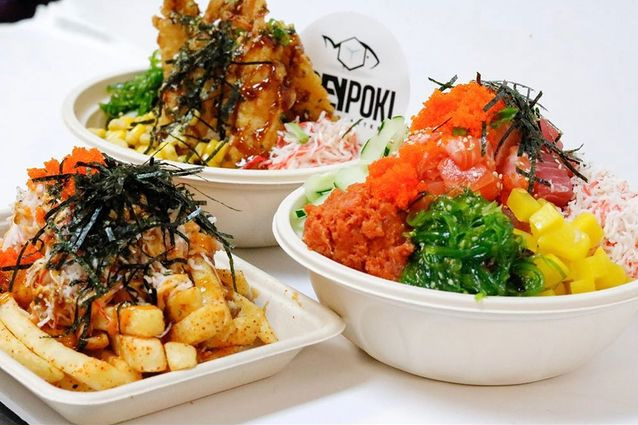 1630 Capitol Expy, San Jose
The folks at IceyPoki say this is the place for great poke, dessert, and a show. They wanted the community to know that when it comes to poke, your imagination can run wild. So they have an almost ridiculous amount of options for both their poke and their desserts. Nacho chips, hamachi, kimchi sauce, and Hot Cheetos are just a few of the choices they have here that are different and exciting. If you don't want your poke in a bowl, you can order a poke burrito. But what is this show they speak of? Well, it is Thai rolled ice cream! If you have never had the pleasure of experiencing rolled ice cream then throw it on your list of upcoming cheat meals. Even better, just visit Iceypoki and check out how it's made in action. Just trust us.
---
Poke Bar (Website)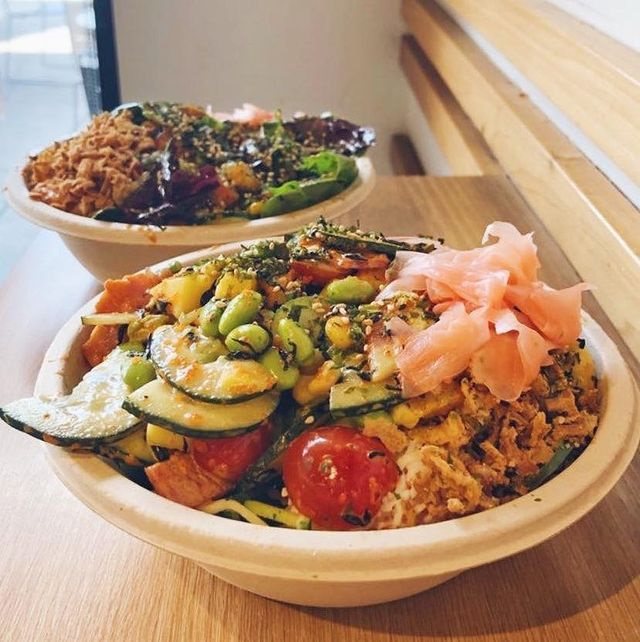 3055 Olin Ave #1045, San Jose | 1600 Saratoga Ave, STE 121, San Jose | 340 Castro St, Mountain View
Serving up poke in Hawaii itself, Poke Bar spans 14 states and Canada. In the South Bay, you can find this restaurant in the heart of Santana Row, in Mountain View, and Westgate, where it is consistently among the most reasonably priced place in each location. The creators of Poke Bar started off serving sushi in 1989 in Northridge. Three decades later, they merged their sushi roots with the culture of Hawaii, and Poke Bar was born. They believe that healthy food doesn't have to be bland or boring. Starting at $11 a bowl, their poke is fresh, filling, and light. If you are cutting calories they have options like kale noodles for the base and tofu as a protein. If you are looking for some high-quality seafood options you can get scallops. Their sauces are citrusy, creamy, and refreshing and their fish is top quality. Your taste buds will thank you for visiting.
---
Poke Poke Fish Bar (Website)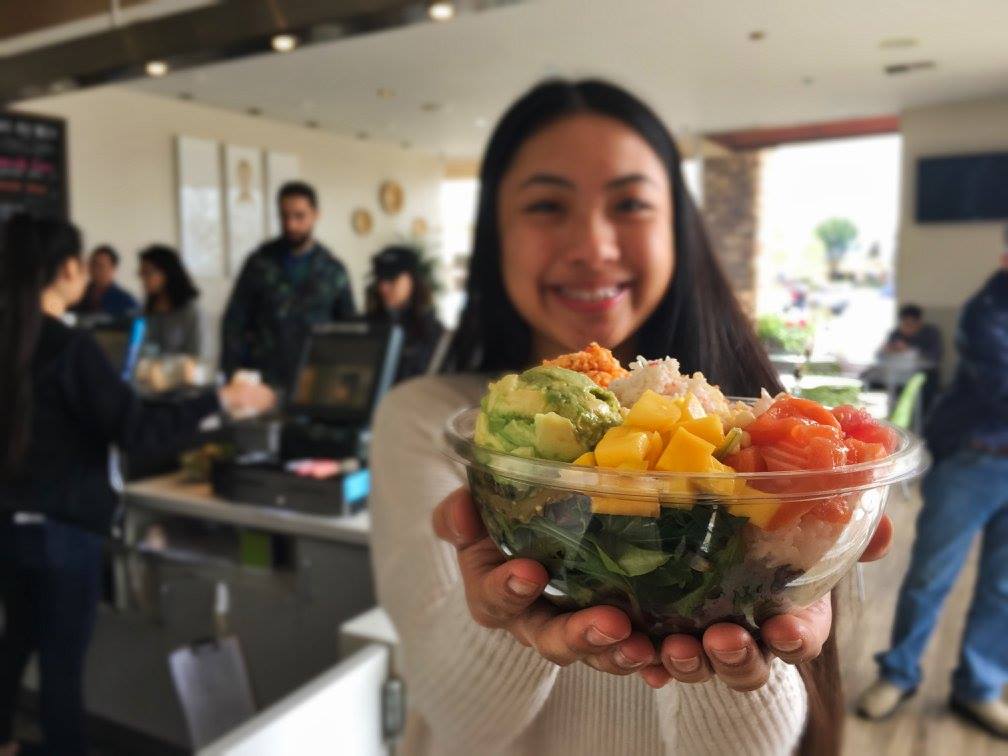 2362 El Camino Real, Santa Clara
Poke Poke Fish Bar has rave reviews from just about everyone who visits. Created by Chef Tetsu Haruta in 2016, Poke Poke has the kind of food that leaves you satisfied. Be sure to order some of their sides to go with their flawless poke. Edamame hummus, spicy salmon musubi, and lobster dip are just a few of the delectable options from which to choose. And Poke Poke is especially loved by those with food allergies. Their menu is clearly labeled for easy ordering and there are a variety of vegan and gluten-free menu items. Poke Poke Fish bar is true happiness achieved through fish and rice.
---
Fish Me Poke (Website)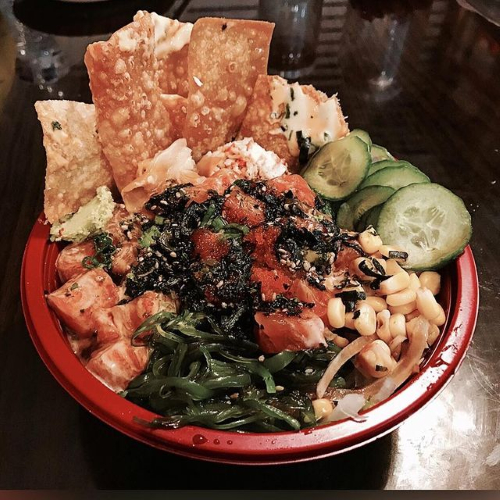 3005 Silver Creek Rd STE 186, San Jose
Fish Me Poke is a unique spot that is totally worth trying. If Flamin' Hot Cheetos were your favorite middle school snack, then this place is for you. All of their poke can be topped with hot Cheetos, or rolled into a burrito and then rolled again in Cheeto dust. They have 12 different sauce options including mango habanero and sweet unagi. Their toppings are the kind of sushi-grade fresh fish that melts in your mouth, and they also have tamago or sweet egg as a topping. If you have a confused, non-fish-loving friend dining with you, they also serve orange chicken, Korean beef, and hamachi kama bowls. Perhaps their most unique and tantalizing menu options is the Spam burrito. Spam, crab mayo, cucumber, lotus chips, tamago, and cabbage — you are going to want to order one of these too.
---
1236 S Abel St, Milpitas
Milpitas' Poke Xpress is the kind of small business you want to support, with great customer service, sustainable fish, and locally grown vegetables. If fire is your forte, then order spicy salmon or spicy tilapia and top it with one of five spicy sauces and Flamin' Hot Cheetos. If you like the classics they have a ton of fabulous protein options and toppings to choose from. Quite possibly the best topping is macaroni salad. You can get a huge scoop of it mixed into your poke, and it's just weird enough to be delicious. If you like boba tea there is an assortment of flavors to choose from. Thank me later.
---
Hawaiian Poke Bowl (Website)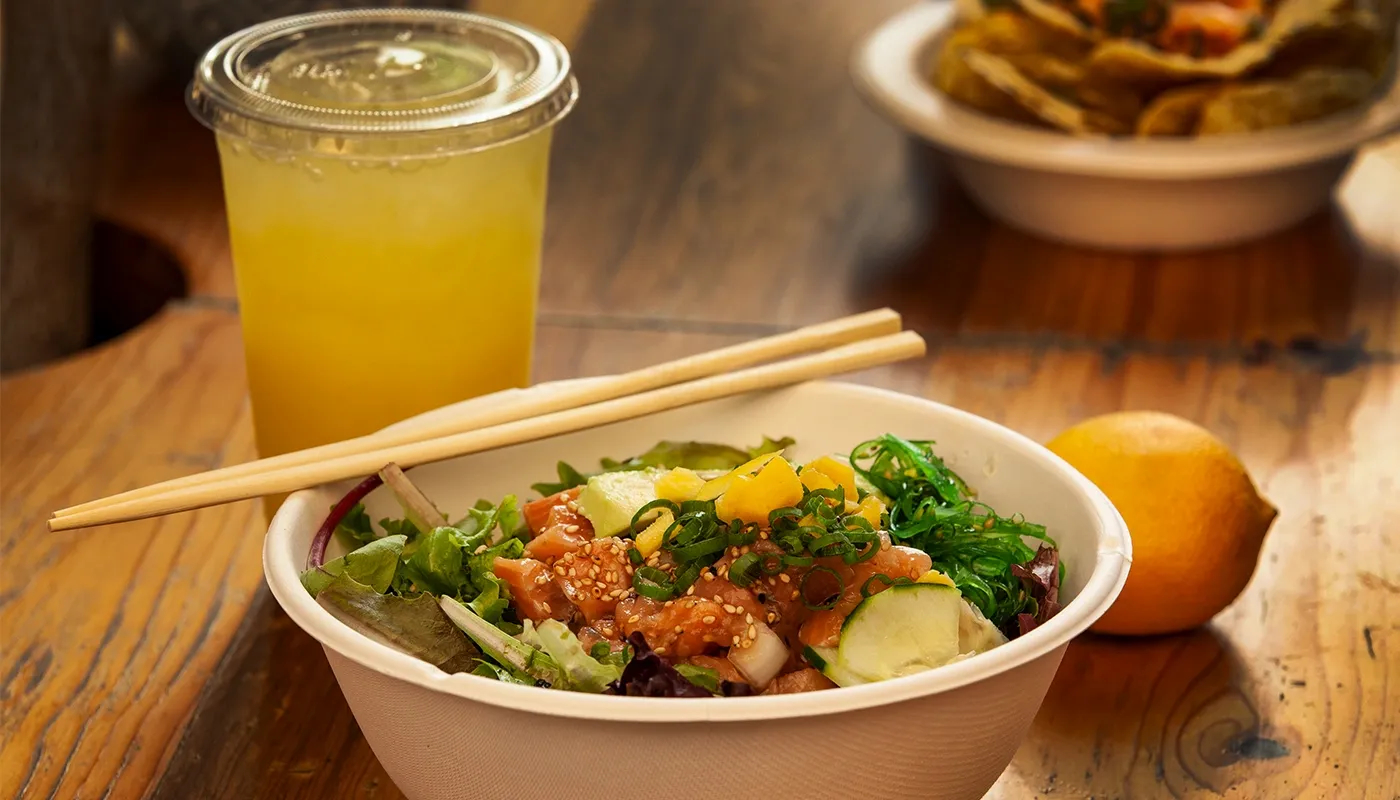 387 S 1st St Suite #113, San Jose
If you haven't yet visited the SoFa Market in San Jose, add it to your list of date nights. Situated in the heart of the South First Arts District, it is full of locally owned and operated eateries, and a bar. Hawaiian Poke Bowl is one of the most popular spots in the SoFa Market, and was recently mentioned by Metro Magazine as the best poke spot in Silicon Valley. Fusing flavors of Brazil and Hawaii, they are serving up high-quality poke as well as acai bowls and fresh-squeezed watermelon juice. You will love this place, just trust me.