Published on March 19, 2021
We're coming up on the one-year anniversary of the car-free JFK Drive arrangement in Golden Gate Park, one of the less depressing one-year anniversaries we're currently enduring our way through. But many San Franciscans love this new pedestrian and bike-friendly ban on auto traffic, and the Examiner reports they'll rally for a permanent car-free JFK Drive in the park on Saturday, March 20, at 10 a.m. PT.
The current situation is not a completely car-free JFK Drive. Though the ban is currently 24-7 under the duration COVID-19 emergency orders, the map below from SF Rec and Parks shows that only the eastern half of JFK Drive is closed to cars. Automobiles are still allowed west of Transverse Drive on JFK. But the current situation does allow for a pretty much complete "east to west" car-free route through the park by making sections of MLK Drive car-free as well.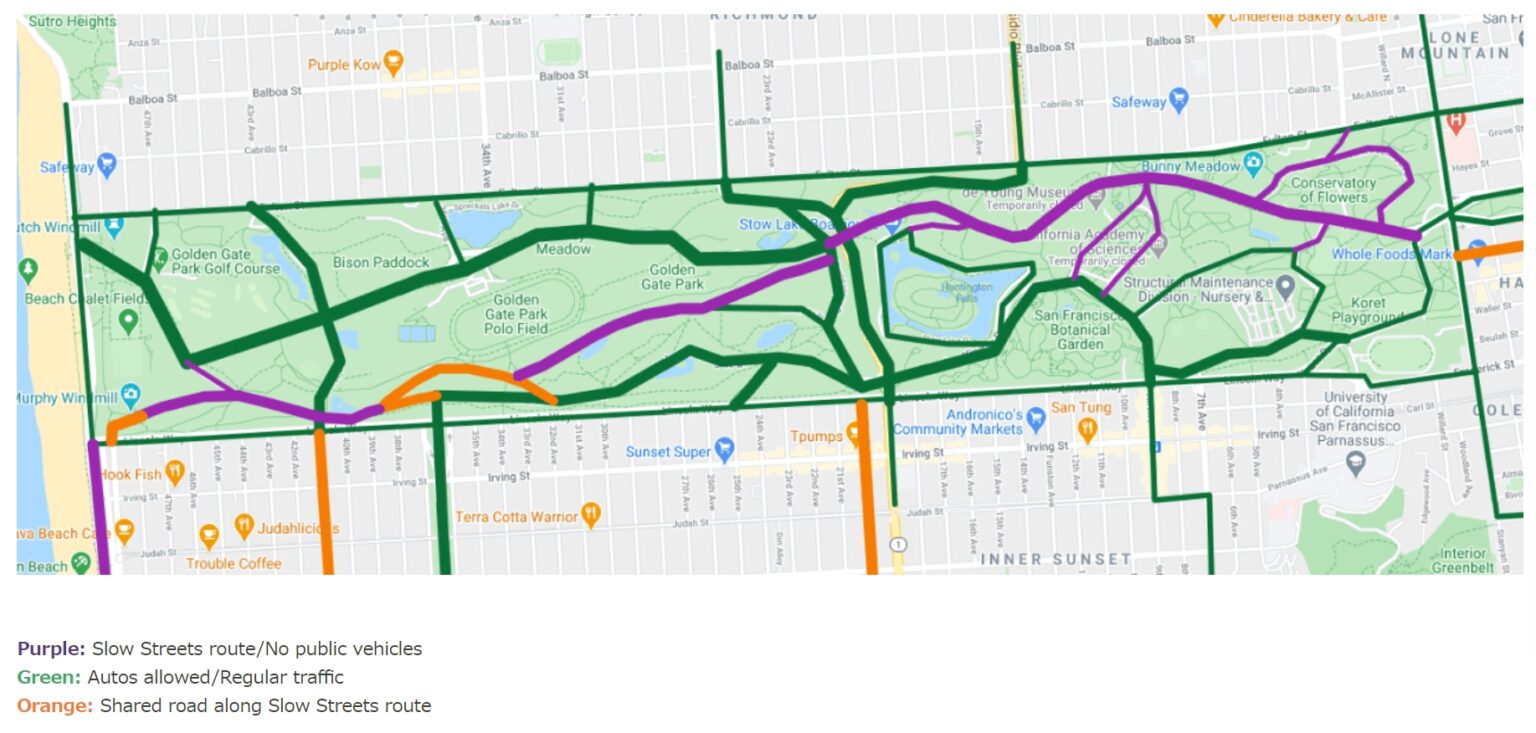 "The most beautiful thing is the diversity of people using JFK Drive, and they're people who never would have felt comfortable there before," People Protected co-founder Matt Brezina told the Examiner.
Not everyone is on board with the idea. Most notably, the park's two big museums, the deYoung Museum and the California Academy of Sciences, argue this would limit museum access for people with mobility issues.
"While it is great for those who can walk or bike to the de Young, it negatively impacts a huge group of our local community, including people with disabilities, those with ADA placards, the elderly, families with infants and young children and others," de Young Museum spokesperson Miriam Newcomer tells the Examiner.
As we reported in June, the current car-free JFK Drive arrangement is scheduled to end once the current COVID-19 emergency order is lifted. At this point, it may feel like that day will never come, though realistically, those orders could indeed end at some point in 2021.

The Car-Free JFK Rally is Saturday, March 8, 10 a.m. - 2 p.m., JFK Drive at 8th Avenue