For two months, a large segment of JFK Drive in Golden Gate Park — between Crossover Drive to the west and Kezar Drive to the east — has been closed to cars, as part of an effort to give pedestrians more room for recreation and safe passage.
The closure has delighted many pedestrians and parkgoers, but it's also fueled traffic congestion and parking jams on adjacent thoroughfares. Lines of slow-moving cars are a daily occurrence on Kezar Drive and around the park's northeast corner, at Fulton and Stanyan streets.
Currently, the closure is set to expire at the end of the shelter-in-place order.
But with the city beginning to resume more regular activity, some advocates see an opportunity to extend the protected sections of JFK indefinitely.
Jodie Medeiros, executive director of Walk SF, is trying to build momentum for an extended vehicle holiday for JFK, which has long been one of the park's most treacherous thoroughfares for pedestrians and cyclists. Several have died there.
The San Francisco Bicycle Coalition has also joined the push to keep JFK car-free. "We need to be expanding car-free space across the city, not rolling it back," spokesperson Rachel Dearborn said via email.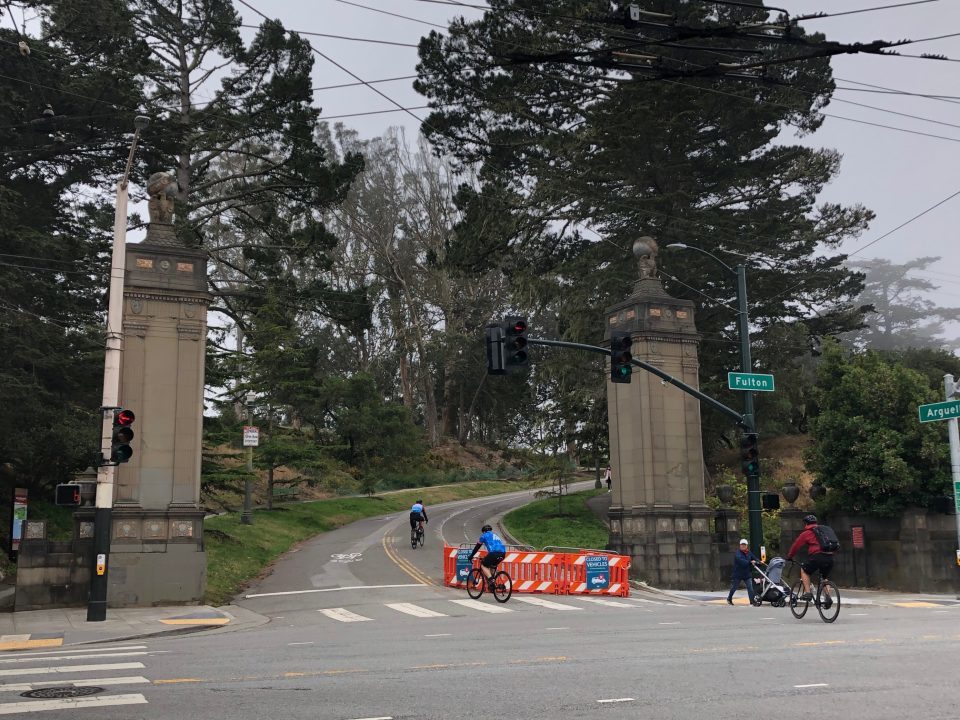 In addition to traffic, there are some other notable concerns about closing JFK, particularly access to the California Academy of Sciences and the de Young Museum. 
Neither the California Academy nor the Fine Arts Museums of San Francisco (which operates the de Young) returned a request for comment.
A statement on the Fine Arts Museums' website says that it supports changes to calm traffic on JFK and create more cyclist accommodations. But it also believes that "automobile access for those with disabilities, families with small children, and guests from the broader Bay Area" should be part of the plan.
Walk SF's Medeiros agreed that a long-term plan to close JFK would need to make better accommodations for equal access, "such as better shuttle service and expanded blue zone parking."
She added that people hoping to continue the expanded pedestrian protections on JFK should contact their city supervisors or Rec & Park, which has jurisdiction over roads in the park.
"Any future decision will be informed by health officials, city leaders and park stakeholders," Rec & Park spokesperson Tamara Aparton said via email.