A new community garden in a former vacant lot, which has been designed to encourage social distancing, will open next month in the SoMa Pilipinas cultural district.
Kapwa Gardens at 967 Mission St. (between 5th and 6th) is a five-year experiment to convert a surface parking lot to community use. Kultivate Labs is leading the effort, after winning a request for proposals (RFP) to re-imagine the space from the city, who owns the property.
Kultivate Labs has long partnered with the SoMa Pilipinas cultural district to host and design community-focused events and spaces, from annual Undiscovered Night Markets to a pop-up basketball court at a nearby underutilized Mission Street parking lot.
Its proposal that won the city RFP in 2019 focused on providing daily programming and exercise activities for the community, hosting nightly events like music and shadow puppetry shows, and offer a SoMa Street Food Park type of environment, with a small stage for performances and a rotating schedule of food trucks.
But then COVID-19 hit, and Kultivate Labs had to completely reframe the plan, founder and executive director Desi Danganan told us.
The focus of the new garden when it opens next month will be to provide a space to heal from the mental, physical, and economic impacts of the pandemic, he said.

967 Mission St. was an empty parking lot before construction of Kapwa Gardens.
"There are many residents in the area who lack their own outdoor space, including a large number of nearby single-room occupancy hotel residents," Danganan said. The new design of Kapwa Gardens includes a ground mural that signals six-foot spacing and offers several contemplative, meditative spaces. Kultivate Labs has partnered with Balay Kreative to host a mural residency and Bindlestiff Studio, which highlights emerging Filipino-American and Pilipino artists, will have a new outdoor performing space.
Construction of the fixtures has been supported by regular volunteer days, according to Danganan. There have been more than 350 people from as far away as Vallejo and Bucktown to help care for the plants, build planters, and other tasks. The space has four living walls and several calamansi trees, many of which have been sponsored by individuals or families, and they are starting to bear fruit. Visitors can take calamansi with them when visiting the garden, and Danganan said he would love to host a food festival in the garden to highlight the fruit and its importance in Filipino cuisine.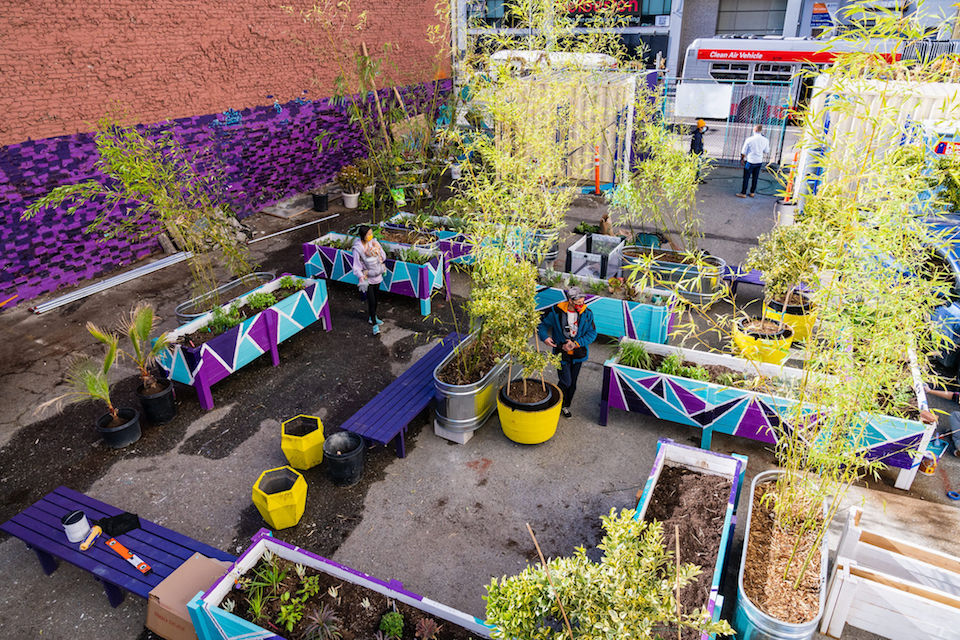 Planters have been sponsored by individuals and are tended to by volunteers.
All volunteers, staff, and — soon — all visitors to Kapwa Gardens will be required to complete a contact tracing form before entering the space, either online at home or upon arriving at the garden. On April 7, Kapwa Gardens will be open to the community for a walk-up COVID testing event from 10 a.m. to 4 p.m., Danganan said. Participants will have the opportunity to register for a vaccine appointment if they are eligible to receive one, and join a yoga session — a class will be hosted every hour, he said. The garden may become a vaccination site as well, once there is a larger supply, he added.
Starting on April 14, the gardens will be open every Wednesday through Sunday, from 10 a.m. to 6 p.m., and walk-in COVID testing will be offered every first and third Wednesday from opening until 4 p.m.
The same COVID safety protocols in place at the garden will apply to the pop-up art studio in a nearby long-vacant space in the ground floor of the 5th and Mission Street parking garage. The pop-up artist studio is expected to operate for about a year. Kultivate Labs aims to eventually convert the parking garage space, which it is leasing from the city at only $1/square foot for up to eight years, into Filipino-owned business incubator called Republika that will feature three of the vendors that participated in the Undiscovered Night Markets and other rotating vendors.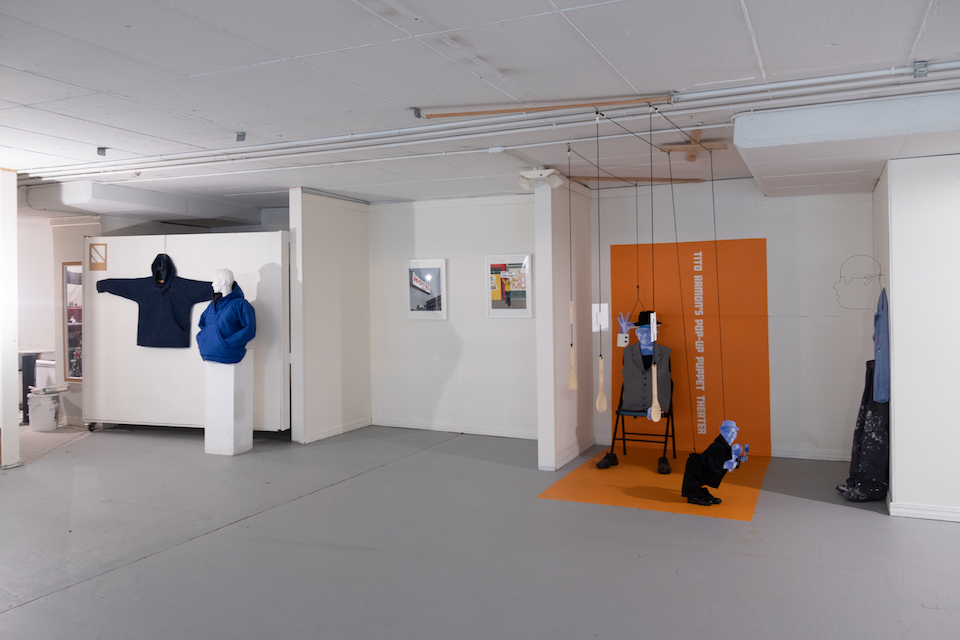 The art studio in the ground floor of the 5th and Mission Street garage will be converted to a Filipino business incubator in about a year.
Several buckets of money have funded the project, largely grants from the Mayor's Office of Housing and Community Development, which owns the site, the Mayor's Office of Economic and Workforce Development, the Asian Pacific Islander Fund, the California Arts Council, and over $9,000 in individual donations including sponsorships, Danganan said. Kultivate Labs has many partners helping provide the bimonthly COVID-19 testing pop-ups, including the Latino Task Force, United Playaz, and the West Bay Pilipino Multi-Service Center. The Filipino Community Development Center, Bindlestiff Studio, and SoMa Pilipinas have partnered on building and operating the gardens. District 6 Supervisor Matt Haney has also been very supportive of the project and even came to volunteer, Danganan said.
Volunteers are still needed to build and help with upkeep in the gardens. You can sign up to volunteer or provide donations on the Kapwa Gardens website.