Undiscovered SF's Sunday street markets continue to offer a COVID-19-safe weekend outdoor shopping experience in San Francisco's SOMA Pilipinas culture district, helping to buoy participating vendors and put unique products in the hands of shoppers.
When the pandemic began, Undiscovered SF — a non-profit venture designed to encourage economic activity and public awareness in the city's Filipino culture district, SOMA Pilipinas — shuttered their in-person events. Over the past few years, the nonprofit's night markets, which in 2018 attracted over 35,000 visitors during its four-installment run, had become a staple for denizens of the city to get a taste (literally and metaphorically speaking) of Filipino culture and street food. Alas, one has yet to be held in 2020.
But in lieu of those popular evening markets, Undiscovered SF — which is produced in tandem by local non-profit business accelerator Kultivate Labs and San Francisco event planner Make it Mariko — has decided to host weekly Sunday street markets (held at Folsom Street between 6th and 8th streets) that cater to a wide range of tastes, products, and activities.
"This is the first one I've been to with my bottles of honey,'' San Mateo beekeeper and founder of Californa Honey Jim Castro says to Hoodline. "Because I only [produce and sell honey] as a hobby, markets like this give me a place to talk about my bees and sell the raw honey I process in a bottle in my own home. I also don't have a website, so I word of mouth and setting up a local farmer's markets is how I sell my honey."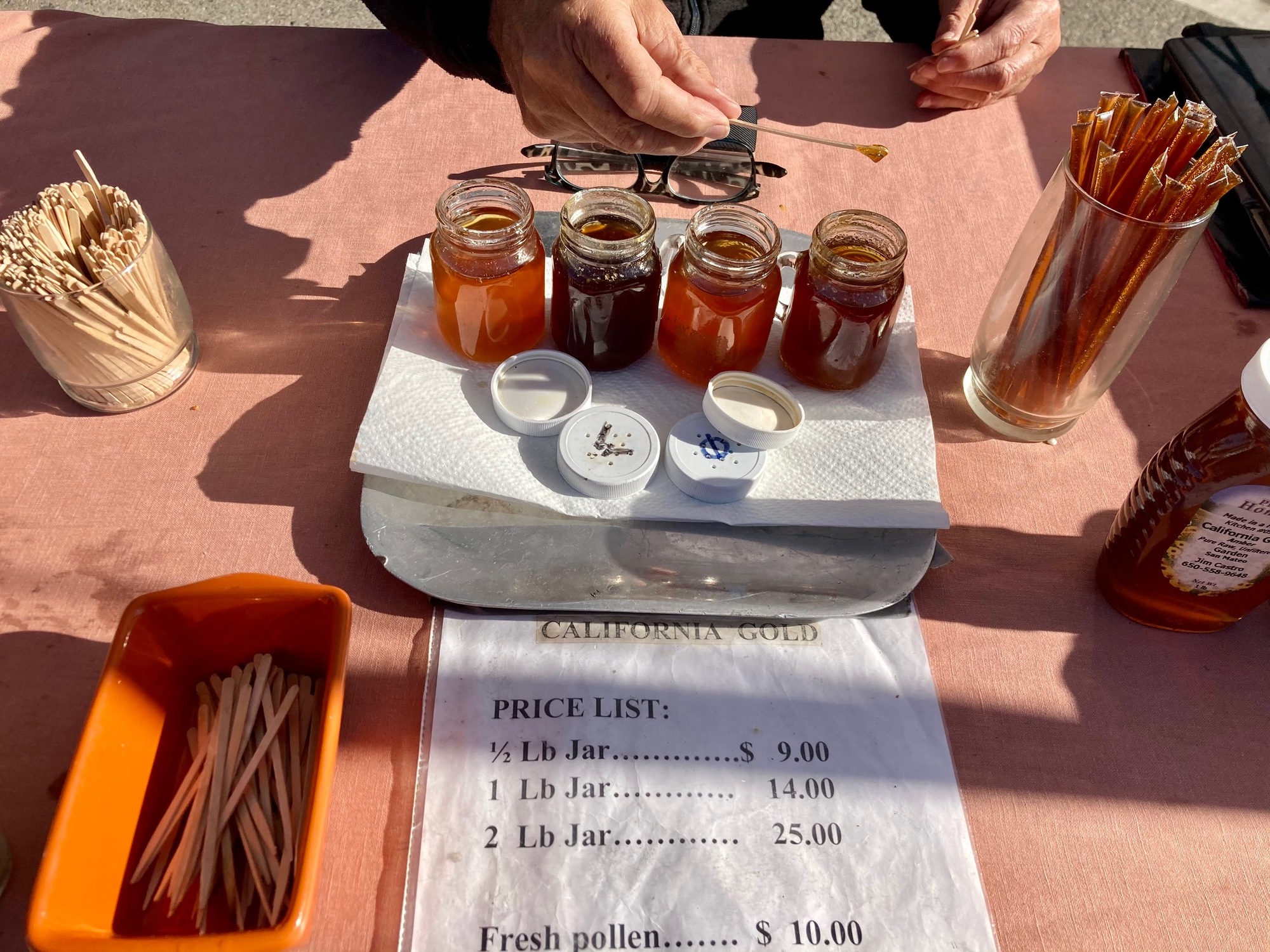 (After sampling and then purchasing a half-pound bottle of his "winter" honey — produced from bees primarily collecting nectar from local pollen-producing trees — I can attest that it's, in fact, "California Gold.")
Castro isn't unlike other vendors who participate in Undiscovered SF's Sunday markets. Many of the on-site booths feature local artisans and small craft businesses that don't have actual storefronts; they sell their products either online or at in-person events — or both.
"Even though Malaya Botanicals has a storefront in Alameda, a lot of the businesses here don't have physical stores and rely on markets like these to sell their goods," a salesperson at Malaya Botanicals, a female- and BIPOC-owned CBD business in East Bay, tells us. "These events aren't just important to the community and for locals who want to have some safe fun while we're in a pandemic, but they're also so important for these sellers to get some foot traffic after months of nothing."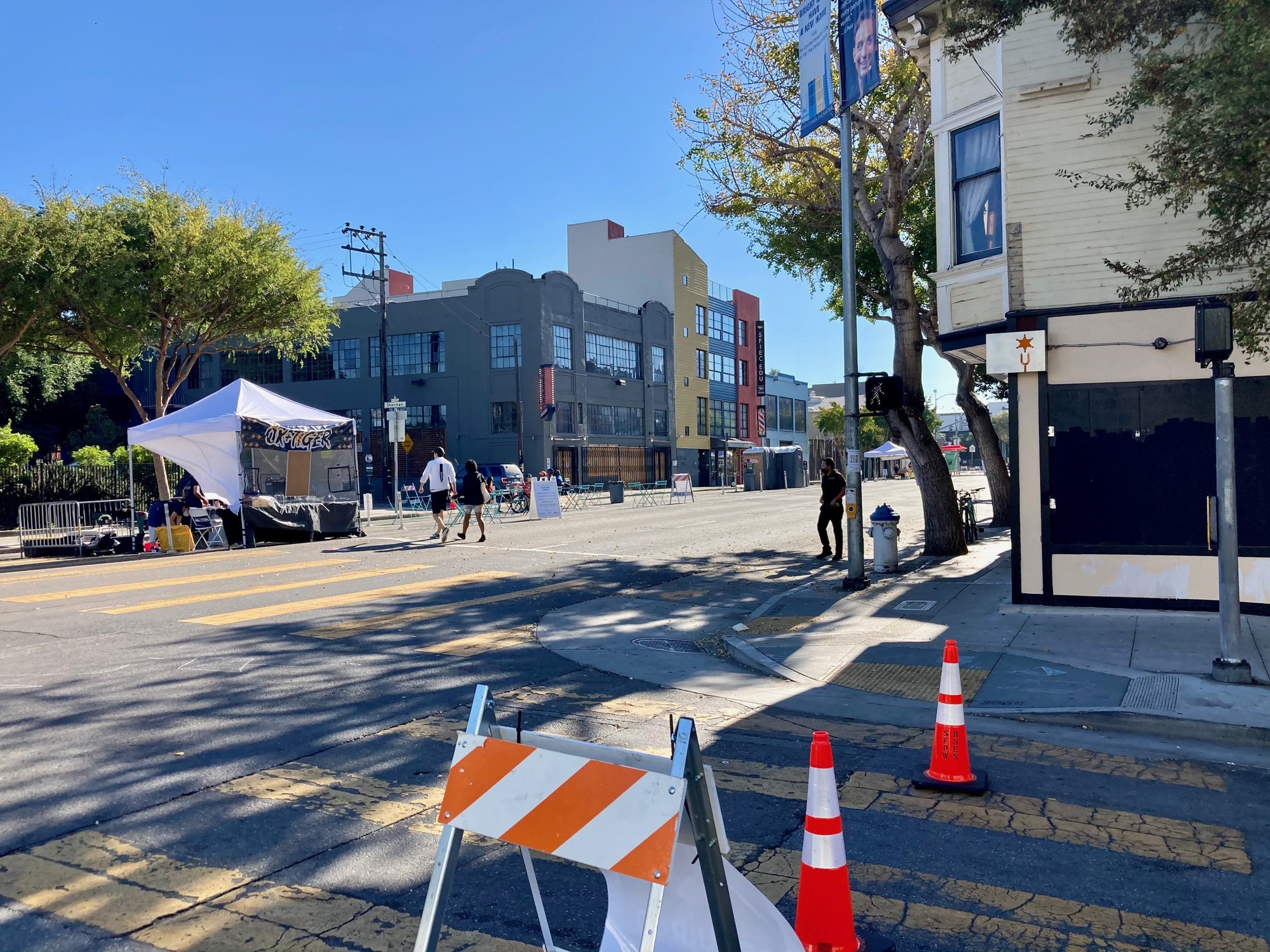 As they noted, this weekend's market was a lukewarm affair, perhaps because the usual fresh produce stands were not present Sunday; we only noticed a few groups and families crisscrossing the closed-off streets; shoppers who were frequenting booths were all wearing face coverings and practicing proper social distancing. We were also told that this is not the norm and last weekend's Sunday market was incredibly busy — and starred drag queens encouraging attendees to vote in the upcoming election and families filling nearly all of the on-site outdoor dining areas.
SF Weekly noted, these "Sunday streets" are part of the city's popular San Francisco Shared Spaces program (that may soon expire), helping to both support and shine a light on the Filipino SoMa community during Filipino American History Month.
As Undiscovered SF describes, the non-profit organization is keen on setting the "gold standard" when it comes to keeping people safe amid the COVID-19 pandemic. From temperature checks to available COVID-19 testing, vendors are also provided with gloves, face shields, and hand sanitizer bottles. The market's car-free corridor is well-spaced and has a plethora of signs that remind people to don face masks at all times (sans when eating or drinking) and to practice proper social distancing; porter potties and hand washing stations are common at each event.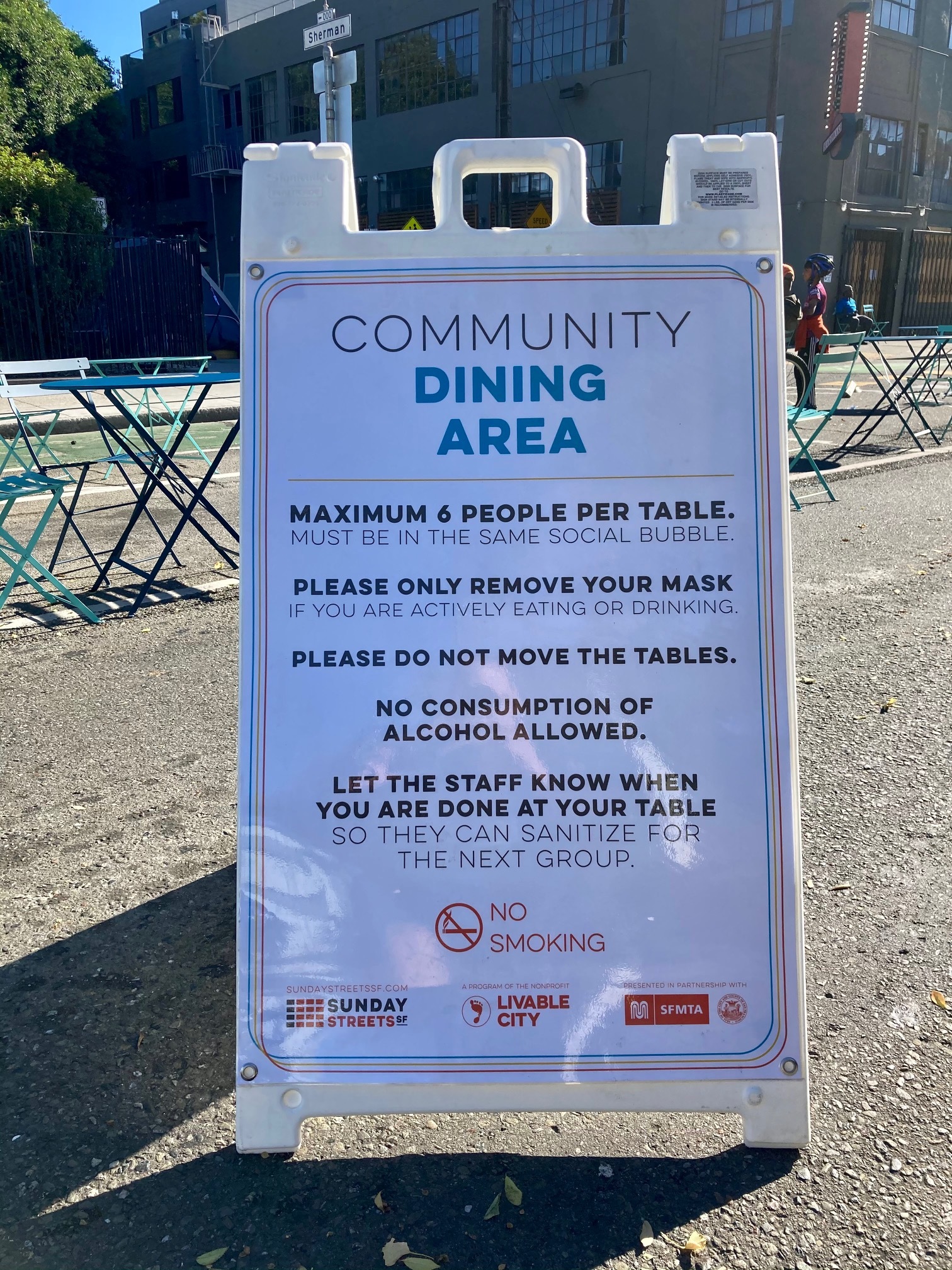 The Sunday markets — which will continue this week and could be extended into November — are also serving as a litmus test for the larger, well-liked night markets. Regardless of whether or not these Sunday markets, or the in limbo night markets, continue on into the future, try to put your dollar to good use and support local BIPOC-owned businesses.
The next scheduled Sunday pop-up is set for this Sunday, October 25, from 11 a.m. to 4 p.m., and you can RSVP in advance here to receive a free pin.
For more information on Undiscovered SF, including its Sunday Markets and virtual happenings (like this past weekend's Undscvrd X, an online exhibition of "artists, change-makers, and entrepreneurs accelerating Filipino culture"), visit undiscoveredsf.com.