After a four-month hiatus, Castro cocktail bar Blackbird (2124 Market St.) reopened Wednesday with expanded outdoor seating.
Co-owner Shawn Vergara tells Hoodline "the time was right for Blackbird to reopen." "We got the new parklet built and the weather has cleared up."
Blackbird temporarily closed on December 4 in response to San Francisco preemptively adopting the state's stay-at-home order.
For the time being, Vergara says Blackbird is only providing outdoor drink service. "For us, indoor capacity is just too minimal to make it worth it," explained Vergara.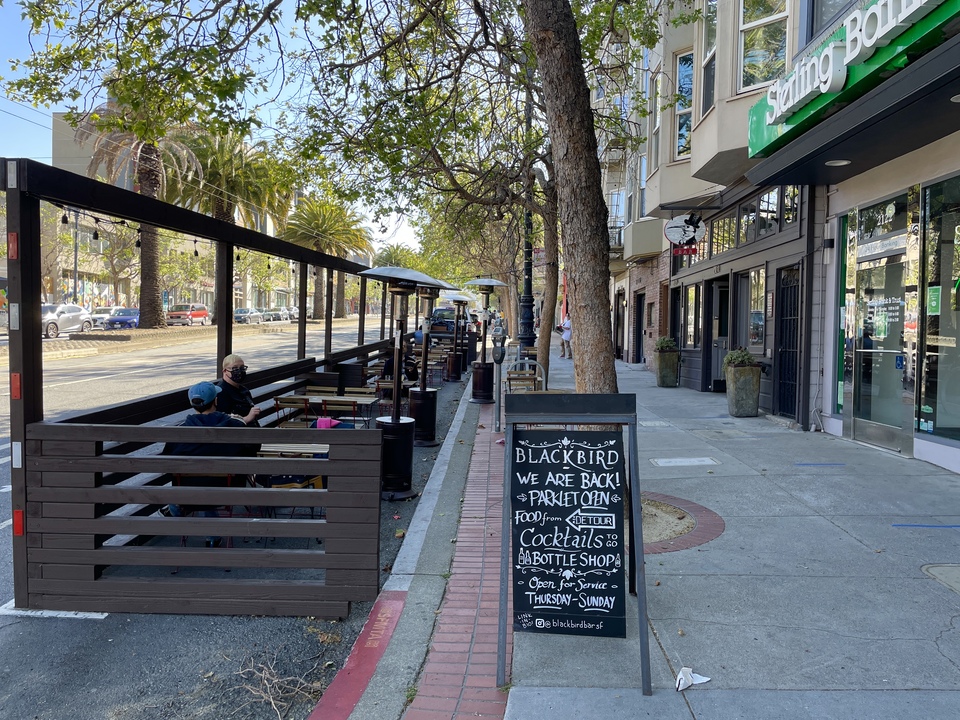 Blackbird has rebuilt its Shared Spaces platform. | Photo: Steven Bracco/Hoodline
Blackbird's bottle shop, open on Fridays during the closure and selling hard-to-find spirits and beers as well as bottled cocktails, will remain open for now. Just in time for reopening, Vergara says Blackbird rolled out a new Spring/Summer cocktail menu along with its daily happy hour specials.
While Blackbird was closed Vergara says they took the time to rebuild their Shared Spaces platform in anticipation of reopening. Vergara says the parklet now has capacity for approximately 40 customers.
"We feel most people feel comfortable with the parklet," said Vergara. "We haven't really had the option to sit outdoors in the past. Everybody I've talked to on the street says they love the parklet and hope it can stay."
Vergara is hopeful that Mayor London Breed's plan to make the Shared Spaces program permanent gets approved. Should the program become permanent Vergara said they plan to invest more money into their parklet by adding a floor and a roof.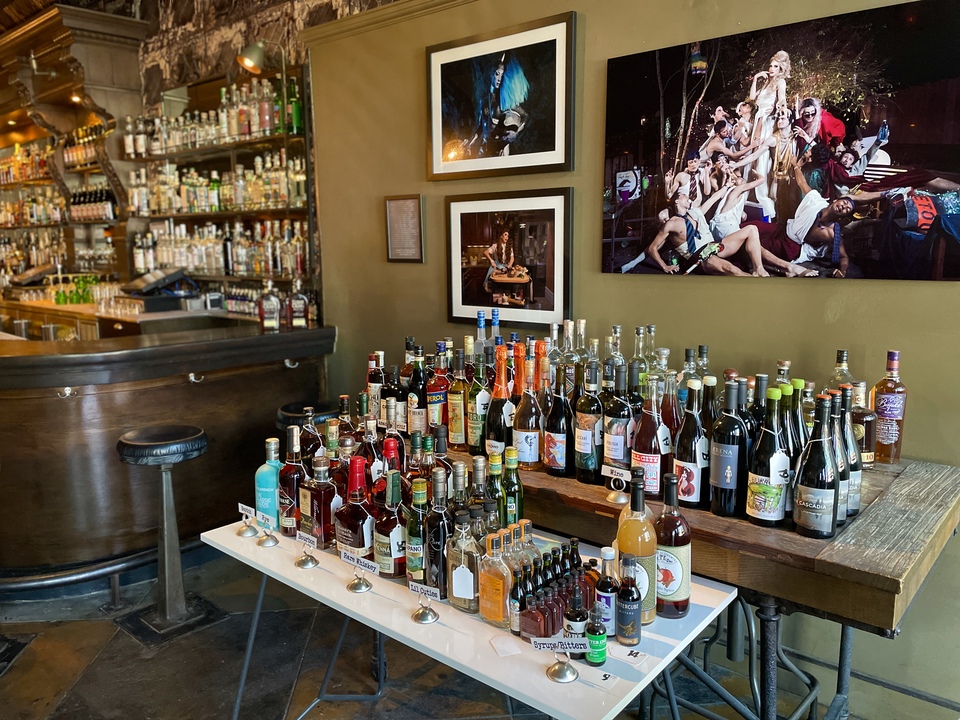 Blackbird's bottle shop. | Photo: Steven Bracco/Hoodline
While the past year was difficult both financially and emotionally, Vergara said there was never a point during the shutdown that Blackbird was going to close permanently.
According to Vergara, paying the bar's operating costs along with rent was one of the hardest challenges to overcome in the past year. Added on top of that was the uncertainty of not knowing whether the government was going to support small businesses was another hurdle.
Vergara told Hoodline that Blackbird and sister business The Detour (2200 Market St.) both received Paycheck Protection Program (PPP) loans from the Small Business Administration.
Public records indicate both Blackbird and The Detour each received two loans. Blackbird received $112,400 in April 2020 and $157,958 in January 2021. The Detour received $130,700 in April 2020 and an additional $183,088 in January 2021.
Vergara tells Hoodline he was grateful for the flexibility and understanding of his landlord Leticia Luna at The Detour. According to Vergara, she deferred and abated rent at The Detour. "She's got a mortgage, taxes, and insurance to pay as well," said Vergara.
While Blackbird has reopened, Vergara says arcade bar and restaurant The Detour will remain on pause for the time being. "Our goal is to reopen The Detour once we can have normal capacity," said Vergara.
With Governor Gavin Newsom announcing earlier this month that the state will fully reopen June 15, The Detour may reopen sooner than previously projected in the fall. However before reopening, Vergara explained that staff at The Detour will need to be rehired and trained.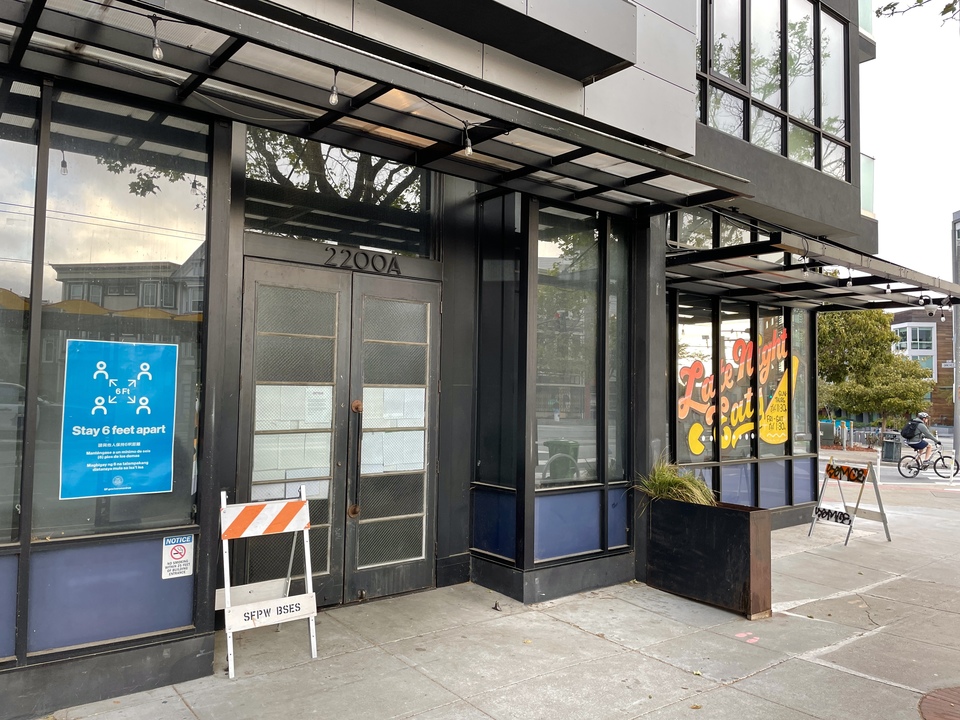 The Detour at 2200 Market St. remains closed. | Photo: Steven Bracco/Hoodline
In the meantime, Vergara says he's looking forward to putting The Detour back together again and seeing it activated.
Right before Covid caused the arcade bar to temporarily shutter, Vergara explained that everything they imagined the place to be was happening. "The community was in here and people were enjoying the space after the expansion and rebranding," said Vergara.
"It was a dream come true," said Vergara. "Then Covid hit and you just didn't know what was going to happen."
"All the money you spent is just going to go down the tubes," said Vergara.
Now that Blackbird has reopened, Vergara wants residents to accept Mayor London Breed's challenge to take a pause from retail chain stores patronize local businesses for the month of May.
"We are really hoping to see people come out and experience our parklet," said Vergara.
---
Blackbird is located at 2124 Market St. Hours: Wednesday and Thursday 3 p.m. to 9 p.m., Friday 3 p.m. to 10 p.m., Saturday and Sunday 2 p.m. to 9 p.m.