The Castro's popular arcade bar, formerly known as Brewcade, has reopened after undergoing an expansion and name change.
Now rebranded as The Detour — in honor of a longtime neighborhood bar that closed in 2005 — it reopened on July 19, after a temporary closure to expand into the former Botellón and Hecho space next door. 
In its larger space, The Detour now boasts more games, a food menu and a full bar with cocktails, courtesy of the Type 47 liquor license it purchased from Botellón.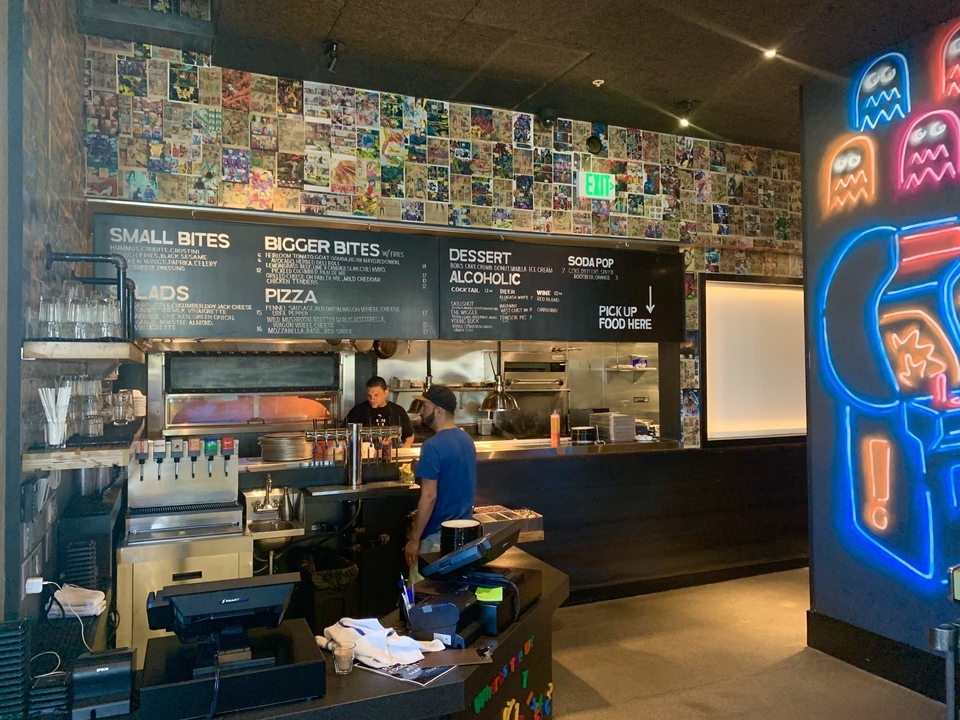 The former Botellón bar is now the space's main bar; Brewcade's former bar area was removed and replaced with additional games. Like many new restaurants in San Francisco, food is available only from a walk-up counter, cutting down on the number of staff needed for table service.
Brother-sister co-owners Shawn Vergara and Tiffny Vergara Chung, who also own nearby cocktail bar Blackbird, decided to rename Brewcade to highlight the fact that it now serves a full drink menu and food.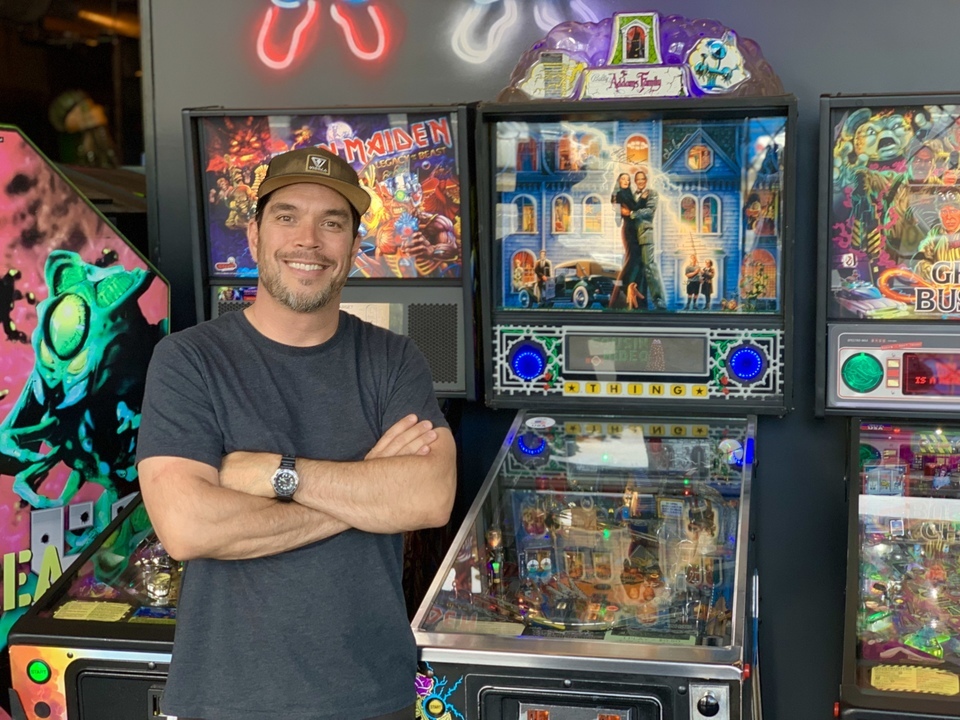 The expanded bar was set to be called 'District 8,' but after established businesses expressed concerns about conflicts with the name, the pair decided to go with The Detour instead, paying homage to the bygone bar that is now home to Beaux (2344 Market St.)
The Detour operated from 1985 through 2005. In a 2013 story, Hoodline writer Waiyde Palmer described it as "a rough-and-tumble, super cruisey, dude bar where all were welcome ... [it] was one of the most infamous and beloved booze joints in the 'Stro during the 80's through early 2000's."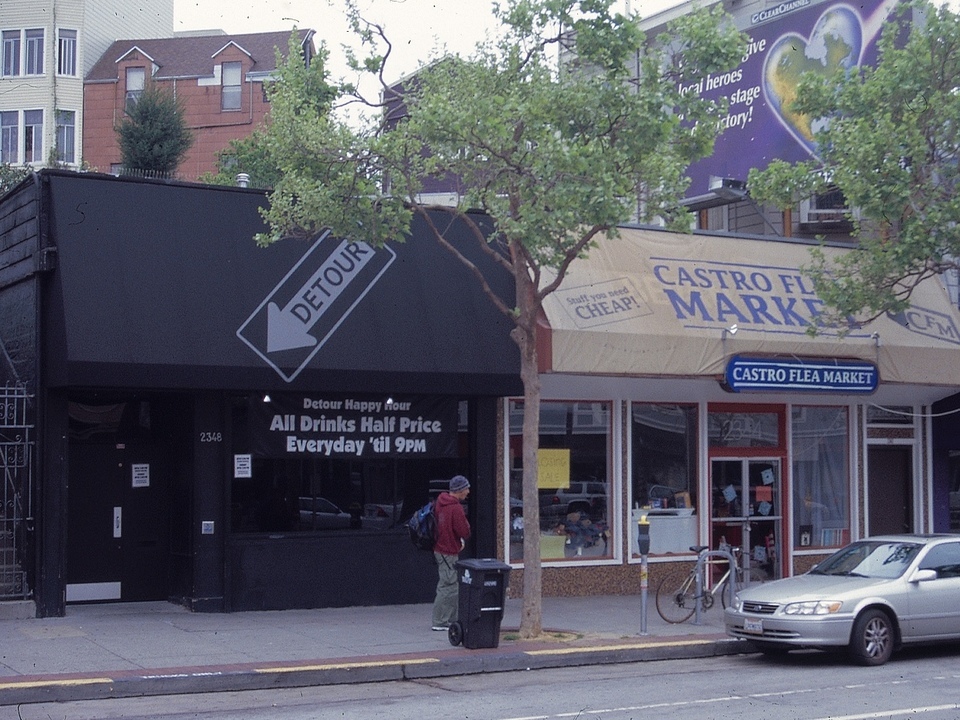 Vergara told Hoodline he used to hang out at The Detour after shifts at Zuni Cafe, enjoying deep house music and playing his favorite pinball game, The Addams Family. He chose the name for its direct connection with the neighborhood's past, and the good memories it instills in many.
The new name is also an acknowledgement that Brewcade's original incarnation failed to connect with the LGBTQ+ community. "We failed in branding the bar to have clear, identifiable queer markers, so the neighborhood knew it was a safe space," said Vergara.
With the addition of Pride flags outside, LGBTQ-centric murals inside and neighborhood-focused staffing, Vergara hopes to change that perception, offering a welcoming place for the community.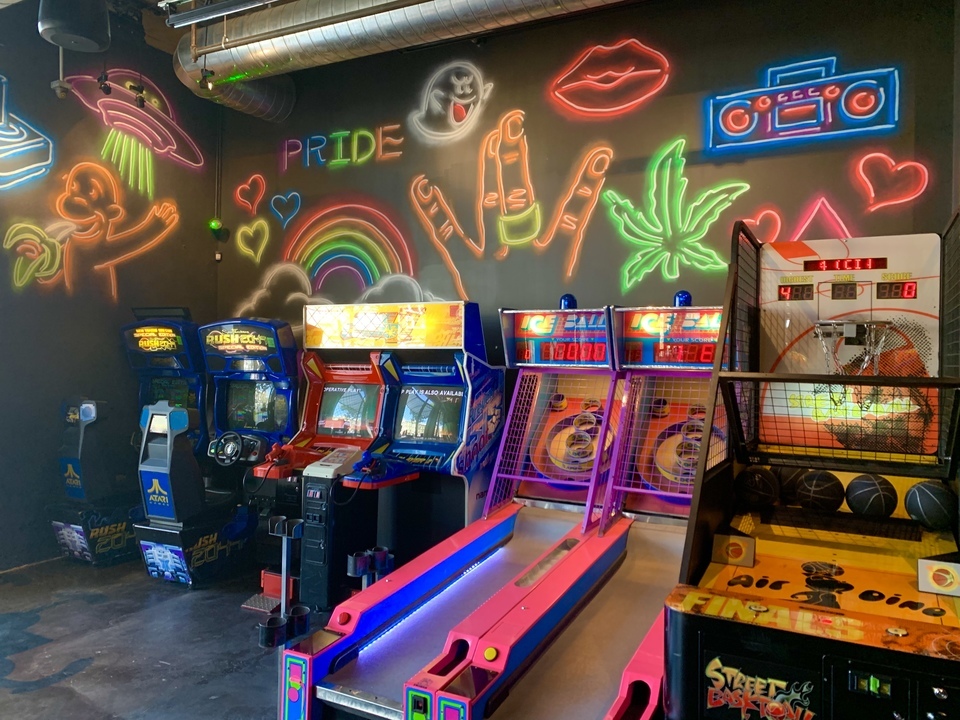 "The response from the neighborhood has been overwhelmingly positive,"  Vergara said. "We couldn't be more thrilled with the way the place has turned out; it's actually surpassed our expectations."
There's still a nod to the Brewcade days, though, as Vergara has rearranged letters from Brewcade's old signage above the bar to read "We Are BC."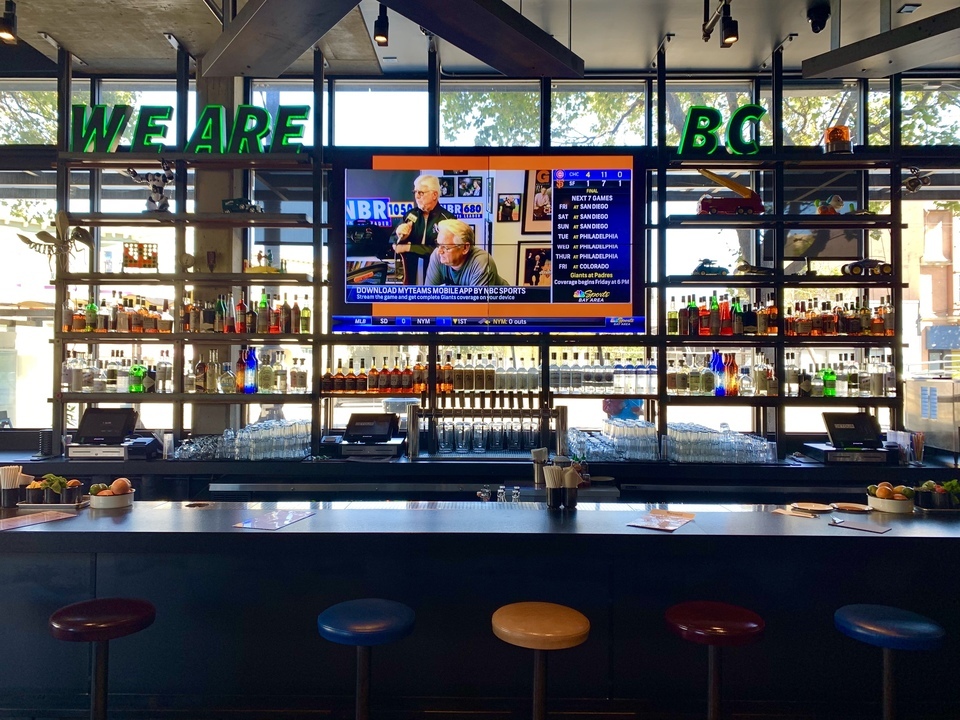 Since Brewcade didn't previously have a kitchen, Vergara partnered with chef consultant Matt Dumas (Zuni Cafe) to create The Detour's food menu. The food is casual, with small bites (hummus, french fries, chicken wings), salads, bigger bites (burgers, veggie burger, grilled cheese) and pizza.
"The perception is that the food is going to be an afterthought," said Vergara."[But we] look at ourselves as a restaurant first — the games are the cherry on top."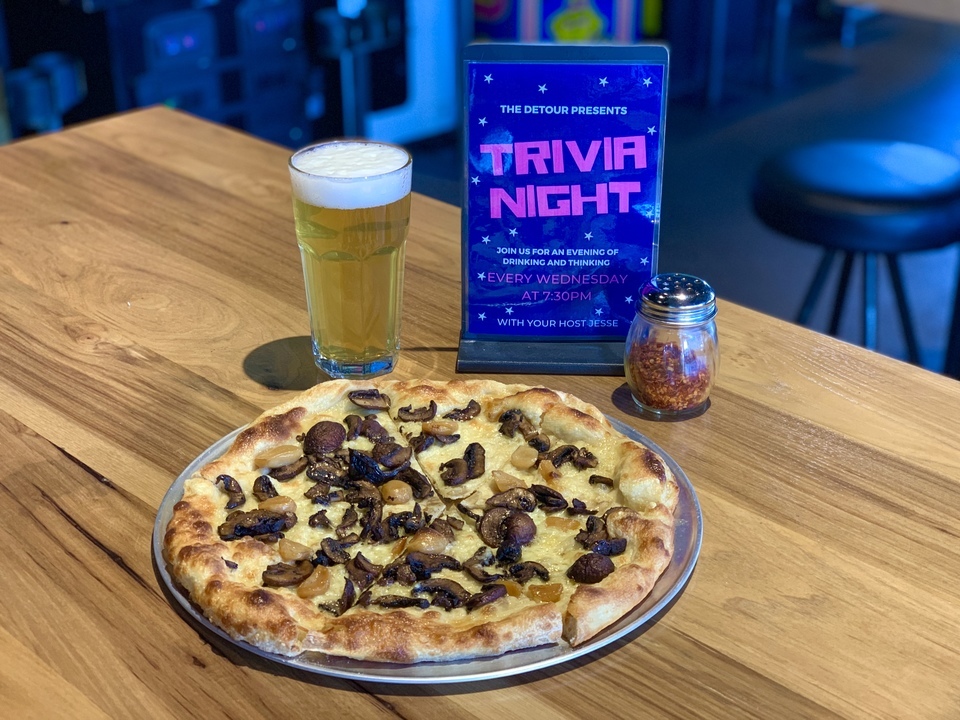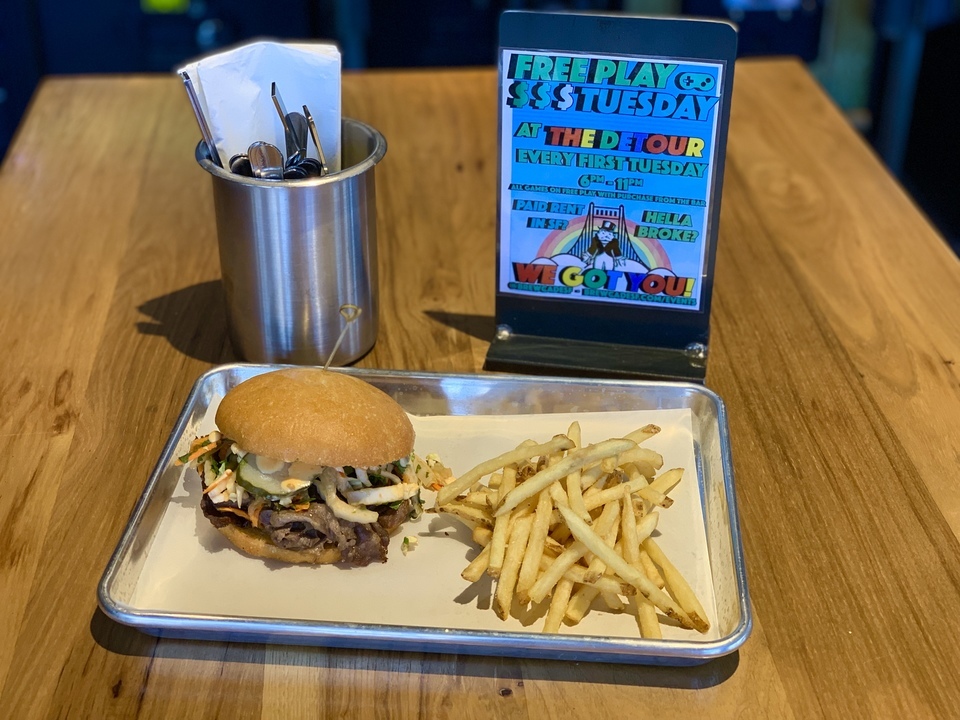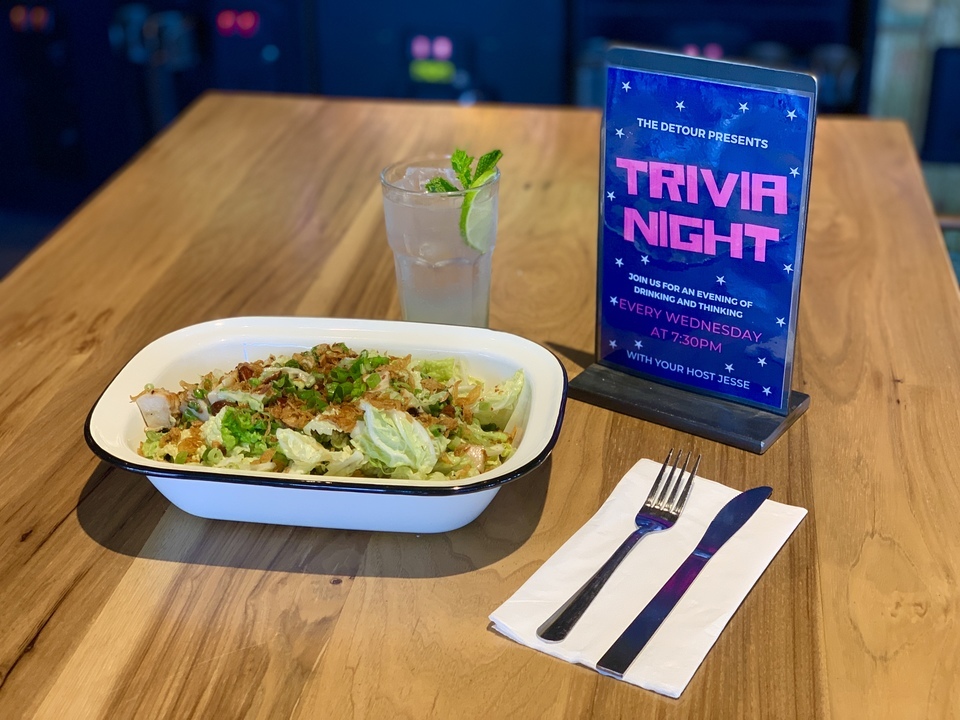 The cocktail menu was developed with Vergara and Vergara Chung's Blackbird business partner, Matt Grippo, with five draft cocktails, sangria, frozen piña coladas and three handmade cocktails.
Vergara decided to go with pre-batched drinks in order for customers to be able to get a drink more quickly. Customers will also be able to order from a roving cocktail and beer cart.
The Detour has a reduced selection of beer in comparison to Brewcade, with only five on draft, alongside a selection of canned and bottled beer. There are also four wines on draft.
But fans of Brewcade's wine slushee will be out of luck — unfortunately, it's game over for the drink at The Detour.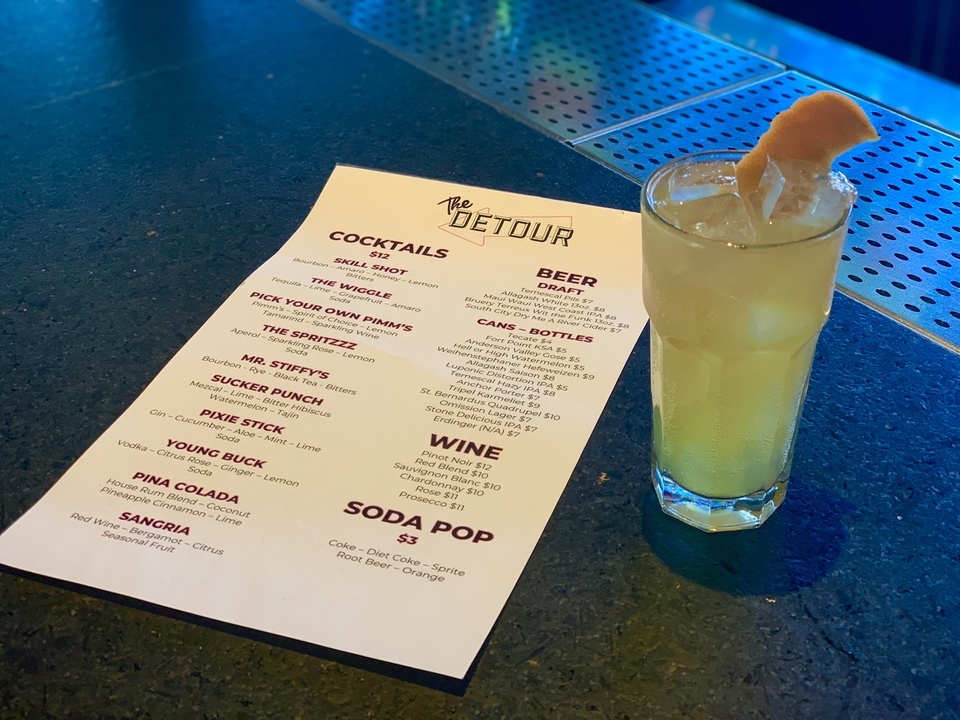 To keep people coming in on a daily basis, Vergara plans to expand the bar's event offerings. Upcoming events include free play Tuesdays (monthly), board game night, Wednesday night trivia (weekly), gaymer night (Sundays) and corporate events. The Detour will also continue to host special nights for playing the multiplayer arcade game Killer Queen. 
Esports — competitive video gaming — have grown in popularity in recent years, and The Detour plans to take advantage by hosting viewing parties. The bar's first watch party event, for the fighting game tournament Evolution Championship Series, is planned for August 2-4.
Unlike Brewcade, which was closed to those under 21, The Detour will host special family-friendly hours on Saturdays and Sundays from 12-5 p.m., so parents can bring their children to play. At all other hours, the bar will be 21+.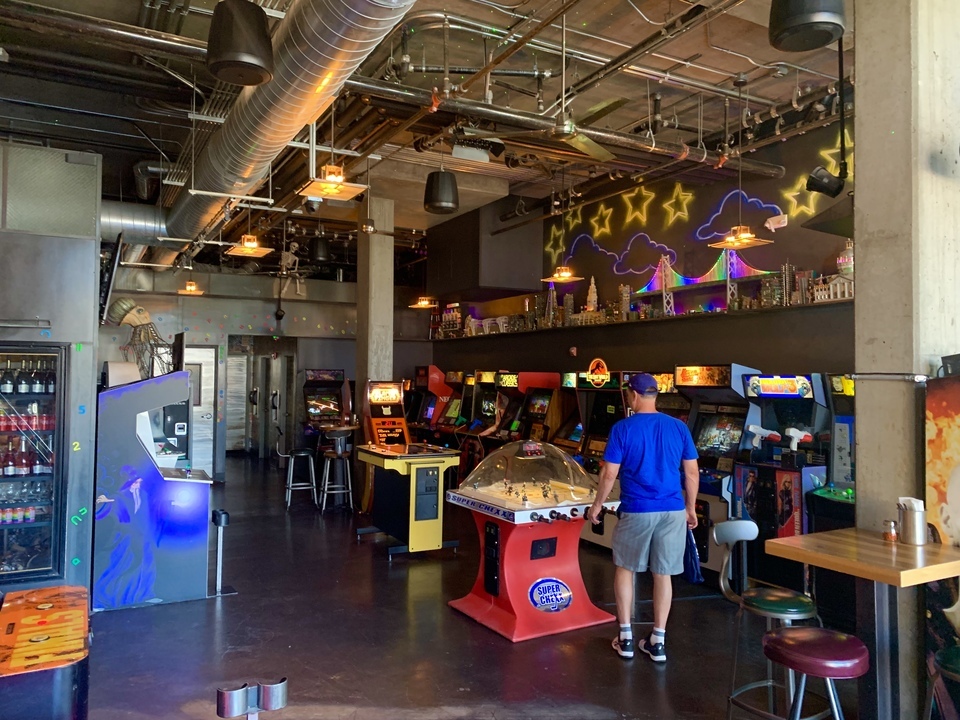 Vergara is confident the third time's a charm for this troubled, triangular space at the corner of Market and Sanchez.
Plagued by a glut of retail vacancies, the area has seen an increase in foot traffic in recent months, thanks to the opening of new beer garden Willkommen. Vergara believes the two businesses will work well across the street from one another.
---
The Detour is now open from 4 p.m.-midnight Monday-Thursday, 4 p.m.-2 a.m. Friday, 12 p.m.-2 a.m. Saturday and 12 p.m.-midnight on Sunday.