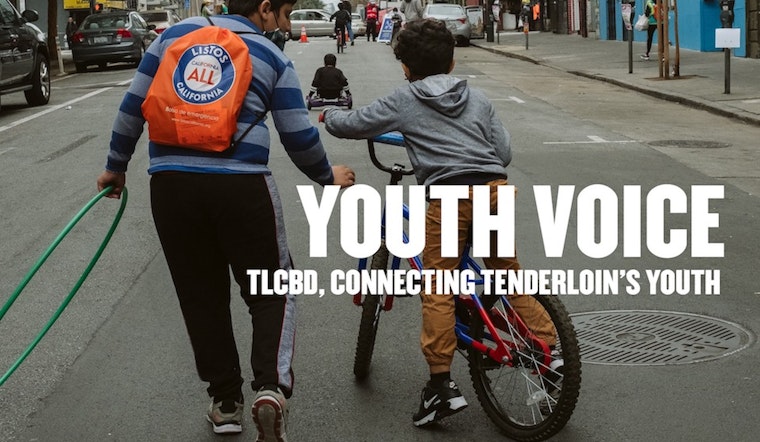 Published on April 09, 2021
The Tenderloin will see a boost in after-school and community activities for teens and older transitional-aged youth through a new program funded in part by a federal grant.
The Tenderloin Community Benefit District's (TLCBD) new Youth Voice program will be the "backbone" of a new neighborhood-wide partnership intended to empower young residents and elevate their voices, Youth Voice director Esan Looper tells Hoodline.
TLCBD's work to identify and address the needs of young people is well known already, but this program, which will focus more on older youth, began with an intern program to support the PlayStreets series that occurred last fall, Looper said.
"The grant opportunity was somewhat serendipitous and came at a time when our organization was having internal conversations about the need for investing more in Tenderloin youth, especially teens and transitional aged youth," he told us. The funding comes from the United States Department of Justice's Project Safe Neighborhoods grant program, provided through the U.S. Attorney's Office of the Northern District of California. The grant, which adds up to $588,664, will support the launch and implementation of the Youth Voice program through September 30, 2023.
TLCBD's new Youth Voice program is using a collective impact model, which aims to coordinate and leverage a wide number and variety of neighborhood partners to create a network of aligned programming, Looper said. The partners will agree on surveys and data collection to measure different programs' success in engaging older youth and achieving common goals. Many of the initial partners — 10 of which wrote letters of support for TLCBD's grant application — are part of the existing Tenderloin After-School Program Network that helped launch learning hubs in the neighborhood during the COVID-19 pandemic, Looper said. University of California, San Francisco is partnering on designing the surveys, and HealSF is helping train neighborhood staff to address the negative impacts of trauma and poverty in teens, he added.
Looper himself is well versed in pulling people — especially youth — together to solve problems. He worked for several years in Providence, Rhode Island running after-school programs and helping prepare middle school-aged kids for high school. Many of those programs used high school students as teachers, Looper said.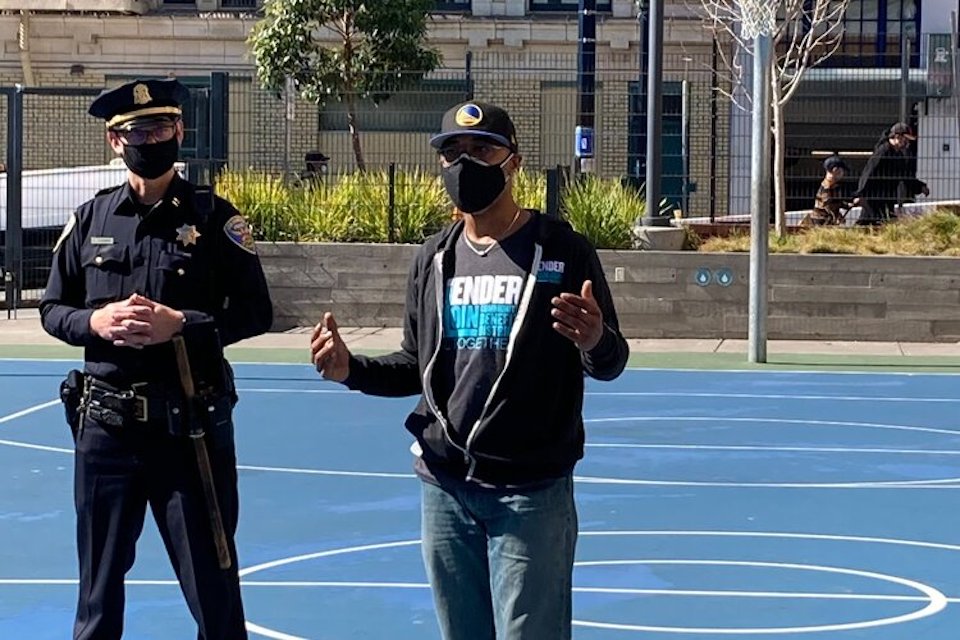 Esan Looper (right) is director of the TLCBD Youth Voice program
He also has a self-described "long history in the Tenderloin." His parents, Kathy and Leroy Looper, transformed the Cadillac Hotel (at Turk and Eddy) into a supportive housing offering in the late 1970s (Kathy is still on the hotel's board and Leroy worked there until he passed away in 2011). Esan moved back to San Francisco in 2003 and spent more than 14 years working with the Boys and Girls Club, including about seven years at the Tenderloin Clubhouse.
The federal Project Safe Neighborhoods is a non-violence program, but it also focuses on coordination of service providers and creating a network of existing and new programs based on community input.
"We have so many assets [in the Tenderloin] but we can all agree that we need more investment in teens and transitional-aged youth so they can start being leaders," Looper said. Older youth are currently lacking both access to and variety of after-school programming, he said, and there aren't enough seats or options, and even some existing programs lack offerings for high-schoolers. The Youth Voice fellows program will launch this summer, and successful applicants will play a large role in defining what new programs are likely to be most attractive to other participants and which existing programs need more seats.
TLCBD's Youth Voice program is modeled off evidence-based programs that have been successful in other San Francisco neighborhoods, including the Bayview's Mobilization for Adolescent Growth in our Communities (MAGIC) and the Fillmore's Mo'MAGIC program. Any organizations interested in joining the Youth Voice program network can contact Looper at [email protected].
"This neighborhood is used to working together... and I have seen the power of young people to solve problems, given the chance and a platform," Looper said. TLCBD will announce the application process for the Youth Voice Fellows program later this month.