San Jose will soon be home to a striking new outdoor pavilion that will host a number of art-themed events, and potentially serve as a symbol for a reimagining of Silicon Valley's built space. City officials and organizers hope that the Serpentine Pavilion, a towering, LEGO-looking structure which has made appearances in London and Toronto, will revitalize San Jose's South First Area, or SoFA district, and help the downtown area's recovery from the social stagnation of the pandemic.
San Jose city staff said that the Serpentine Pavilion could host more than 300 events, including theatrical performances, movie screenings, and fashion shows; city officials believe the pavilion could potentially "activate" the SoFA district by providing free public events, as well as private engagements, according to the Mercury News. "The diverse activations that will take place in and around the Serpentine will further downtown's recovery from the pandemic," Scott Knies, the executive director of the San Jose Downtown Association, was quoted as saying.
The Serpentine Pavilion is constructed of some 1,800 fiberglass frames stacked to form a curving, cave-like passageway, the Mercury News explains, adding that it has become an international traveling exhibition which was showcased in London's Kensington Gardens, as well as in Toronto.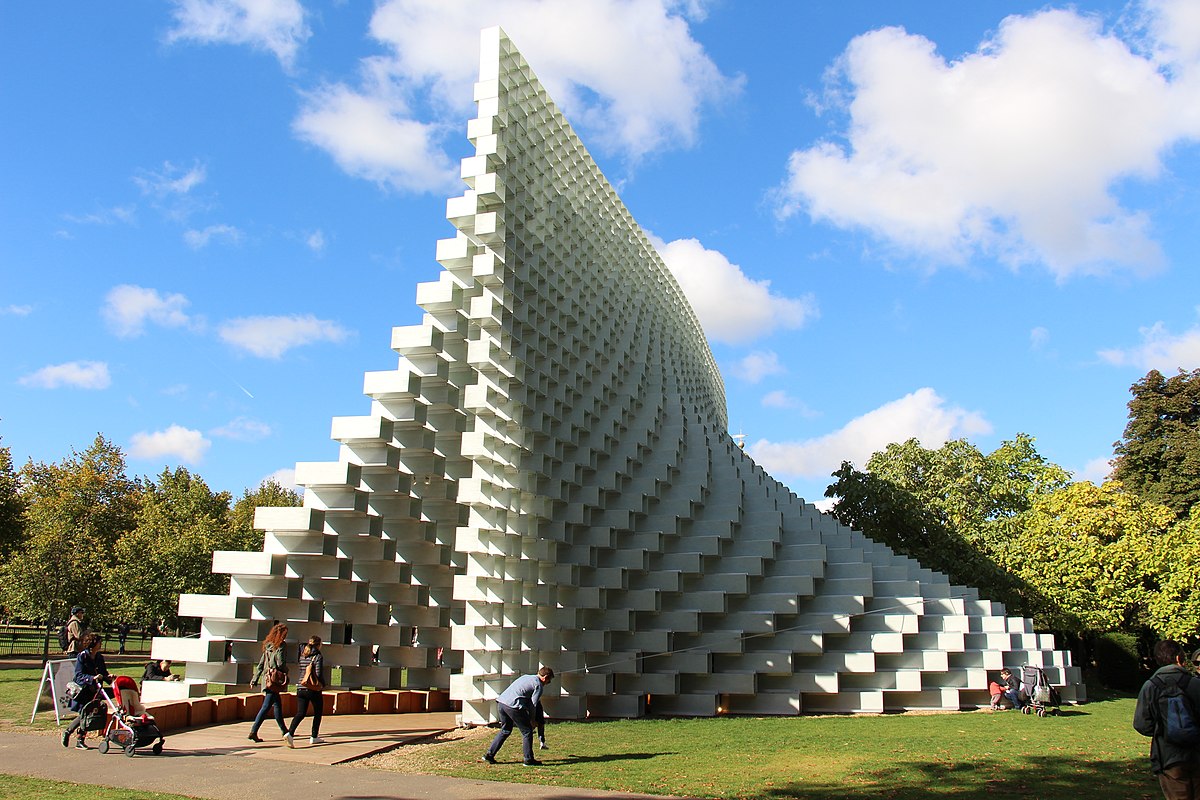 The Serpentine Gallery as seen in London's Kensington Gardens. Source: Wikipedia Commons
The real-estate enterprise Westbank Corp., which is involved in a number of potential large-scale developments in San Jose, spearheaded the pavilion's global-tour concept. Westbank also owns the downtown site — known as the Valley Title block — where the Serpentine Pavilion will make its appearance. The site is bordered by East San Carlos Street, South First Street, East San Salvador Street, and South Second Street, according to the Mercury News.
The Canada-based Westbank is part of a "sweeping transformation of San Jose that is redefining Silicon Valley," according to Designboom. Westbank recently paid $11.4 million for a 1.6-acre parcel in downtown San Jose, at the southwest corner of Terraine and Bassett streets, in the hopes of building a residential tower on the site, the Silicon Valley Business Journal reported, adding that the area has seen hundreds of new apartment buildings constructed in recent years. However, the area "still isn't exactly thriving," according to local developer Gary Dillabough, who co-founded Urban Community, a firm committed to enhancing the urban experience in downtown San Jose. "Adding another residential tower should help the area become more dynamic; to make a really vibrant area, density is extremely important," Dillabough says, per the Business Journal.
Designboom argues that Silicon Valley has long centered its focus on the digital space, leaving its built environment largely ignored. "Those who work in San Jose spend too long commuting from other areas, only to find their work environments uninspiring and unhealthy," they write. "[Westbank] will finally bring Silicon Valley's built space into the future with a community-focused collection of residences and workspaces."
The Mercury News said that exhibits at the Serpentine Pavilion could be used to promote the downtown San Jose projects planned by Westbank and Urban Community.