The landmark California Theatre in downtown Berkeley (also a Landmark, capitalized, as it's part of the Landmark Theaters change) is shutting down permanently.
The 107-year-old movie theater has been closed since the beginning of the pandemic, and now a spokesperson for the Landmark chain told Berkeleyside that it won't reopen the iconic location.
"The landlord didn't want to renew our lease, so we are vacating the theater," company spokeswoman Margot Gerber told the outlet, which confirmed rumors that the movie house wouldn't be reopening. Landmark had run the California, aka "The Cal," since 1994.
Berkeleyside noted that the Art Deco theater, with its imposing facade and fleur de lys motifs, was described by a state report as "eligible" for the National Register for Historic Places, though it isn't listed on the register at this time.
Nevertheless, city of Berkeley documents indicate that the building, located at 2113-2115 Kittredge St., hasn't been designated a "landmark or structure of merit," and it appears not to have been granted any historic preservation status by the city to date.
"The building is historically significant due to its distinctive architecture and association with important patterns of commercial development in the downtown core," says the 2015 California Department of Parks and Recreation report, which calls the theater an important "contributor" to a downtown Berkeley historic district. "The form and detailing of both the building and its ticket lobby maintain an important link to the past of downtown Berkeley."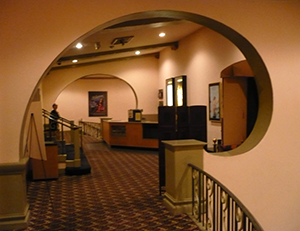 Interior of the theater Photo: Landmark
The theater was built in 1914, when it was known as the T&D Theatre and showed both live theater shows and movies. It underwent an Art Deco renovation at the start of the 1930s and then another remodel in the early 1950s, when the current marquee was probably installed, according to the state report.
"It's a beautiful building, and deserves to be preserved as a movie theater," a long-time former manager of the California, Dale Sophiea, commented to SF Gate. "I don't see how they could turn it into anything else."
For now, though, the future of the theater — previously a big draw to the Shattuck area — is up in the air. But Landmark spokesperson Gerber indicated to Berkeleyside that the chain would be interested in continuing to operate the spot as a movie theater.
"Maybe Landmark will end up with the lease again, it's hard to say," the outlet quoted Gerber as saying. "If an opportunity avails itself in the future, it's always possible."