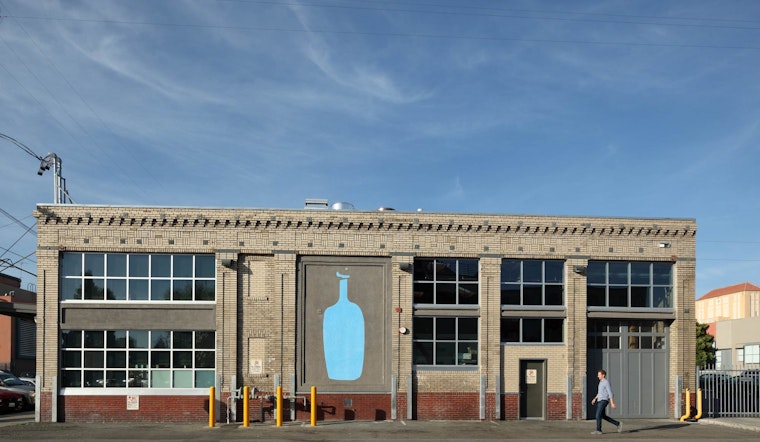 Published on November 05, 2021
Blue Bottle Coffee has been brewing up some explosive worldwide growth over the last few years and now one of the hallmarks of the company is going away. The company's original location at 300 Webster Street near Jack London Square in Oakland is closing. When Blue Bottle first started experiencing big growth in 2009 the building housed the company's roasting operations and office headquarters.
"We are extremely grateful to our cafe regulars and the Jack London Square community who supported us at this location for so many years," Blue Bottle CEO Karl Strovink said in a statement to SF Chronicle.
The lease on Blue Bottle's Webster Street location had been on a month-to-month basis since 2019 while the landlord looked for a new tenant to take over the space. Strovink tells SF Chronicle that a new tenant has agreed to lease the space but he did not say who it was.
Blue Bottle anticipated leaving the original location in 2019 and ended up moving its roasting operations to a facility in Sacramento. Its office operations were moved to Old Oakland which helped it keep in line with its rapid growth.
Blue Bottle is considered a "third wave" coffee pioneer, rising to compete with giants like Starbucks, Peets, and Philz by using a more regionally sourced approach. It also capitalized on the desire for higher-quality, organic coffee beans that are sourced directly from farms. Since its conception, countless coffee shops with similar vibes and a focus on high-quality coffee have opened all over the country, spawning what some call the "fourth wave" in American coffee.
According to SF Chronicle, Blue Bottle started at an Oakland farmers market in 2002 before moving into San Francisco. Fast forward to today and Nestle is now the majority stakeholder in Blue Bottle which has pushed the company to grow to around 100 locations across the world.
The exact closing date remains unclear for Blue Bottle's Webster Street location, and stay tuned for announcements about the new tenants coming to the area. Strovink encouraged nearby customers to get their fix of Blue Bottle by visiting the Old Oakland Cafe which is about a half-mile away on 9th street.