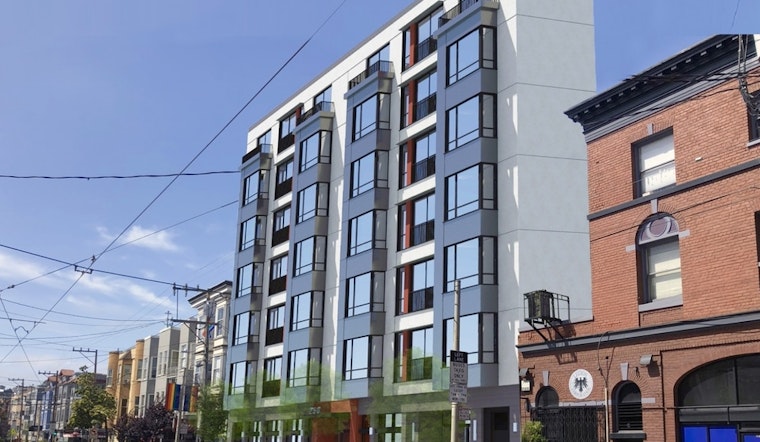 Published on December 06, 2021
Last week the Planning Commission unanimously approved the demolition and redevelopment of 240-250 Church Street, which previously housed 24-hour diner Sparky's, and continues to house decade-old bakery Thorough Bread and Pastry.
Hoodline readers may recall that Sparky's abruptly closed in 2016, and its space has sat vacant and gutted ever since. Next door, Thorough Bread, which has been in operation since 2008, continues to serve customers.
In their place, a seven-story, 24-unit mixed-use apartment building has been approved. As previously reported, the project was submitted in 2019 for review by the SF Planning Department, at an estimated construction cost of $3.5 million and $20,000 for the demolition.
Initial plans had called for 22 units but developer Ty Bash is taking advantage of the state density bonus program for new housing, allowing Bash to add two additional units for a total of 24 units.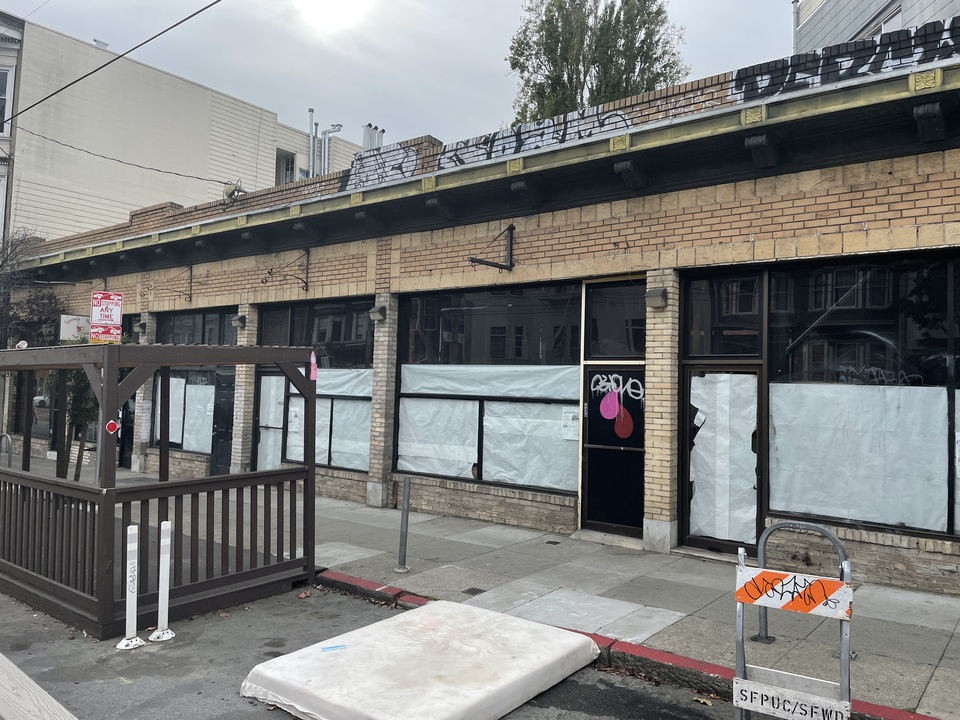 The current building at 240-250 Church St. will be demolished. | Photo: Steven Bracco/Hoodline
The new building, designed by Schaub Ly Architects, will include six one-bedroom units and 16 two-bedroom units, with approximately 1,992 square feet of ground-floor retail space for Thorough Bread to return to once construction is complete.
Three of the units, one 1-bedroom and two 2-bedroom units, will be set aside for affordable housing. The affordable housing units will be sold at 80% of area median income (AMI). According to the Mayor's Office of Housing and Community Development (MOHCD), 80% AMI for two people is $85,250, which supports a sale price of just over $333,000 for a one-bedroom, or $369,000 for a two-bedroom.
All of the units will have access to a shared rooftop space. Thorough Bread will have exclusive use of the rear yard for outdoor dining.
The building will include 25 secured Class One bike parking spaces and five Class Two sidewalk bike racks. It will have no vehicle parking spots, as Muni's Church Street station is just around the corner.
Though it was constructed in 1917, the approximately 5,146-square-foot building at 240-250 Church is not considered a historic resource by the city.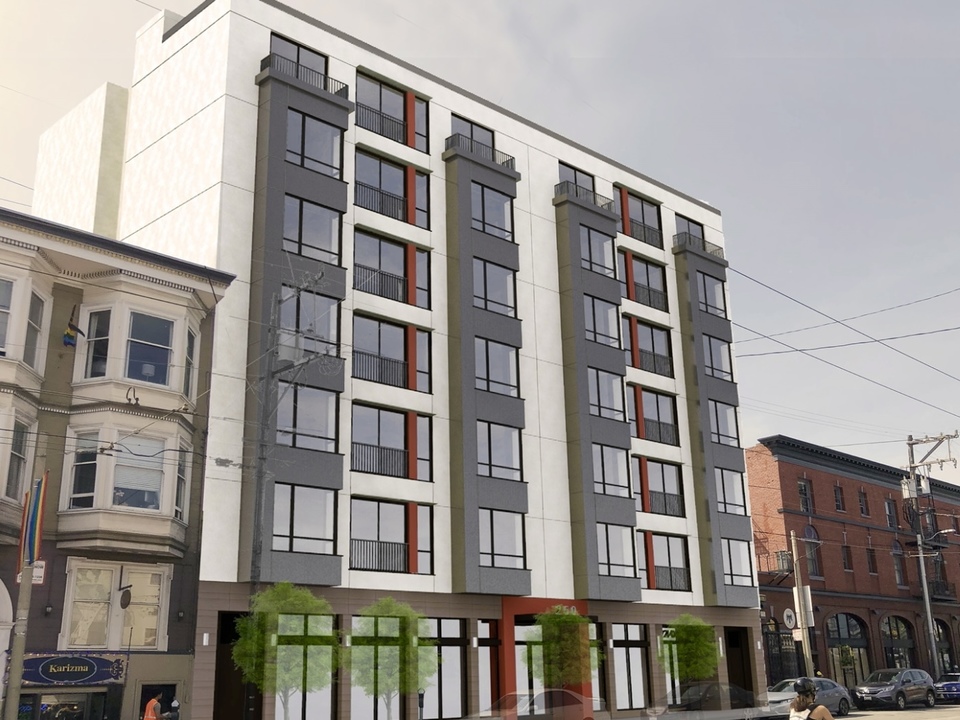 Rendering of the proposed development. | Image: Schaub Ly Architects
According to lead architect Jeremy Schaub, the project received two letters of support from neighborhood residents, held one community meeting in 2018, and met with neighborhood groups including the Duboce Triangle Neighborhood Association and the Castro Merchants.
Castro Merchants president Masood Samereie and Castro/Upper Market Community Benefit District (Castro CBD) executive director Andrea Aiello both tell Hoodline that Bash initially reached out with preliminary designs but never came back for final approval or requested a letter of support.
The Castro LGBTQ Cultural District (CQCD) was the lone group to oppose the project at last week's meeting. Stephen Torres, CQCD secretary, faulted Bash for not meeting with the group and was "disappointed" to only hear about it through an article in the Bay Area Reporter. [Full disclosure: Steven Bracco, Hoodline's Castro reporter, is a board member of the CQCD.]
"For decades, Sparky's Diner played a critical role in the queer community as a quality 24-hour diner that offered food and safety to all who could afford a $2 or $3 cup of coffee," said Torres. "Alas, the same would not be true of the proposed development, which would welcome only Thorough Bread and Bakery patrons, 24 lucky homeowners, and their guests."
"We are deeply concerned that at the proposed 240-250 Church Street development, only three of 24 units would be price-controlled for "affordable" homeownership, and those are at 80% of AMI," added Torres.
"We encourage the developers to explore ways of making their proposed project more queer-centering and affirming, such as by providing queer gathering or business spaces," said Torres.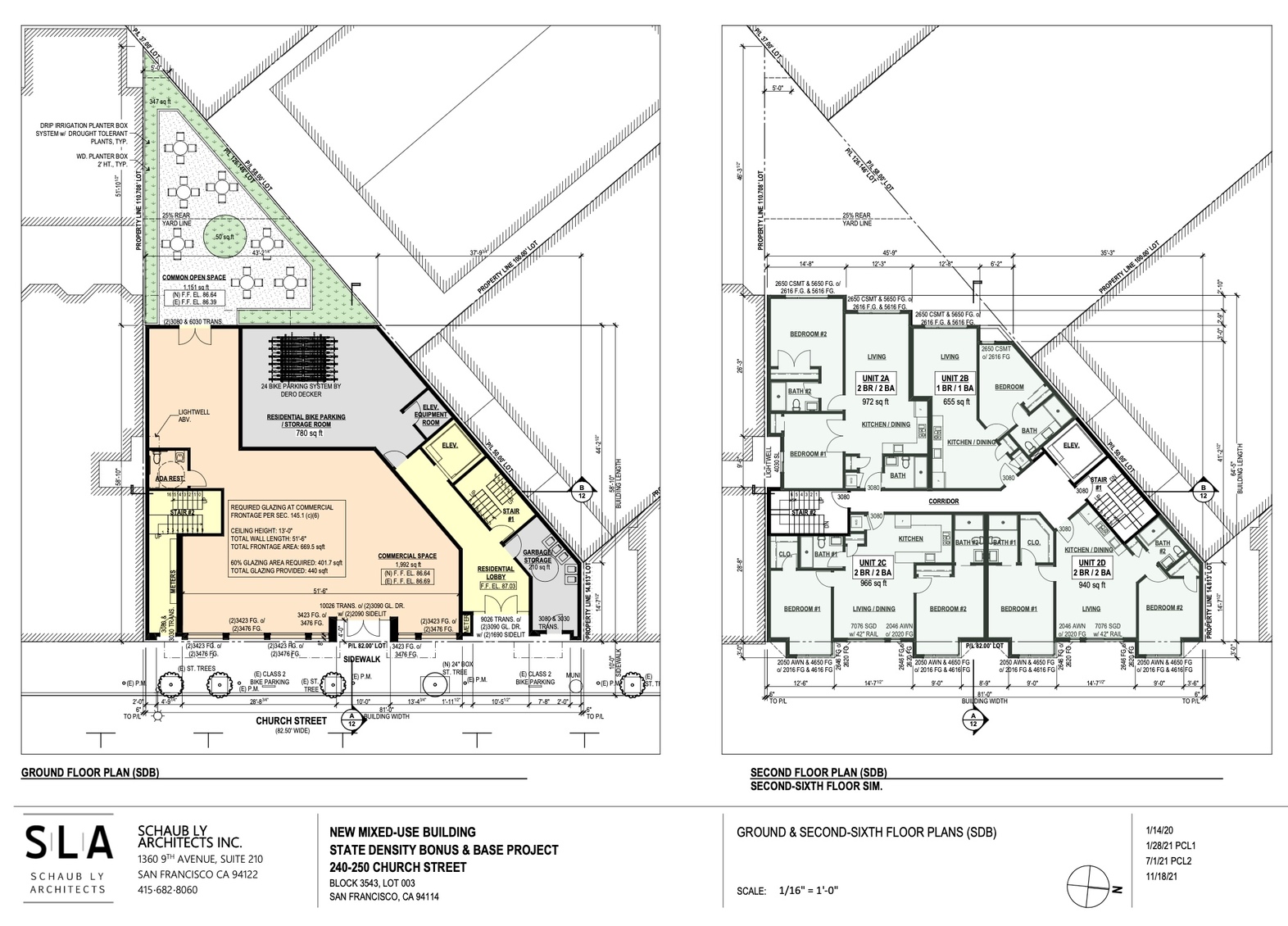 Proposed ground floor and second-floor plans. | Image: Schaub Ly Architects
Torres urged the Planning Commission to delay the vote until the Bash engages with the CQCD and other neighborhood stakeholders.
"Sparky's Diner closed down over five years ago, well before this project was even envisioned," said Schaub in response. "So I'm not sure how relevant that is."
In response to adding a community room Bash said, "we worked with Thorough Bread very hard to create a space that is good for their need." He added, "We don't want to interfere with their ability to operate the business."
Hoodline reached out to Thorough Bread for comment but did not receive a response.
Ultimately, Commissioner Rachel Tanner proposed a motion to approve the project with the condition that the project sponsors meet with the CQCD and discuss items such as a meeting space and artwork being incorporated into the project.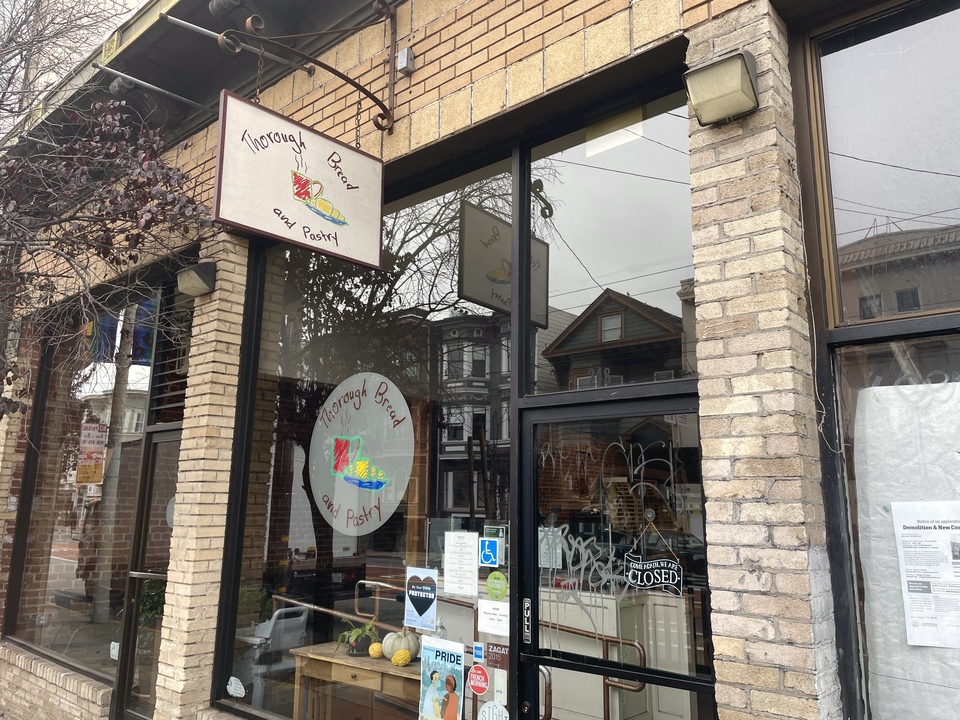 Thorough Bread is currently open at 248 Church St. | Photo: Steven Bracco/Hoodline
240-250 Church will join other new residential construction on the corridor including a proposed 30-unit complex at 2135 Market St at the former Old Bible Church. The proposed projects share a rear yard property line. Commissioners shared concerns about the rear yards and potential sunlight issues.
"Both our project and the proposed project at 2135 Market St. are going to have full code compliant rear yards," said Schaub. "So they will not be abutting."
A 44-unit condo building at 2238 Market St. by the Prado Group Inc. is nearing completion and units are expected to hit the market by year's end.
The controversial seven-story, 60-unit building at the former Home Restaurant at 2100 Market St opened in 2019.
Hoodline readers may recall that Sonder, a San Francisco-based startup specializing in furnished apartment rentals, and building developer Brian Spiers, faced criticism for allotting all 52 of the building's market-rate housing units to medium-term rentals of a month or more. Eight of the units were set aside as below-market-rate (BMR) apartments.
Just up the way at 2140 Market St., popular dive bar Lucky 13 closed last year, making way for a proposed five-story, 28-unit apartment building.