A new housing development proposed in downtown San Jose will feature two 12-story towers that will contain 365-units of affordable housing. The development at 280 McEvoy Street will end up sitting very close to Google's Downtown West transit village development, and not only will the units be affordable, but the cost to build the towers is estimated to be much cheaper thanks to a new construction technique known as 'mass-timber' which transforms softer, cheaper woods into a super-strong, fire-safe building material that is more economical and faster to use than steel.
"The city is very excited about getting a mass-timber project, particularly for affordable housing. This is the first mass-timber highrise project in San Jose," Veronica Hinkley Reck with building designer SERA Architects told Mercury News. The non-profit First Community Housing is partnering with Australia-based developer 'Lendlease' to build the two towers. The eastern-most structure will be called the Dupont Tower and will contain 141 units ranging from one to three bedrooms. The western tower will be known as the McEvoy Tower and will feature 224 studios.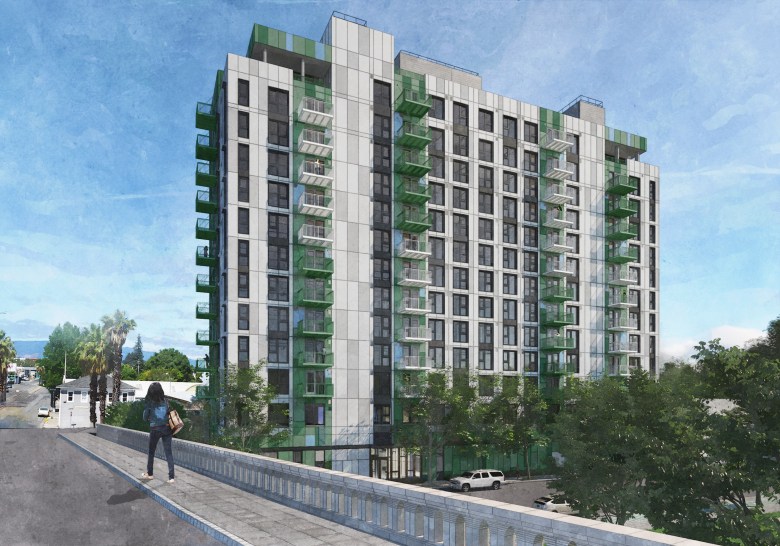 Rendering via SERA Architects
The developers intend to give the units a European feel.
"The units will have a lot of design elements that bring nature in and give people a sense of comfort. We are allowed to expose a certain amount of timber in the units. We expect that 20% of the ceilings will be exposed. That will create lovely quality. It will have a warm, tactile feeling, a Scandinavian approach," Reck told Mercury News. There will also be a communal kitchen and four rooftop spaces, which will include an urban farm that will grow fruits and vegetables for residents.
First Community Housing wants to get construction started in April and is apparently just waiting for their construction loan to come through which is the final piece of the puzzle. The fact that the project is using mass-timber could make it easier to get financing. "Financing is going to be more favorable for sustainable projects. Mass-timber is one of the vehicles that allow us to deliver a more sustainable project," Russell White with Lendlease told Mercury News.
The project will also be a 100% electric development — no gas stoves — which helps its sustainability factor.