Plans for another modern office tower in downtown San Jose are now working their way through City Hall. Developers want to build a 1.3 million-square-foot, 15-story high-rise building at 250 Stockton Avenue, which is just steps from a Whole Foods and a stone's throw from the Diridon Station transit hub. It also sits right next to Google's big project that is in the works, the Downtown West village-type development that the company believes could employ 20,000 people.
According to the Mercury News, when the 250 Stockton project was first proposed in 2019, the size of the building was 700,000 square feet, but that has now expanded to 915,000 square feet. The building itself has some unique design features and the exterior appears to be fully covered in glass. "It is encouraging to see this project rise to the new design standards we expect," Scott Knies with the San Jose Downtown Association told Mercury News.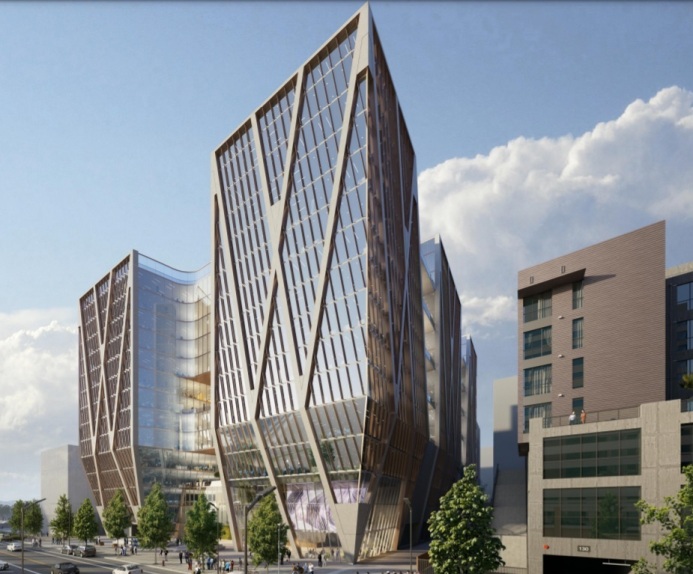 Rendering by Steinberg Hart

The Registry earlier reported that the architect behind the project, Steinberg Hart, will create a "mix of indoor/outdoor flexible working environments that embrace the mild climate, creative culture of Silicon Valley." This includes "60,000 square feet of open-air terraces, landscaped roof decks, and sky gardens." There will also be a large, central courtyard along with a few smaller ones that are spread around.
The developer, Imwalle Properties, told the Mercury News, "There is a striking and sizeable lobby that would give an office tenant a tremendous presence. The project has grown in size from our original proposal because we feel it can be successful with more density with its proximity to transit at Diridon Station. There is a confluence of transit there."
The architects had the pandemic in mind when they drew up the plans for the 250 Stockton project. "This building is the perfect example of how 'working from anywhere' can be exemplified within a building by providing a variety of spaces where people can work. Office space is changing. It's no longer just four walls and a roof," Edmund Rivera with design firm Steinberg Hart tells the Mercury News.
The project is still in the preliminary planning stages with the city and it's unclear when it may get approved.