There could soon be hundreds of new options for buying marijuana in the city of San Jose. The number of storefront cannabis dispensaries could more than double in the next few months if the city council approves new zoning changes that were pushed forward by the Planning Commission in a recent 8 to 3 vote. Right now, there are 16 retail dispensaries across San Jose and if the new regulations are passed that number would rise to 37. On top of that, the 16 dispensaries already in operation would be allowed to open second locations.
☄ This recommendation would result in dispensaries popping up in various neighborhoods across the city, creating new competition for the top cannabis delivery companies in San Jose which already providing door-to-door service throughout Santa Clara county. ☄
According to an exclusive report by San Jose Spotlight, 1,300 cannabis delivery services, which the city of San Jose does not currently allow, could also be added in various locations around the city. Under existing rules, cannabis dispensaries are only allowed in industrial areas but these new rules would allow the pot shops to pop up in strip malls and other retail centers that are more accessible. To pull this off, the Planning Commission is recommending the removal of some setback requirements which force dispensaries to operate at least 500 feet from rehab centers and 150 feet from churches and neighborhoods.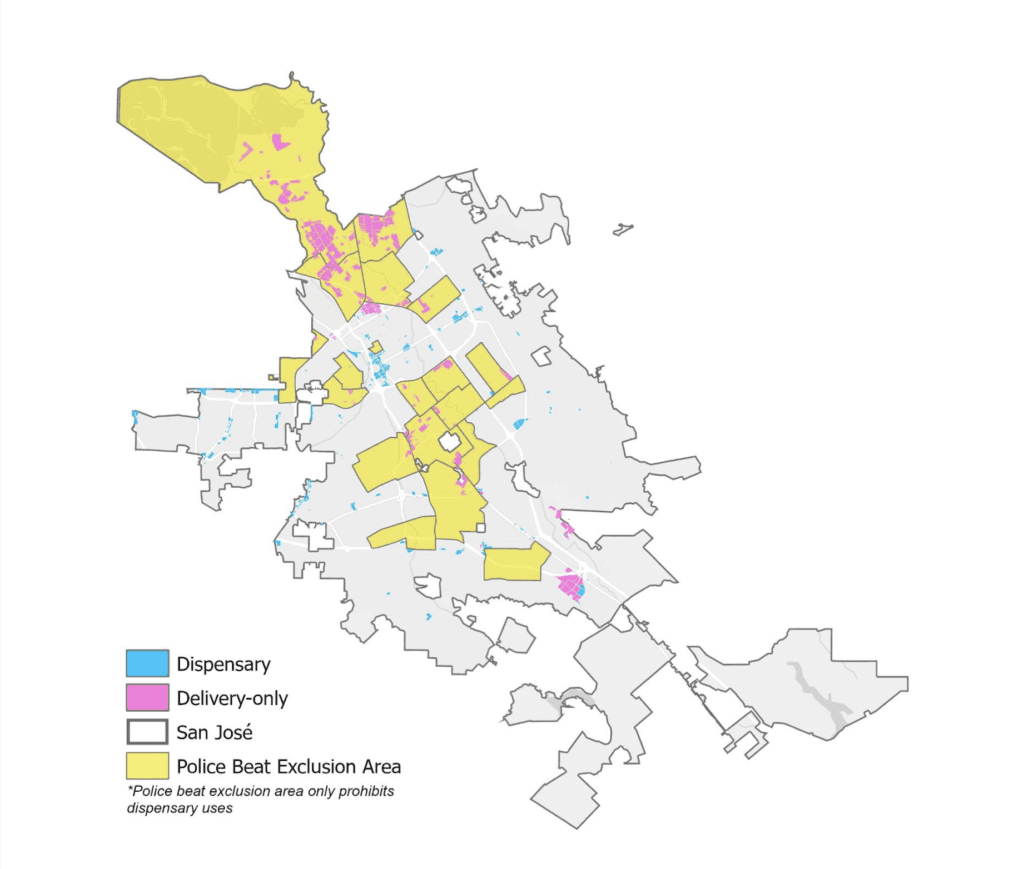 Map Credit: City of San Jose

Dispensaries would still be prohibited from operating 1,000 feet from school campuses and community centers. They would also still be barred in areas where the crime rate is 20% or higher. Some opponents say the plan is all about the money. They claim adding more pot shops does not translate to new pot customers, it would only disperse the existing ones. "It's going to allow San Jose to collect more fees. So to me, that's the main reason it's probably being done. Because as far as sales, I don't see any immediate benefit to that," cannabis lobbyist Richard De La Rosa told San Jose Spotlight.
Revenue from dispensaries has almost doubled over the last 6 years in San Jose which supporters say shows a clear need for more options. "It's now estimated at $170 million and it's the same amount of dispensaries in the same industrial areas with double the traffic and double the customer amount, hence the need," Silicon Valley Cannabis Alliance founder Sean Kali-rai told San Jose Spotlight.
To prevent big cannabis companies from taking up the 21 new retail dispensary licenses, 10 of the locations would have to be operated by equity applicants who reside in the city of San Jose. The recommendations from the Planning Commission are now headed to the San Jose City Council which will take up the issue next week. It's unclear when final approval could be granted.