Facebook has announced major changes to a proposed housing, retail, and open space development that has been years in the making in Menlo Park. It's called Willow Village and it would be built at 1350 Willow Road near the intersection of Ivy Drive, which currently houses older industrial and research buildings, and Facebook's Willow Campus. The most notable change to Willow Village is that the third phase of the project, which includes the construction of a 37,000-square-foot grocery store and other retail spaces, is now being pushed up into the first phase. An elevated park and town square not far from Facebook's Hacker Way headquarters is also being pushed up to the first phase.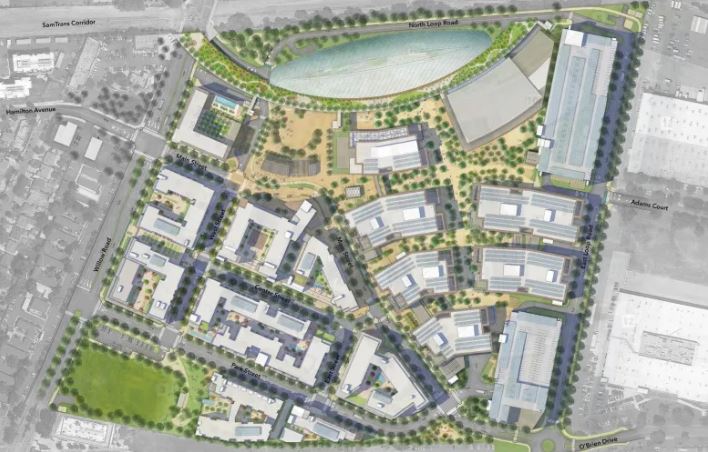 Map Credit: Willow Village

"This plan represents more than four years of work with our neighbors and city leaders to fulfill our mutual vision for a place that is deeply connected with the surrounding community and substantially contributes to our shared future," Facebook's vice president of real estate John Tenanes tells the Mercury News. The tech giant is also significantly reducing the amount of office space it would add to the area. Instead of 1.75 million square feet, it is reducing the space to 1.25 million square feet. That means there's been a big drop in the estimated number of workers that can occupy the space. It's down to 6,950 workers from an original estimate of 9,000.
After several public input sessions, Facebook says it came to the conclusion that housing was a bigger need than office space which gave them the idea to boost the number of housing units from 1,500 to 1,730. 300 of those units are expected to be affordable. "It looks like finally there is a project that is being delivered that will really provide the right mix of things and provide true access to people in the community," Sheryl Bims, a resident of the Belle Haven community next to the proposed development, told the Mercury News.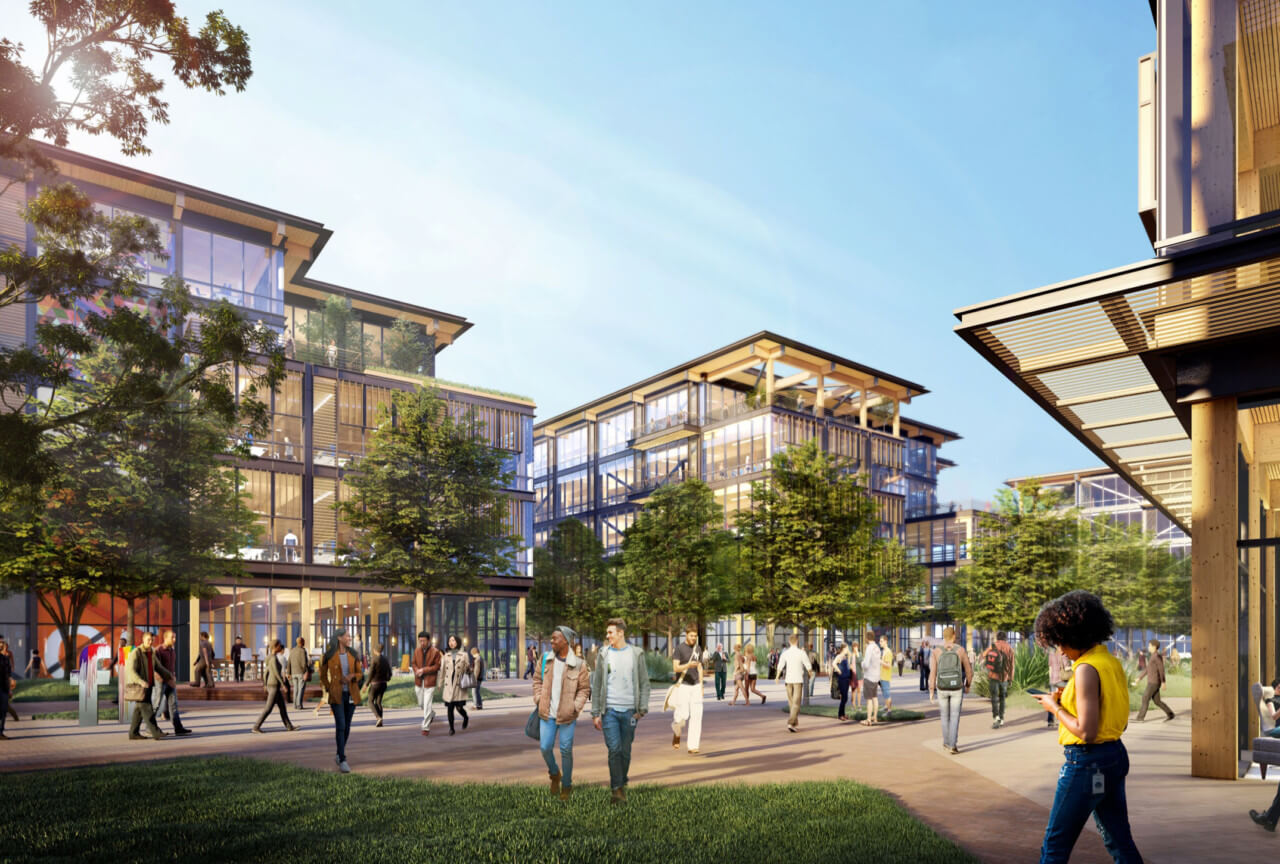 Rendering Credit: Willow Village
Beyond the grocery store and other retail outlets that would come, people also appear to be excited for a big new swath of public open space. Plans call for trails for walkers and bicycle riders along with an archway over Willow Road which would directly connect Belle Haven to the big new park. "Our neighborhood is finally getting a grocery store, and a bank, and restaurants, and cafes, a park. It's beautifying the neighborhood. We need more happiness after the pandemic," Belle Haven resident Rachel Bickerstaff told the Mercury News.
Willow Village is still in the early planning stages with a draft of the environmental impact report recently made available for public viewing. The city of Menlo Park is expected to make the ultimate decision by the end of the year on whether the project gets the green light.