North Beach resident and artist Jeremy Fish is excited about The Fish Tank, his new gallery and studio located at 1331 Grant Ave. But he's even more thrilled to be part of the renaissance his beloved neighborhood is experiencing now that the worst of the pandemic — knock on wood — is behind us.
"This neighborhood, particularly at this moment, is really coming back big time," says Fish, who's called North Beach home for 20 years. "I think by this summer, and certainly by next summer, this neighborhood's going to be thriving again."
He's especially pumped about what he sees as a golden opportunity for North Beach to become a true arts district again, something he once thought could only happen if you hopped in a time machine and traveled back to the 1960s.
"I've always really, really loved it here for a long list of reasons," he says. "But on top of that, I'm excited and proud to be able to contribute to pushing it back into being an arts-driven neighborhood."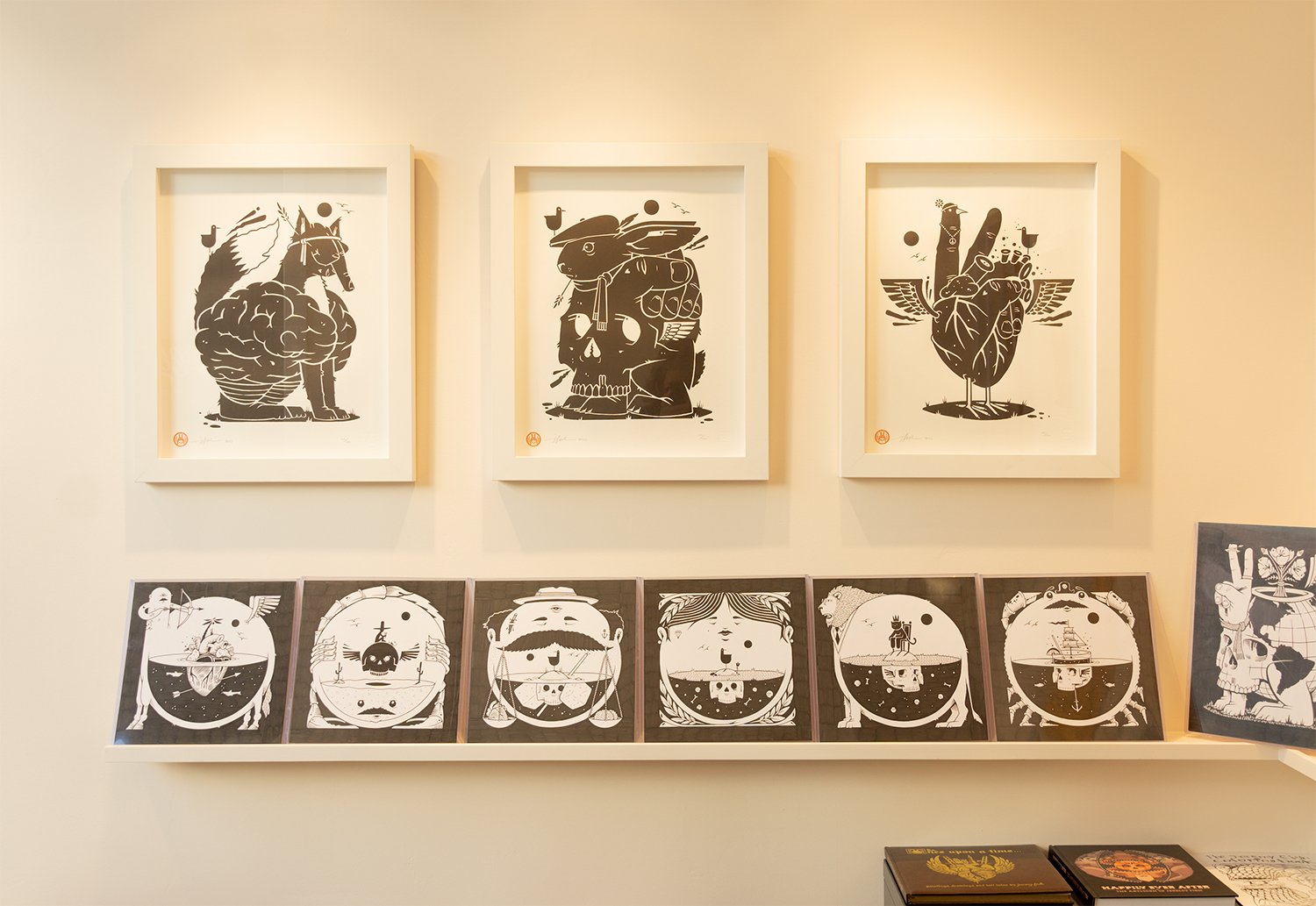 Photo by Dorothy O'Donnell/Hoodline
Fish's work ranges from bold black and white screen prints to commercial illustrations for a variety of corporate and independent clients around the world. His many honors include being an artist in residence at both San Francisco City Hall and Coit Tower.

Since the early days of the pandemic, he's used his art to help his community survive. Fish shares a basement apartment with his cat but considers those who work in the neighborhood his roommates, too. When COVID hit, the bars, restaurants and other businesses that employed them boarded up indefinitely or closed for good.

"I've always done artwork about North Beach and tried to be supportive of my neighbors, but this was different," Fish explains. "It was like all of my roommates were out of work, and there were all these GoFundMes that weren't paying them. That frustrated and upset me."

In April of 2020, he worked with Hashimoto Gallery to raise money for his friends by designing a special print of North Beach. All 100 copies sold out in three minutes and brought in $10,000. Fish divvied up the money, put it in envelopes, then handed them out to local bartenders and food service folks. He continues to do what he can to help fuel North Beach's rebirth and entice tourists and others to the area. Visitors to his gallery, for example, can trade $150 of receipts from neighborhood businesses for one of his prints.

North Beach today looks, and feels, very different than it did two years ago. Music fills the air. Tourists are slowly returning. Parklets in front of the neighborhood's many eateries and bars teem with alfresco diners and revelers, infusing the streets with a vibrant European charm. New businesses — many of them arts or maker-related — are opening in once empty storefronts. All but one previously vacant spot on the block of Grant where Fish's gallery is located now have tenants. But there are still a few empty spaces ready to welcome new businesses on the section of Grant between Green and Filbert. Fish hopes other artists will snag them and set up shop in North Beach while they can.

"If you're planning to open a gallery, or art-related business, or something you produce and make, this is a great time to come over here," he says. "Rents are more affordable; landlords are becoming more agreeable to negotiating prices."

In addition to displaying his own art, Fish is also using his new space to showcase the work of other artists. This Sunday, April 10, Mike Giant will have a screen print show at the gallery from 1 to 4 p.m.

The Fish Tank is open most days from 9 a.m. to 9 p.m. Just ring the doorbell, and if Fish is there, he'll let you in. And if you're lucky, he might fill you in on the exciting changes happening in his neighborhood.