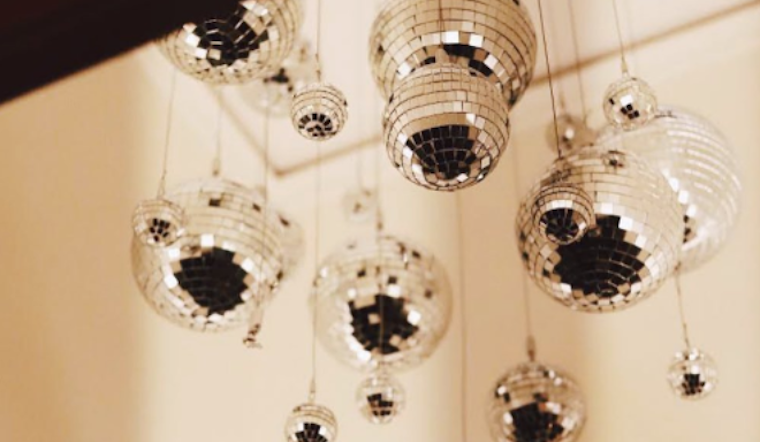 Published on April 27, 2022
A new retro-themed bar opens today in Cowl Hollow.
For the Record is going for a 70s vibe, with wood paneling, patterned wallpaper, hanging disco balls, and a refusal to lean into anything modern – from the music it plays to the drinks it serves.
The owner, Barry John Walsh, told SF Eater the drink menu is one meant to deliver, and the music on the speakers will be primarily disco and soul. "It's about creating the full experience here," he said.
Walsh previously worked for Future Bars Group, a nightlife company with upscale projects all over San Francisco that Hoodline has been reporting on for years. That Group has a reputation for establishments with "a focus on eclectic personality and style," like Bourbon & Branch, Rickhouse, Devil's Acre, and Pagan Idol.
Walsh is teaming up with Janice Bailon for this independent effort — and Bailon was the mastermind behind many drinks at Future Bars spots including Devil's Acre.
For the Record is already posting promises of intriguing cocktails on social media. With Bailon at the helm, each concoction is inspired by a different song created between the late-1960s and mid-1980s.
The Superfly is a combination of mezcal, passion fruit, and blue spirulina served as a deep blue treat with a light topping of white foam in a martini glass. The California Soul is a layered, sunset-colored presentation of vodka, lemon, jackfruit, Lillet, sparkling wine, and Campari.
The bar is one entirely committed to its vibe. That means if you go in for something like a red bull and vodka, SF Eater reports you may be turned down. They're even against shots – instead, they'll offer you one of their signature "Cheekies" – a mouthful of mini-cocktail.
They'll have a limited food menu, too, led by Frank Hua. Hua, the creator of the Hawaiian popup Unco Frank's, is acting as a consultant and inventing high-end finger foods to be served as For the Record. That'll include things like deviled eggs with roe and porcini popcorn, SF Eater says.
For the Record will be open Tuesday through Thursday from 5:00 p.m. until midnight. Friday and Saturday, it stays open until 2:00 a.m. Sunday, its hours are 3:00 p.m. until 12:00 a.m.
The location is 2120 Greenwich Street (the former U:Dessert Story). The bar says it'll be available for private parties for anyone who wants to book it out.
Its grand opening is Thursday, May 19th.