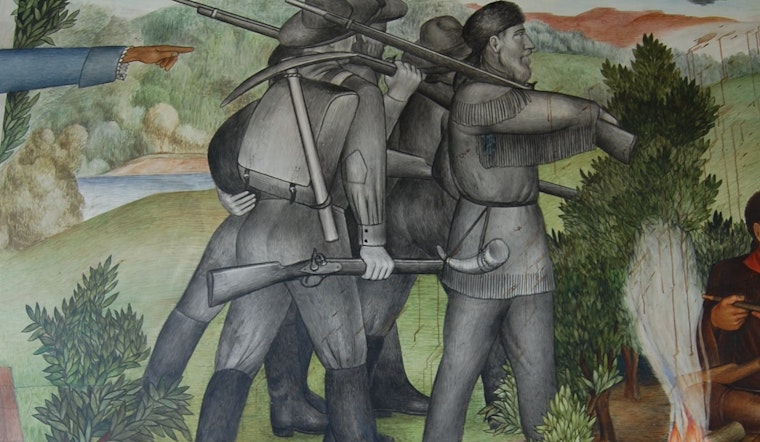 Published on June 10, 2022
Painter Victor Arnautoff's 1936 mural "Life of Washington" has been on display at SF's Washington High School for decades, and it seems to have been mired in controversy much of that time. Its contentious element, seen below, shows a group of homesteaders standing over the dead body of a Native American.
Take down the Life of Washington mural in SF! Racist! Perpetuates the hegemonies of white supremacy, settler colonialism, & manifest destiny. Erases my identity as an American Indian. Take them down! pic.twitter.com/ayJcQeXmnq

— aMy anderson (@JusthinkaMy) April 10, 2019
Blowback against that section of the mural goes back to 1986, when, as the Examiner reports, "Black, Asian and Chicano students said the mural depicted Native Americans and Black people in a 'subservient' and 'demeaning' way." Fast forward to 2016, when the San Francisco Unified School District Parent Advisory Council received the campaign to remove it.
That effort was seemingly completed in 2019, when then-superintendent Brent Stephens wrote in a staff memo, "This mural has no place in our schools. It is racist and harmful and part of the colonial project of the state and country, which wasn't over in the 1930s and isn't over yet. This is one of SFUSD's 'Robert E Lee' statues."
The Washington High Alumni Association immediately started a campaign to preserve the mural. Unmoved, the school board voted to paint over the mural in August 2019. That brought a lawsuit for the Alumni Association, which they won last July.
I believe artist Victor Arnautoff intended the murals to empower high school students to hold teachers & administrators accountable: You can't teach George Washington & westward expansion without teaching about genocide of Native Americans & brutality of slavery. pic.twitter.com/uIxbKryfK6

— John Bowles (@JPBowles) July 1, 2019
The school board had considered appealing, but they won't. The Examiner reports that the school board decided not to appeal the decision at a closed-session, late May meeting.
But this whole saga may still not be over yet. According to the Examiner, an SFUSD spokesperson communicated that "the settlement does not preclude the school district from taking steps that impact the mural in the future."