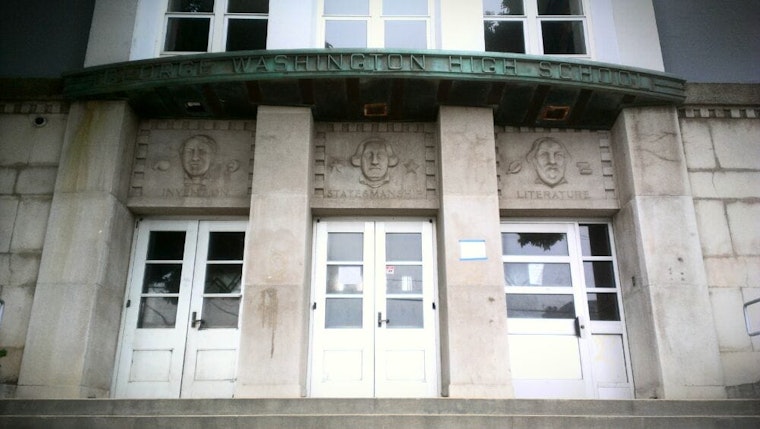 Published on July 28, 2021
The San Francisco school board has been under fire under COVID-19, in large part for their slowness with reopening and their attempt to rename schools (which they have since shelved) as furious critics have charged that the board is too concerned with litigating historical issues while children have suffered from missing so much class.
Which makes it ironic that the board's critics have also been pursuing a lawsuit over a historical mural for the entire time that children have been, you know, suffering from missing so much class. That lawsuit came to a conclusion today, though the controversy is surely far from over, as the Chronicle reports that the mural at Washington High School must be uncovered. The mural has been intact, but partially obscured by drapes, in a compromise measure after the board voted to remove the mural in 2019.
Take down the Life of Washington mural in SF! Racist! Perpetuates the hegemonies of white supremacy, settler colonialism, & manifest destiny. Erases my identity as an American Indian. Take them down! pic.twitter.com/ayJcQeXmnq

— aMy anderson (@JusthinkaMy) April 10, 2019

It's a large New Deal-era mural, but the portion in question is seen above, wherein George Washington's troops are standing over a slain Native American. There's far more context to the mural available at Living New Deal, and the Chronicle has 360-degree views of the entire mural so you can take it all in and decide for yourself on its appropriateness for a school.
The judge ruled that even covering that offending portion was overreach. "The hallmark of our system is that whether it concerns the President of the United States or a local school board, the rule of law — the process — is more important than the result," Judge Anne-Christine Massullo wrote in her ruling. "California as a matter of long-standing public policy places enormous value on its environmental and historical resources."
This doesn't mean the mural will remain as-is forever. But for anyone who'd like to see it painted over or just somewhat covered, it's back to square one with an environmental review process.