The San Jose City Council has approved a sprawling redevelopment plan on the west side of town that would turn a prominent shopping center into an 11-acre urban village development with residences, shopping areas, and open space. The redevelopment project will take place at the El Paseo de Saratoga shopping center which sits at 1312 El Paseo De Saratoga directly east of the intersection of Saratoga Avenue and Lawrence Expressway. The project, which is being developed by Sand Hill Property Company, would also include a smaller parcel that sits directly north of the intersection.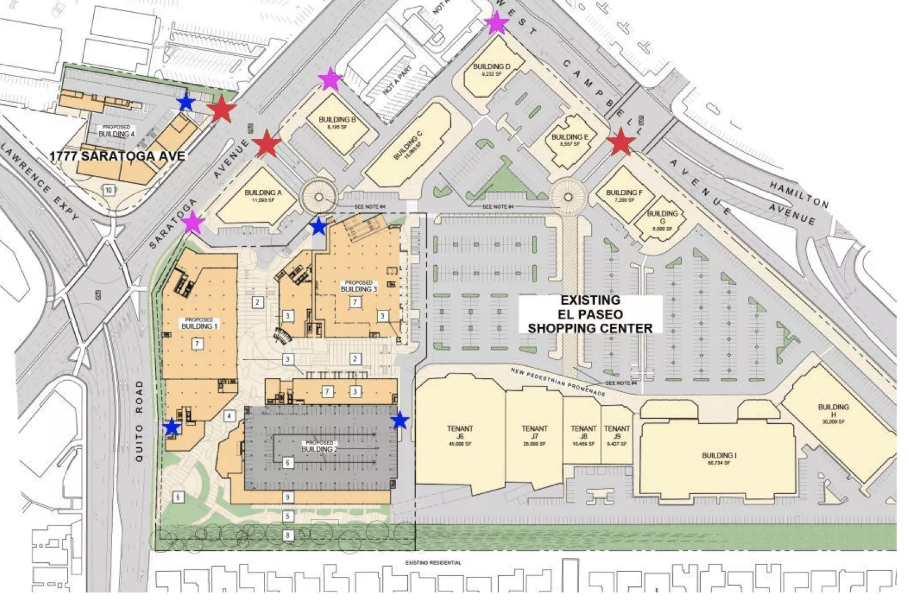 The orange blocks represent new housing towers. | Map Credit: City of San Jose
The Mercury News reports that the urban village redevelopment plan would create "994 units of housing, 150 of them affordable, and 165,949 square feet of commercial space, with a Whole Foods as an anchor store." An REI store, an Ulta store, and an AMC movie theater are already part of the shopping center and will stay. To make way for the new buildings, four single-story structures at 1777 Saratoga Avenue will be demolished.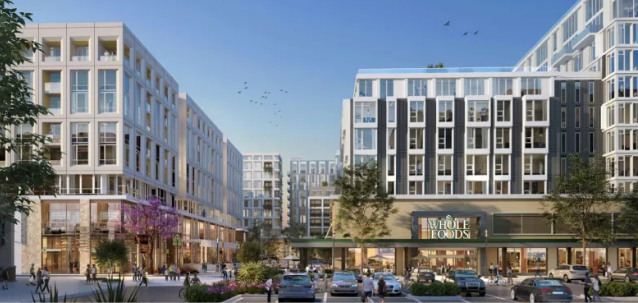 Rendering Credit: Kenneth Rodrigues & Partners
The heights of the housing towers are expected to be somewhere between nine and 12-stories tall. There is also expected to be more than three acres of open space which includes a public park that contains a dog park. "Being chained to your steering wheel does not allow you to get outside and to be able to enjoy a park, a paseo, a plaza, or anything else, and in order to get those amenities, the parks, the paseos, the plazas, you need density and you need a mix of uses and you need all those things within walking distance," Mayor Sam Liccardo told the Mercury News.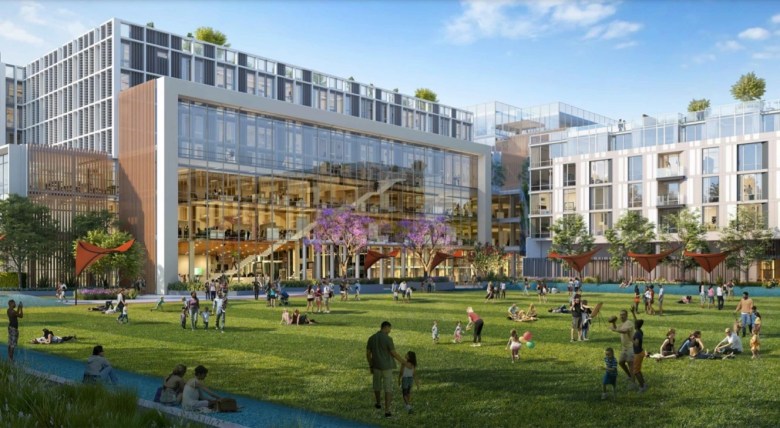 Rendering Credit: City of San Jose
Despite Liccardo's excitement about being able to walk to the amenities, you'll still have to get in the car to get anywhere else in San Jose or neighboring cities. But Vice Mayor Chappie Jones believes that once the housing is there, transit will follow. "We have to lead with housing first in order to get that transportation that everyone is looking for," Jones said while speaking to the Mercury News.
There's also worry that the density of the residential buildings, which are expected to house roughly 2,000 people, will clog up Lawrence Expressway and Saratoga Avenue which are already crowded with commuters. Councilmember Matt Mahan told the Mercury News that there should have been more planning which he says has been the case for other urban village developments in the city. "Let's plan for the density and be clear about our vision for where we're going to have parks and how we're going to mitigate this growth. That plan really isn't specific enough here and I don't think it is in many of our urban villages," Mahan said.
No construction timelines have been laid out for the El Paseo de Saratoga redevelopment project and there is no word yet on an estimated completion date.