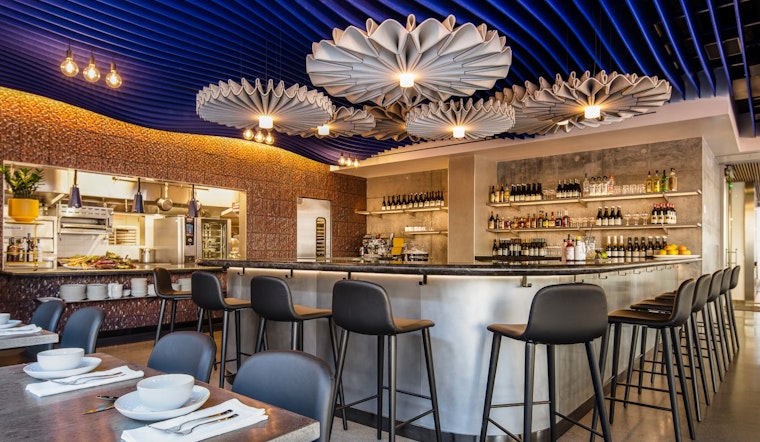 Published on July 01, 2022
The San Francisco Conservatory of Music is really going outside the box this year, as far as private music schools go. They acquired a record label earlier in 2022, at a time when the classical music industry is moving more toward streaming than physical albums and CDs. And as we learn in a new Bold Italic review, the Conservatory of Music has now opened a restaurant and bar at the Bowes Center at Van Ness Avenue and Hayes Street, and are scheduling Conservatory of Music students to play free performances for dinner and Happy Hour shows.
View this post on Instagram
The place is called Uccello Lounge (Uccello "meaning bird in Italian," according to Bold Italic), and it apparently opened in late March according to a Conservatory of Music post. "Uccello Lounge integrated acoustic treatments into design elements," the conservatory said at the time. "You can experience amazing live music performances, but still carry on a normal conversation with your companions."
View this post on Instagram

The dinner menu comes compliments of James Beard winner Chef Loretta Keller (Stars, Bizou, Coco500), and is anchored by Humboldt Black Cod, Slow Roasted Pork Shoulder, Wagyu Flatiron Steak, and Turkish Manti Dumplings. The Beverage Director is Clay Reynolds, with whom Keller launched the Exploratorium's Seaglass Restaurant.
View this post on Instagram

About those beverages: what jumps out on the cocktail menu is the very cleverly named Van Nesscafé bourbon-and-coffee concoction. There are also some impressive looking mocktails, and on the other end of the spectrum, a whiskey list whose options range from a Limited Release Maker's Mark ($16) to a 21-year-old Japanese-blended Hibiki ($354).
View this post on Instagram

The Conservatory of Music says "Uccello Lounge has free live music every night from 8 p.m. to 10:30 p.m." and the mostly music student artists "may include a jazz quartet, vocalist, a string trio or other ensemble." The Uccello Lounge website currently lists an 8 p.m. Saturday performance by jazz guitarist Spencer Hoefert and Friends.

Uccello Lounge is at 200 Van Ness Avenue (at Hayes Street), open Thursday - Saturday, 5-11 p.m.