Plans to expand Castilleja School in Palo Alto have finally gotten city approval after six years of contention. A proposal to add more students and new buildings to the elite all-girls campus at Bryant Street and Embarcadero Road faced stiff opposition from the city and from residents from the day it was first proposed in 2016. The reason for the resistance seems to stem from the school's dishonesty.
In 2013, Castilleja School apparently lied to the city of Palo Alto about its growing number of students, which violated a conditional use permit. The school then paid a $265,000 fine. On top of that, Palo Alto Mayor Pat Burt says officials at Castilleja offended many people by claiming that residents who were against the expansion project were against all-girls schools and private schools. "I think that they dug a hole with their dishonesty with the original conditional use permit violation and they kept digging with that campaign. I would hope that they would have recognized that here they attempt to develop the next generation of women leaders and yet they had these kinds of disingenuous and elitist responses to any concerns that were expressed about a big expansion development," Burt told The Mercury News.
After working through those issues over six years, Castilleja School was granted approval last month to tear down and rebuild five of its buildings and create an underground pick-up and drop-off location for students. The school also got the green light to increase the student body by 28 students to 450 total. The school originally requested an increase to 540 students. "Frankly this whole thing would've gone forward much more expeditiously if they had requested something in the neighborhood of 450 students. They created a difficult project by seeking to stretch the boundaries of what was expected," Burt told the Mercury News.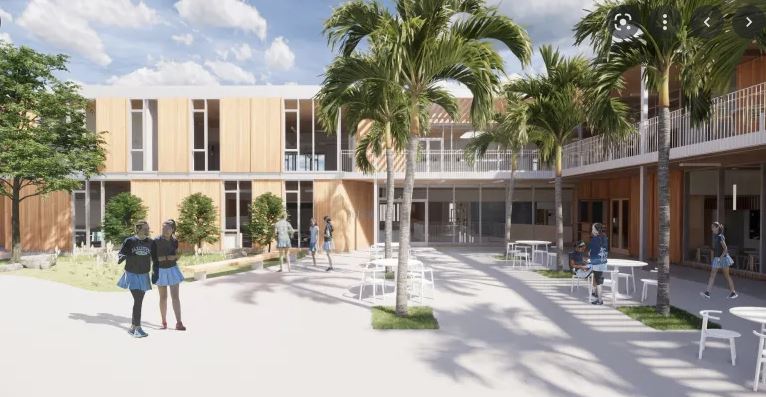 Castilleja Reimagined Project. | Rendering Credit: Castilleja
Castilleja School Head Nanci Kauffman is grateful that the cumbersome expansion approval process is finally moving forward. "There was always a level of distrust that took a very long time to address with some members of the community. Over time, I've had people of all different positions share how happy they are that this is resolved and that Castilleja can grow. In the end, I felt the support, but early on that was hard to come by," Kauffman said in a statement to the Mercury News. Kauffman says the next step for the project is to find a temporary campus for the students that Castilleja can use while the construction process moves toward completion. So far, no start dates or completion timelines have been released.


Castilleja Reimagined Project. | Rendering Credit: Castilleja