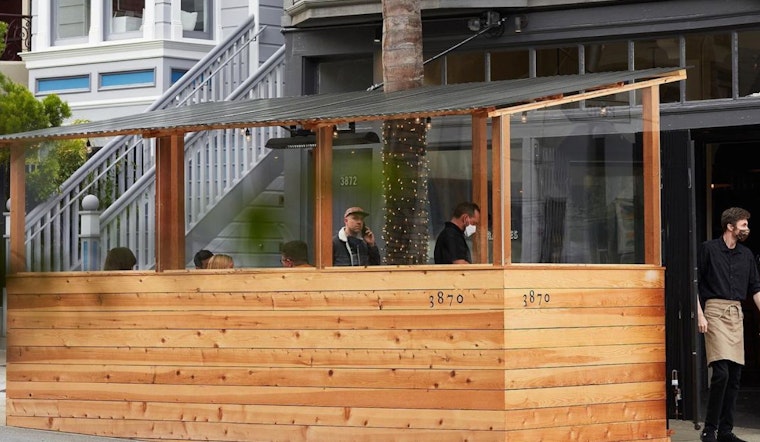 Published on July 14, 2022
Castro neighborhood gem Frances (3870 17th Street), which was long one of the most popular and beloved small restaurants in the city, has taken time out for a couple of refreshes over the years. But never had it closed for the better part of two years, using the pandemic pause to reassess, remodel, and take a full hiatus as many restaurants around the city struggled to reimagine themselves with outdoor dining and never-before-offered takeout options.
Sister restaurant Octavia reopened a full year ago, along with much of the city, readying for what we all hoped would be a summer return to normalcy that was anything but. As executive chef and owner Melissa Perello said at the time, the process was like "opening two brand new restaurants," and she and her team opted to take them one at a time. Frances would come alive again with outdoor-only seating last fall, offering a series of weekend prix-fixe pop-up dinners with Perello herself back in the kitchen, but that was meant to be temporary. And having used the winter and spring to complete a full overhaul of the kitchen and a remodel of the cozy dining room, the restaurant re-debuted last month with a new prix-fixe format.
Gone are the bacon beignets — at least for now — and the four-sectioned menu of a la carte snacks, appetizers, entrees, and desserts. In its place is a weekly-changing, family-style, single prix-fixe with little room for substitutions — though the restaurant will accommodate dietary restrictions if given 72 hours notice.
There are still six counter seats at the front of the restaurant that will be reserved for walk-ins, and regulars seated there can enjoy any of the dishes on the prix-fixe menu a la carte, along with some other small plates. As of two weeks ago, the panisse frites (chickpea custard fritters) and lumberjack cake were back as a la carte or add-on options, and other options will rotate going forward. The current prix-fixe menu is $86 per person, with eight dishes served over in courses
Hoodline spoke to Chef Perello about the reopening, and whether the change in format was purely for economic reasons.
"Factors like staffing and supply chain issues were unavoidable considerations, but ultimately this was a decision rooted in wanting to offer the best possible dining experience with the resources at our fingertips while maintaining as much of the original Frances character as possible," Perello says.
As she did in reopening Octavia, Perello turned to a former chef at Tartine Manufactory to serve as chef de cuisine. At Frances, the new chef de cuisine is Jordan Wittrock, who also previously worked at Benu, and at the acclaimed Willows Inn on Lummi Island in Washington State.
Wittrock says it's been a fun and flexible process creating menus for Frances, going to the farmers' market and buying ingredients because they look good, without knowing what they would be used for.
And Perello says that Wittrock's style has meshed well. "Jordan has a natural understanding of the style of Frances's menu and knows how to let the ingredients lead the menu," Perello says. "A dish that illustrates this is the recent Early Girl tomato dish with black chestnut Worcestershire and Tellicherry beef 'jerky.' It uses this beautiful tomato as the centerpiece, while offering a twist in the Worcestershire and jerky that is uniquely Jordan and familiar to Frances."
The kitchen renovation was especially necessary, Perello says, because, "After 12 years of constant wear and tear [it] was due for a full equipment upgrade."
"I also wanted to take the opportunity to freshen the dining room... new floors and lighting, as well as an updated feel in art and decor. It still feels like Frances, but bright and fresh," Perello adds.
And as for the beloved bacon beignets, which never left the restaurant menu between its late 2009 opening and the March 2020 closure, Perello assures us, "You may see the beignets return or you may see them return with an updated twist." And, she adds, "We plan to have plenty of add-ons, supplements, and throw-back surprises in regular rotation."
Frances is open Wednesday to Saturday, 5:15 p.m. to 9:15 p.m., with a maximum party size indoors and outdoors of eight people. Find reservations here.