The pop-up whose sandwich became a social media sensation now has its own restaurant location. Birdbox is now serving its famous 'Claude The Claw' sandwich just a block away from Oracle park at 680 Second Street.
Claude The Claw has an unmistakable physical chicken foot coming off the side as a way to show customers that Birdbox uses the highest quality free-range chickens that are delivered to the restaurant with their heads and feet still intact. "A lot of folks are scared, or they don't want the claw. But what people should really be frightened about is all the chickens without the feet because then you don't really know what you're getting," owner Chris Bleidorn told The Chronicle. Bleidorn owns the fast-casual chicken shop with his wife Aarti Shetty. The couple is also owners of the more upscale, Michelin two-star eatery Birdsong at 1035 Mission Street in SoMA.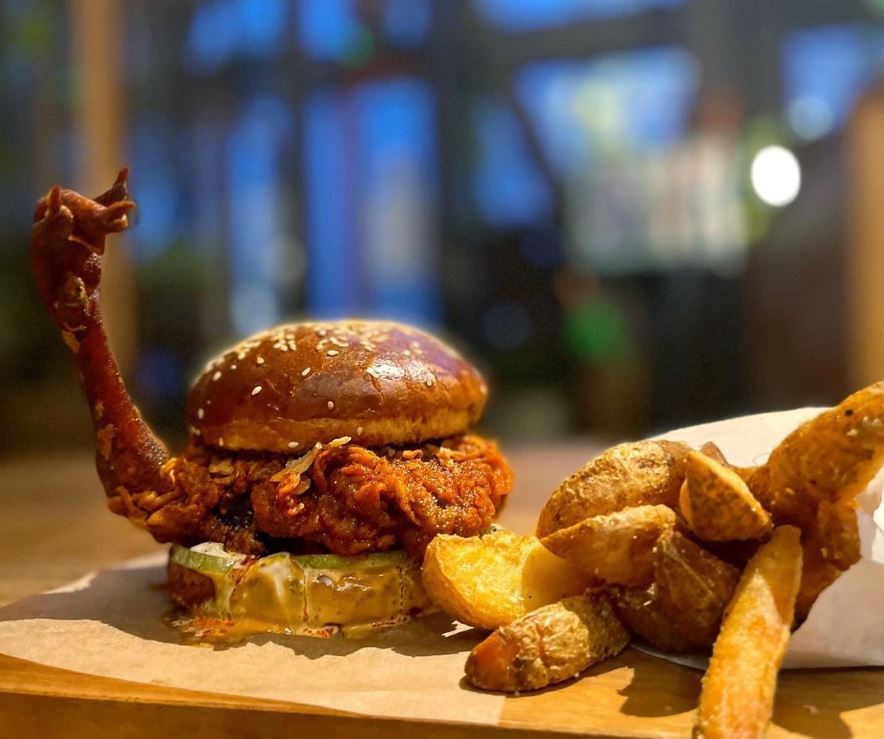 Photo Credit: @birdboxsf/Instagram

You can also get Birdbox sandwiches without the claw. They feature spiced flour breading, potato buns by Firebrand Bakery in Oakland, and sauce made from a blend of yeasts that come in traditional, spicy, and tangy versions.
Bleidorn tells Eater, "That's what separates us: our tangible flavor offerings."
Aside from the sandwiches, another popular option are the Birdboxes which the restaurant is named after. They come as a quarter or half-fried chicken with hot sauce and three options for seasoning, including classic yeast, spicy falcon, or sour cream and onion. Eight-piece fried chicken meals are also available with six options for sauces.
The two-story restaurant space has room for 50 guests. If you pop in, you'll notice some midcentury-modern touches along with nods to chicken, including a cool neon sign and chicken foot patterning on the to-go containers. The space has an upscale yet playful feel which was very intentional. "We don't want anybody to take it too seriously. At the end of the day, it's a chicken shop, and we want people to feel that way," Shetty told Eater.
The couple is hoping the Birdbox brand catches on so they can open more locations in the Bay Area. "I think we're really going to see an increase of very well-run, flavorful, fast-casual restaurants. And I hope we're a part of that," Shetty said.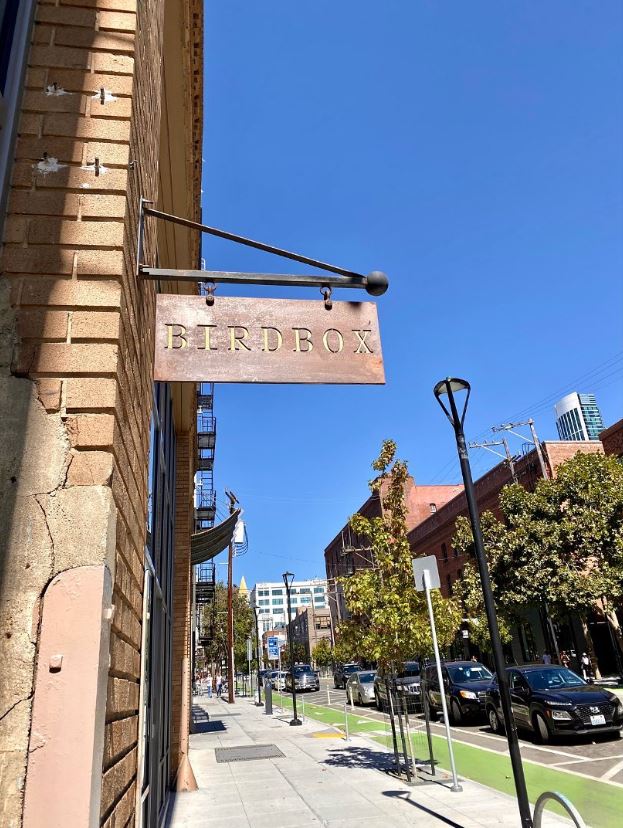 Photo Credit: @birdboxsf/Instagram

Birdbox is open Wednesday through Sunday from 11:00 am to 3:00 pm. It closes for an hour and then reopens from 4:00 pm to 8:00 pm. Those hours could expand in the next few weeks, and there could also soon be new additions to the menu. Stay up to date by following Birdbox on Instagram.