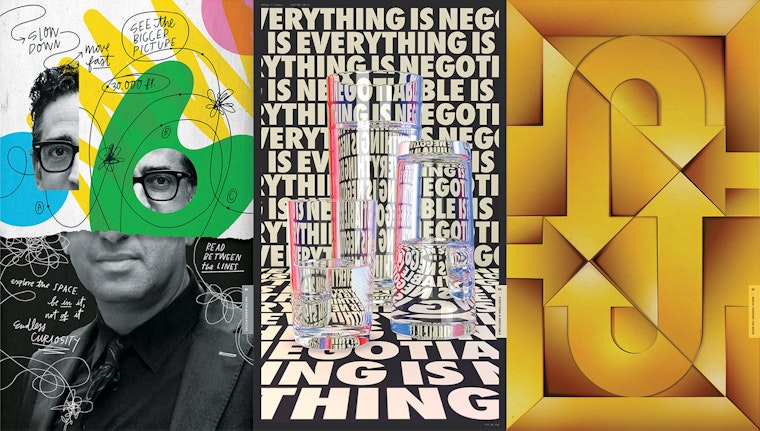 Published on November 01, 2022
About 20% of the population suffers from dyslexia, though many people go throughout their entire lives without a formal diagnosis. Dyslexic Dictionary — a new exhibit in the Presidio that features contributions from notable dyslexics like governor Gavin Newsom and author Sally Gardner — makes it clear that the learning condition can also be a "hyper-ability."
Dyslexia paints the world in different colors and tones for those who are affected by it. In fact, dyslexics excel in areas and fields that require critical thinking, imagination, and good people skills, so it makes sense why many well-known individuals have been diagnosed with some form of dyslexia.
Named the Dyslexic Dictionary, the Arion Press' newest exhibit opened last week as a nod to National Dyslexia Awareness Month. By organizing works from notable dyslexic contributors, like CA Governor Gavin Newsom and San Francisco-based ​​artist-at-large Adam Eli Feibelman, executive producer Gil Gershoni hopes to cast a different light on the learning condition.
"Dyslexia is not a disability; it is a hyper-ability," says Gershoni, who founded the Dyslexic Design Thinking initiative. "Now more than ever, individuals and organizations are understanding how the dyslexic mindset can help solve problems and open up new paths to creativity. This exhibit is a showcase for the diversity of the dyslexic experience."
A dyslexic himself, Gershoni remarks that he wouldn't be where he is today without his dyslexia: "People with dyslexia are everywhere, in every industry, and I know all these amazing artists in the exhibition feel similarly."
Highlights from the exhibition include a gown made from wooden textiles by structural womenswear designer Kelsey Ann Kasom; a sculpture comprised of tens of thousands of toothpicks by Nigerian artist Adeniyi Akingbade is captivating; Gershoni's own contribution to the exhibit — a massive multi-panel artwork — includes tenets that many dyslexics grips to, like as "slow down to move fast" and "break through the noise."
As for Newsom, who views his dyslexia as a "superpower," the governor and father of four made a video interview discussing his children's book, Ben and Emma's Big Hit, which was pulled from the governor's own experience with literacy struggles growing up with dyslexia.
// Dyslexic Dictionary will remain on display at Arion Press (1802 Hays Street in the Presidio) from now until December 22; admission to the exhibit is free; for more information on the display, visit gershoni.com/culture/dyslexic-dictionary.