A Bay Area bagel shop that got national recognition as being among the best in the country, even compared to New York City standards, has opened a new outpost on the Peninsula. Boichik Bagels just opened a storefront at Palo Alto's Town & Country Village shopping center at 855 El Camino Real. Owner Emily Winston opened the original shop, at College and Alcatraz avenues in Berkeley, after bringing her bagel love and knowledge to the West Coast from New York City.
Watson tells SFGate that the soft opening at the new Palo Alto location last month was a huge success. "We were expecting a crowd, and we got one. Peninsula folks have been clamoring for some time … [and] there's a lot of hungry ex-pat New Yorkers here, especially around Stanford. We made 1,800 bagels, and about [two-thirds were] gone by 11 a.m.," Winston said.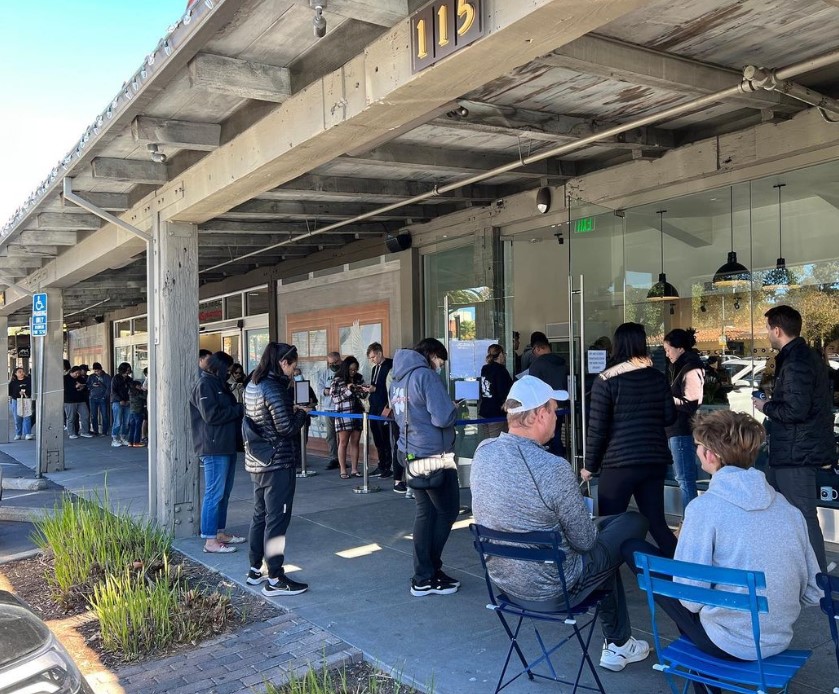 Palo Alto shop on Opening Day. | Photo Credit: @boichikbagels/Instagram
Just over a year ago, while many businesses were still closing due to the pandemic, Boichik Bagels went through a huge expansion, opening up a new wholesale facility in Berkeley's Gilman District. It's now baking the beloved bagels for cafes, catered events, grocery stores, and dozens of other local businesses. The Chronicle reported that the facility pumps out 50,000 bagels a day. Winston helped fund the wholesale baking location by selling bagel futures, which she called Bagel Bucks. This allowed customers to buy future bagels at a discount through the use of gift cards. She used the same concept to help fund the new Palo Alto location.
One thing that truly put Boichik Bagels on the map was a March 2021 New York Times article entitled, "The Best Bagels Are in California (Sorry, New York)," which claimed that bagel shops in the Bay Area and Southern California were just as good, if not better than the bagels at the most reputable shops in New York City. In regards to Boichik Bagels, NYT writer Tejal Rao wrote, "Emily Winston's bagels are some of the finest New York-style bagels I've ever tasted. They just happen to be made in Berkeley."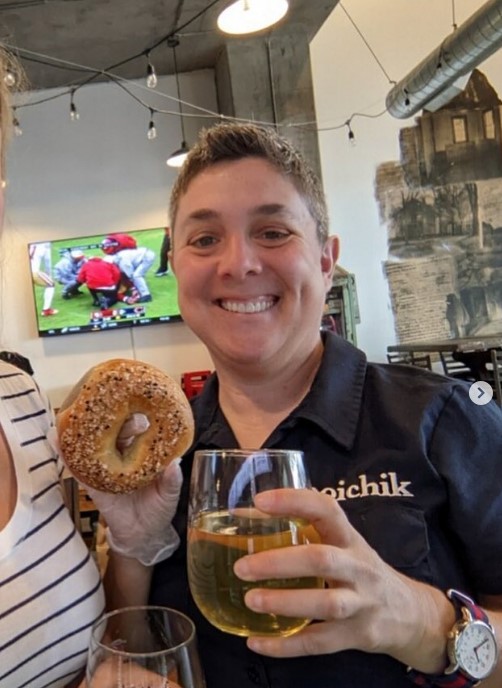 Emily Winston. | Photo Credit: @boichikbagels/Instagram
Winston was raised in central New Jersey and grew up eating bagels from H & H Bagels, which closed in 2012. Not long after it shut down, Winston started learning to make bagels on a mission to create something similar to H & H. "I know it's not exactly the same, but it pushes that button in my brain that makes me happy," Winston told the NYT. The new Boichik Bagels in Palo Alto is a to-go-only space, but there is some outdoor seating. You can get bagels in assorted flavors along with several varieties of bagel sandwiches from 7 a.m. to 3 p.m. every day.