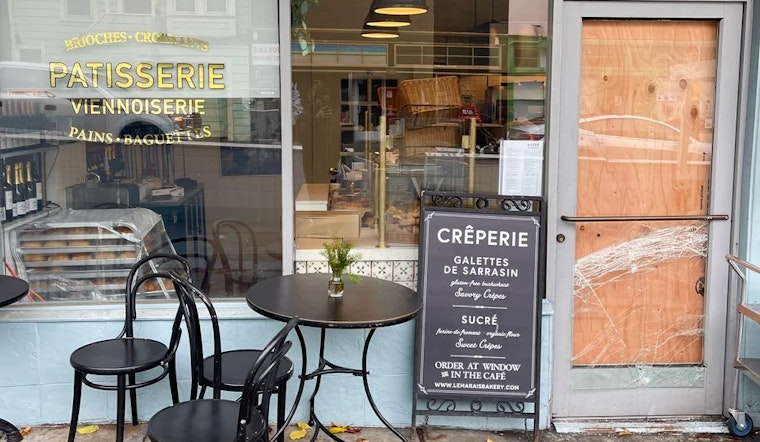 Published on January 04, 2023
After a spate of commercial burglaries in the Castro, local merchant group leaders and the SFPD have issued a list of safety information and tips.
On Thursday, December 29, Castro Merchants co-presidents Terrance Alan and Dave Karraker along with SFPD Mission Station Captain Michael McEachern addressed the recent commercial burglaries via email.
"There has been a disturbing increase in business burglaries recently in the Castro area, including three in the past two weeks," wrote Alan and Karraker in a joint statement. "All of the burglaries appear to be forced entries and in all three incidents the contents of the business safes were stolen or the safes were taken."

Vico Cavone was burglarized twice last month. | Photo: Steven Bracco/Hoodline
Last week, Castro's Parisian-themed bakery and cafe Le Marais Bakery (498 Sanchez) had its storefront window smashed and the business burglarized for the second time in about a month.
Additionally, Italian restaurant Vico Cavone (4248 18th St.) and historic bar Twin Peaks Tavern (401 Castro St.) were burglarized in recent weeks.
Vico Cavone owner Alessandro Raimondi tells Hoodline the restaurant has been burglarized twice this month. First on December 14 and again on Christmas Day. "First time they took $200 and the second time they took the servers' tips, $2,000 from a safe, plus alcohol and wine bottles," said Raimondi.
In response to these burglaries, Raimondi said he's installed a new alarm system and would like to see a larger police presence in the neighborhood.
SFPD spokesperson Allison Maxie confirmed the recent burglaries but was not able to provide additional information on any other burglaries in the neighborhood. "SFPD does not identify victims specifically whether they are people or businesses," said Maxie.
"As far as other commercial burglaries that would be difficult to search for without more identifying info," said Maxie. "[B]ut I would suggest visiting our website's crime dashboard which provides the number of incidents compared to the prior year."
District 8 Supervisor Rafael Mandelman tells Hoodline that he's been in contact with the affected businesses. "We have been reaching out to the businesses to try to be supportive and connect them with City resources," said Mandelman.
"The break-ins are troubling, and I will be urging the Mayor and my colleagues to prioritize public safety in this year's budget, even as the fiscal climate gets harder," added Mandelman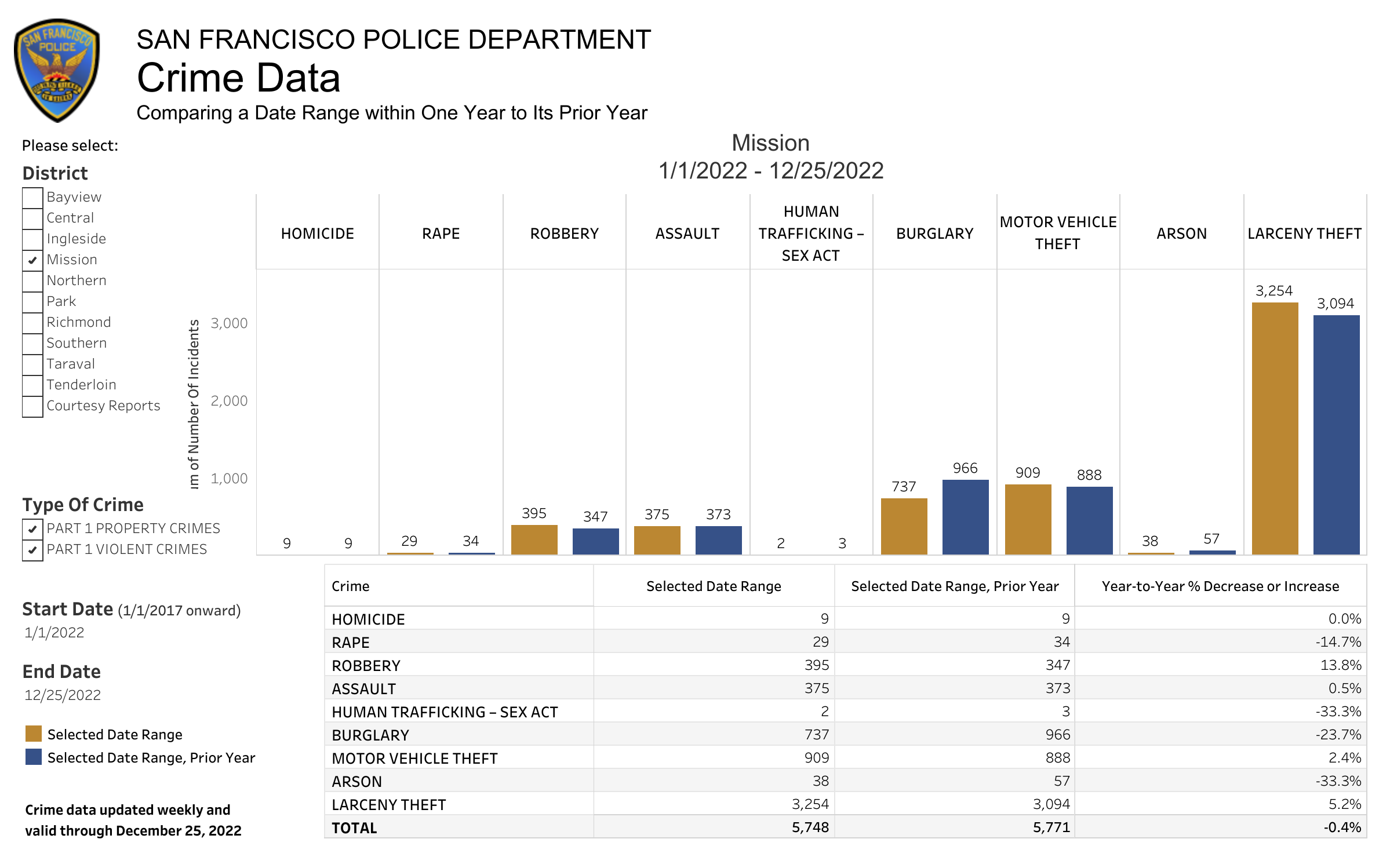 Year-over-year crime data from SFPD's Mission Station. 2022 crimes are in gold, while 2021 crimes are in blue. | Image: SFPD
As Hoodline previously reported, compared to 2021, burglaries in the Mission Police District (which includes the Castro) are down -23.7% from 966 to 737. Citywide burglaries are down 20.3% from 7,219 to 5,752 in the same time period.
"SFPD has generated reports on all these incidents and Captain McEachern will keep us posted on the investigations," said Alan and Karraker. "In the meantime, it is important that you do everything you can to safeguard your business."
In the letter, Captain McEachern shared a handful of safety tips for local merchants.
McEachern encouraged all merchants to update contact information with SFPD in case officers need to contact them during non-business hours. He also suggested that businesses update contact information with alarm companies to ensure alarms are working properly.
For businesses that don't have an alarm, McEachern recommended installing one. "One with an audible alarm on the outside of the business and flashing lights to alert neighbors in the event of a break-in is recommended," said McEachern. "Use window stickers to alert would-be intruders you have an alarm system."
Along with alarms, businesses are encouraged to install visible video cameras "to both deter a break-in from happening and aid in follow-up investigations," said McEachern.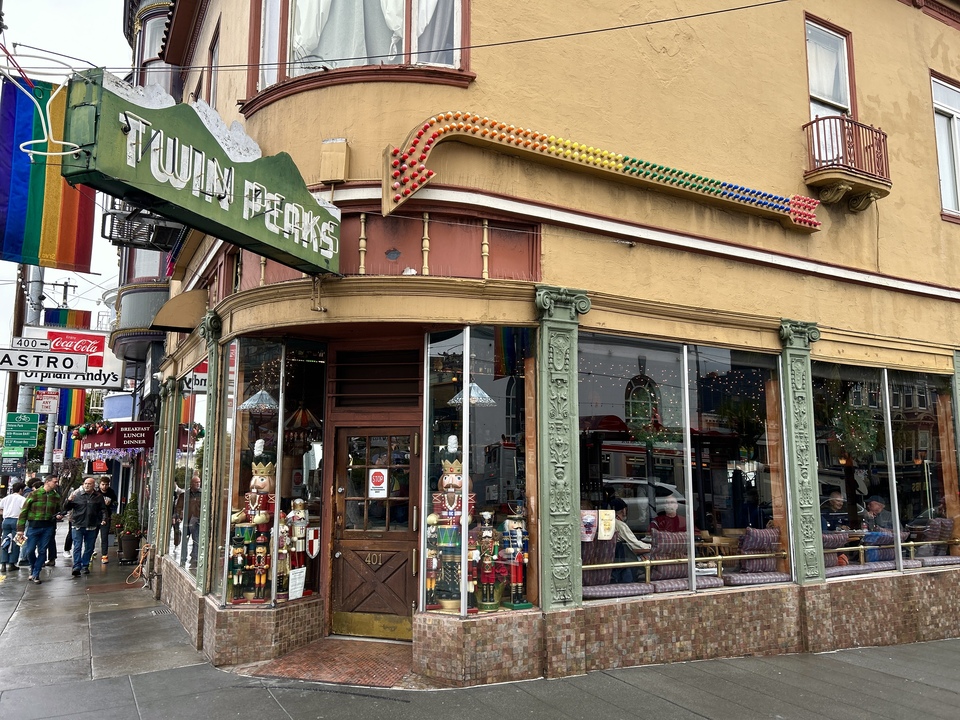 Twin Peaks was burglarized on December 14. | Photo: Steven Bracco/Hoodline
When closing for the day, McEachern advised having a closing protocol "to ensure that items of value are properly secured and the premises are locked properly in the evenings." McEachern said large amounts of cash should not be left on the premises and cash register drawers should be left visibly open and empty. All electronics should also be stored away.
After closing for the day, McEachern suggested keeping the storefront lit at night. Speaking with residential neighbors and sharing contact information was also encouraged.
In the event of a crime, business owners are encouraged to call 911 and report it no matter what was taken.
McEachern alerted business owners to be careful what they post on social media "that might indicate the premises is unguarded or empty for an extended period."
"It's unfortunate that we feel compelled to send this letter to our merchant members, but we need to clearly communicate to criminals that we are on the alert and we are prepared," wrote Karraker and Alan. "If you have any questions or need any help whatsoever, please let us know. Your safety and security are a top priority for our association."