The Castro's newest Italian restaurant Vico Cavone officially opens this weekend in the former Firewood space at 4248 18th Street, after two weeks of a soft opening.
Co-owner Alessandro Raimondi tells Hoodline that Vico Cavone will be hosting a grand opening on Sunday from 11 a.m until 3 p.m.
Hoodline broke the news in June that Vico Cavone would be taking over the former Firewood space. The restaurant is owned by Raimondi and business partners Sanaa Hams and Giancarlo Esposito.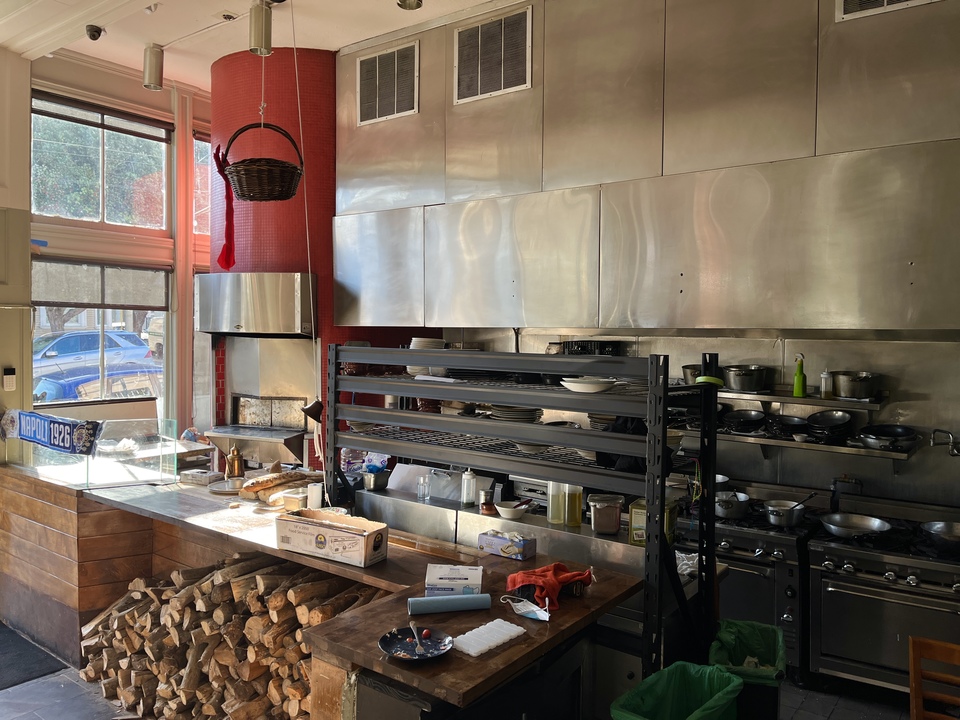 Vico Cavone's pizza oven. | Photo: Steven Bracco/Hoodline
Raimondo says the restaurant softly opened two weeks ago and they've been testing out the menu.
Now Raimandi says Vico Cavone is ready to go. "I still don't believe I am opening," said Raimondi. "It's an incredible feeling."
"I'm physically tired but there's so much that I want to do and bring to the restaurant that I've stayed focused," said Raimondi.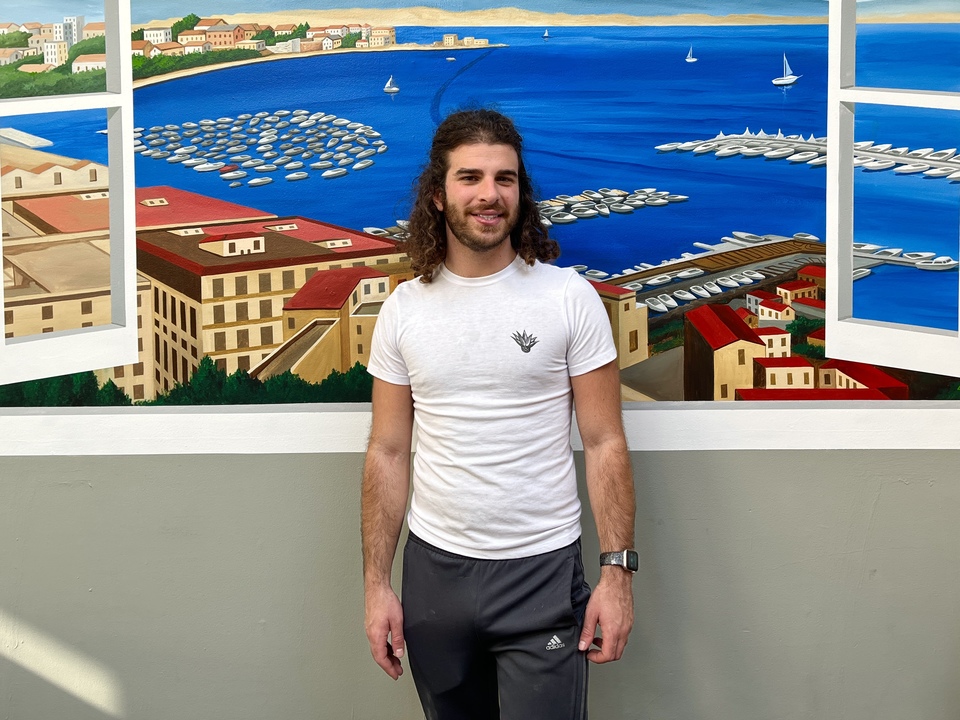 Alessandro Raimondi, co-owner of Vico Cavone. | Photo: Steven Bracco/Hoodline
Born in Naples, Italy, Raimondi tells Hoodline he moved to San Francisco seven years ago. For the past five years, he has worked as a server at Castro Italian restaurant Poesia (4072 18th St.).
"I moved from Italy and until now I had a bumpy life," said Raimondi. "From the beginning, I lost my father when I was 11 years old and that's why the restaurant is called Vico Cavone."
Raimondi explains that he named the restaurant after the street his father was born on in Naples, Vico Cavone.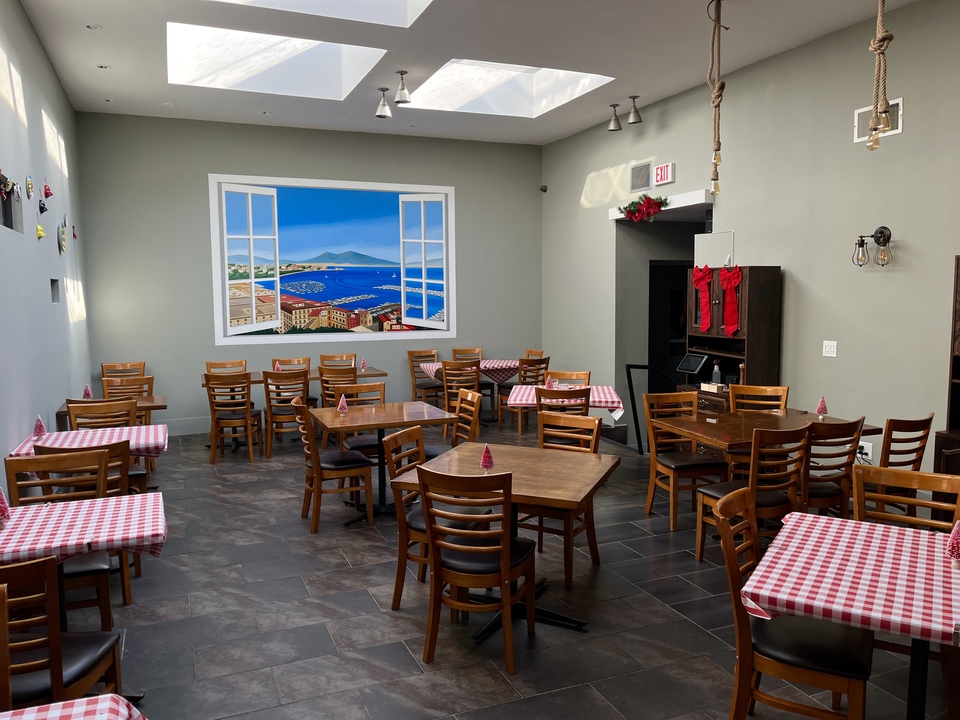 The rear dining room area. | Photo: Steven Bracco/Hoodline
During the soft opening Raimondi says he's received a lot of great feedback from customers. "I've had great feedback from everyone in the neighborhood," said Raimondi.
On Sunday, Raimondi says festivities will begin at 1 p.m. with a ribbon-cutting ceremony followed by speeches, an Italian opera singer, and a drag show performance inspired by Italian movie star Sophia Loren.
Ahead of the grand opening, Raimondi says the restaurant was just approved for its full liquor license this week. The liquor license was transferred from the now-closed Sunset District Italian restaurant Ristorante Marcello (2100 Taraval St.).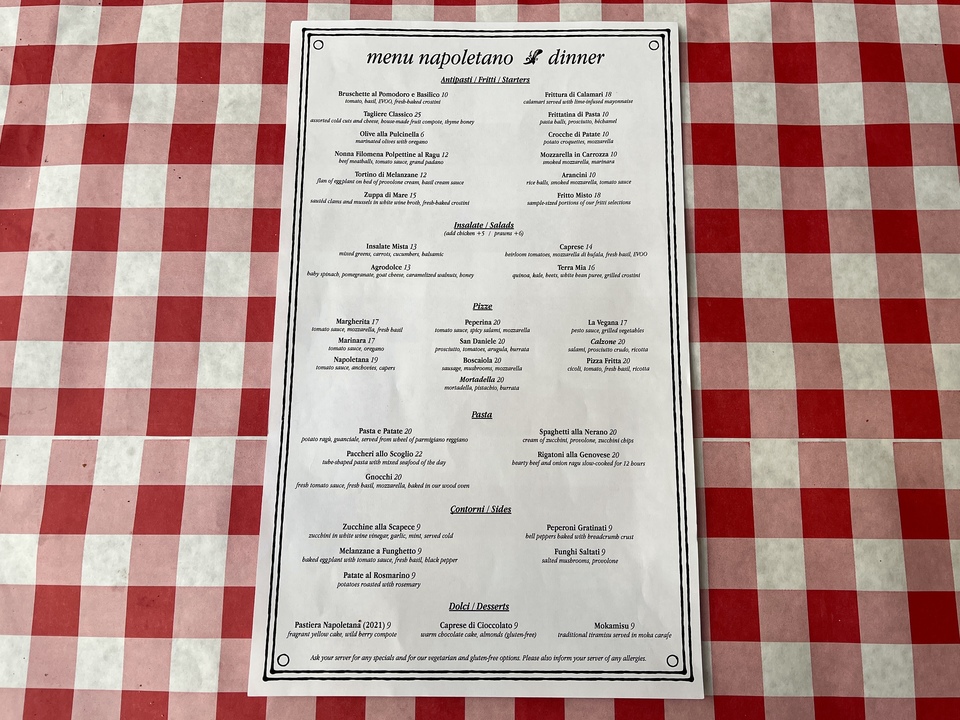 Vico Cavone's dinner menu. | Photo: Steven Bracco/Hoodline
Vico Cavone's menu includes a variety of starters, salads, pizzas, pasta dishes, and sides.
Nonna Filomena Polpettine al Ragu ($12) are meatballs made from Raimondi's grandmother's recipe. "The ragu sauce is cooked for six to eight hours and the meatballs are served on plates my mother sent me from Napoli," said Raimondi.
Pasta e Patate ($20) is a potato ragú served from a wheel of parmigiana regggiano cheese. "It's very typical from Napoli and we end everything in a wheel of cheese," said Raimondi.
Pizza Fritta ($20) includes cicili, tomato, fresh basil and ricotta cheese. "It's a deep-fried calzone," saya Raimondi.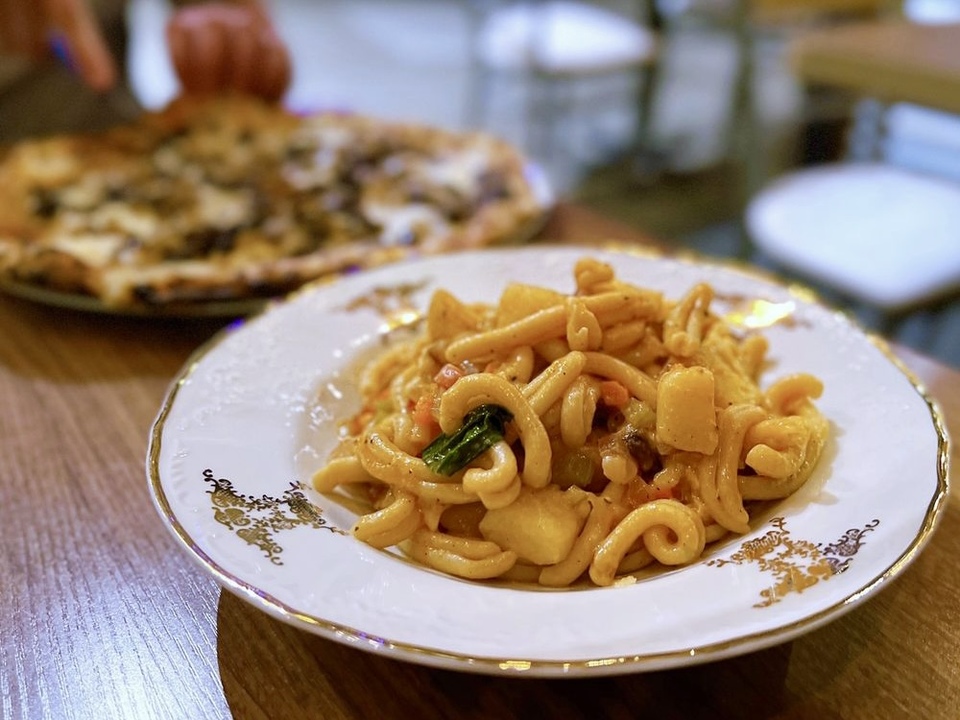 Pasta e Patate. | Photo: Cherylynn N./Yelp

Boscaiola. | Photo: Cherylynn N./Yelp
Rigatoni alla Genovese ($20) is a hearty beef and onion ragú slow-cooked for 12 hours. "When you order this rigatoni it's a cream of beautiful red and white onions," said Raimondi.
To prepare for the opening Raimondi says they spent the first two months cleaning the space. "It was just a mess and really dirty," explained Raimondi.
Raimondi explains that they painted the walls grey in order to give diners the feeling that you're on the streets of Naples. Two murals have also been installed by Italian artist Avo 21.
Walking inside, customers will first be greeted by a large bar that has been installed where a large communal table once stood. Raimondi says the previous table was permanently installed into the concrete and they repurposed it as the base of the bar.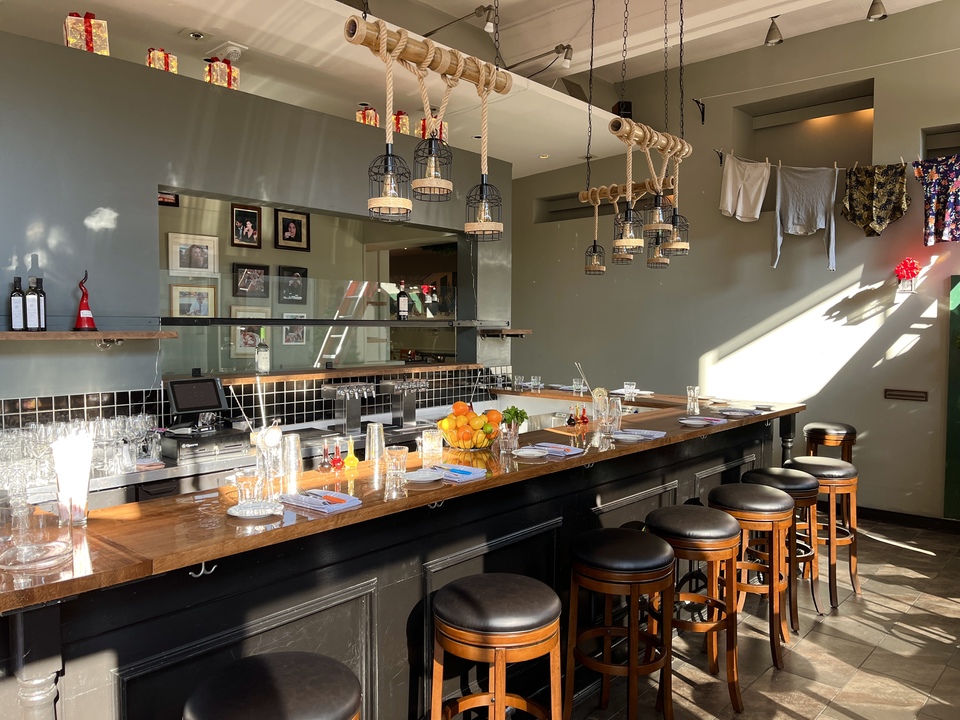 Vico Cavone has installed a bar in the front dining room. | Photo: Steven Bracco/Hoodline
"The bar is the signature of the restaurant because it's by the front door," said Raimondi.
Adorned on the side of the bar are the symbols Asso di Bastoni (Italian for "club") from the Italian card games Scopa and Briscola.
Raimondi tells Hoodline the symbol means strength and hope. "The club inspires my personality to always be strong and hopeful," explained Raimondi.
Inside, customers will also notice a clothesline strung from the wall which Raimondi says is meant to recreate the feeling of a vico (or alley). "A typical vico in Napoli is a narrow alley street lined with house fronts right on the street," says Raimondi. "These homes are very small so residents hang their clothes on lines out their second-floor windows."
Out front, Raimondi has installed a large Shared Spaces platform along with Cafe Tables and Chairs with seating for approximately 35 people to dine outside. Customers will also be able to dine out on the back patio which was previously used by Firewood for storage.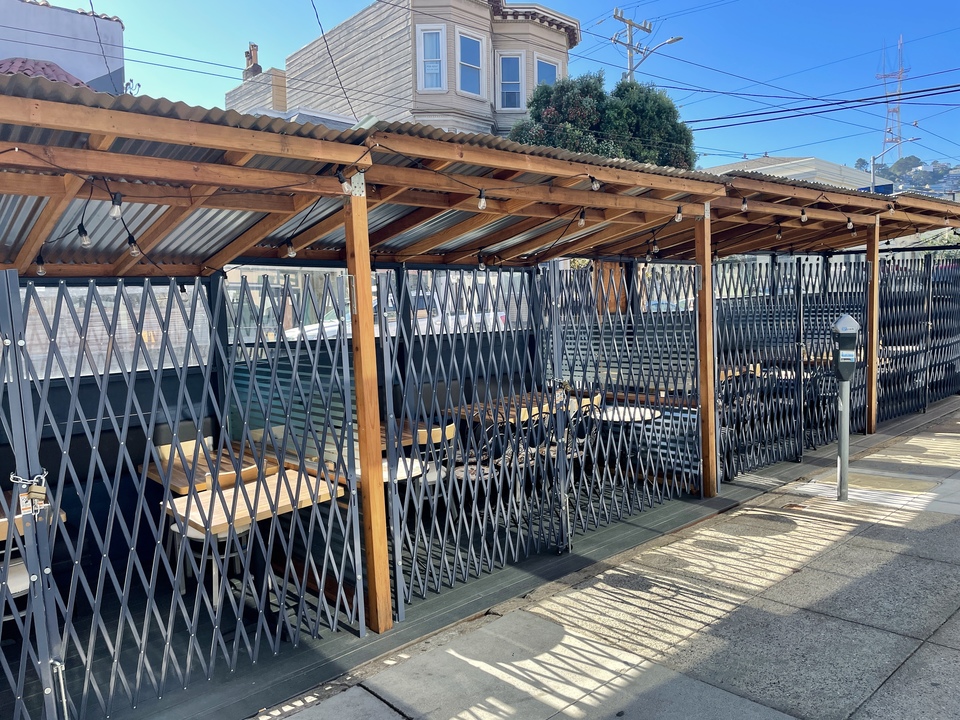 Vico Cavone's Shared Spaces platform. | Photo: Steven Bracco/Hoodline
Combined with the indoor seating and back patio, Raimondi says the restaurant has a capacity for 87 customers.
Additional upgrades improvements were made to the doors, bathrooms, and counter in order to make the restaurant compliant with the Americans with Disabilities Act (ADA).
While the Castro currently has two other Italian restaurants including Poesia and The Sausage Factory, Raimondi says Vico Cavone will fit right in.
"We are so different," said Raimondi. "Poesia does food from Northern Italy and I do food from Southern Italy."
Vico Cavone will be open for lunch Tuesday through Sunday from 11:30 p.m. until 2:30 p.m. and for dinner from 5 p.m. until 10 p.m. on weekdays and until 11 p.m. on the weekend. Brunch will be served on Saturdays and Sundays.