By
Tim Henry
- Published on February 23, 2023.
Santa Cruz County civic leaders have been voting to appoint nominees to the California Coastal Commission behind closed doors, violating a state law that requires such proceedings be public, according to the Santa Cruz Lookout.
For more than two decades, mayors, city managers, and the chair of the county board of supervisors have reportedly been breaking state law by convening private gatherings "to vote on appointments to regional boards and nominations to the highly influential California Coastal Commission [CCC] — the state agency that wields vast authority over planning and land use across California's coastal zone." This is according to documents obtained by Santa Cruz Lookout reporter Christopher Neely, and the county has reportedly admitted to the oversight.
On Tuesday, the City Selection Committee, a group composed of the mayors in Santa Cruz, Watsonville, Capitola and Scotts Valley, said it owed the public an apology following the Lookout's news of the secret meetings to appoint CCC members.
As recently as January 27, the City Selection Committee "met over videoconference to vote on a list of nominations to fill a CCC vacancy. "After Lookout requested details of the nominations meeting and asked why no information was publicly available, [a] county spokesperson called the failure to publicize the Jan. 27 meeting — and all prior meetings — 'an error.'
"Those nominations to the Coastal Commission have since been invalidated on the advice of the county's legal counsel," the spokesperson told Lookout.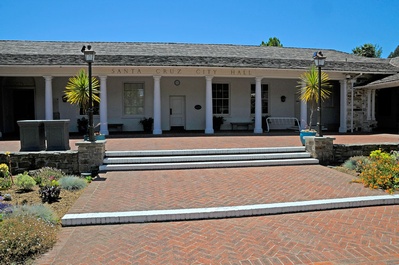 Santa Cruz City Hall. | Photo via LocalWiki

According to state law, the City Selection Committee is an arm of local government, and is therefore mandated in counties with two or more incorporated cities to conduct its business in public, Lookout said. "One legal expert has called the longstanding practice an 'outrageous transparency violation,'" as well as an open violation of the Brown Act, California's open-meetings law.
The City Selection Committee's videoconference on Tuesday was "its first public meeting in more than 20 years," according to the Lookout, and "voted to advance Capitola City Councilmember Yvette Brooks as its sole nominee to fill a vacancy on the [CCC]. The City Selection Committee had originally nominated Brooks, County Board of Supervisors Chair Zach Friend, and Santa Cruz Mayor Fred Keeley during the private January 27 meeting "However, the nominations were invalidated because the meeting was deemed illegal."
During the Tuesday revote, the committee did not renominate Friend to the CCC, and Keeley his nomination. "Keeley, who appeared visibly upset throughout the meeting, said it was 'stunning' that the committee had been operating outside of the law for so long. He said the committee owed the public 'a very big apology.'"