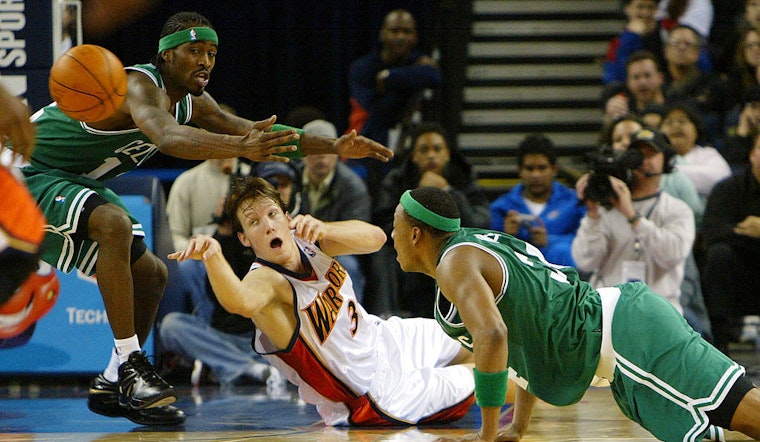 Published on May 30, 2023
Longtime Golden State Warriors president and general manager Bob Myers has officially stepped away from the franchise, announcing his departure and sparking discussions about a potential successor (ESPN). Among the names cropping up is that of Mike Dunleavy Jr., the current VP of basketball operations for the Warriors, who is expected to take on a more prominent role in the organization following Myers' exit.
Dunleavy, 42, has been with the Warriors since 2018, joining as a scout and later taking on assistant general manager duties in 2019 before being promoted to his current role in 2021 (The Spun). His name has been trending across social media platforms since the news broke, with fans and industry experts alike weighing in on the potential effects of his possible appointment as the new general manager.
Several reports suggest that Dunleavy may have been groomed for succession, with the earliest signs pointing back to summer 2019 when he and Myers worked together on Warriors post-Kevin Durant moves (Tim Kawakami). But according to Bleacher Report, other potential internal candidates include Kent Lacob, executive VP of basketball operations and the son of Warriors governor Joe Lacob, as well as former Warriors guard Shaun Livingston.
Earliest sign that Dunleavy was the heir apparent came back in the summer of 2019, when he and Myers (after Myers had a goodbye meeting with Durant) hunkered down in a NY hotel room and ran the Warriors' frantic moves on the first day and night of the post-Durant era.

— Tim Kawakami (@timkawakami) May 30, 2023
Many are curious about what a Dunleavy-led Warriors team might look like, with some voicing concerns about his eagerness to prove himself potentially resulting in hasty blockbuster moves that may backfire in the long term. On the other hand, supporters highlight his role in drafting Jordan Poole, which has been considered a success.
With the Warriors coming off a second-round playoff exit, the organization faces significant decisions surrounding the futures of key players Draymond Green and Klay Thompson. Facing a potential payroll and luxury tax bill nearing a historic $500 million in 2023-2024, a change in management could have far-reaching effects on the franchise's future moves and player retention.
It remains to be seen if Dunleavy will indeed assume the role of general manager, a position that could prove challenging given the team's current situation and need for strategically navigating crucial decisions that will shape its future. However, as the son of former NBA player and coach Mike Dunleavy Sr., Dunleavy Jr. boasts a robust basketball pedigree and brings experience from his 15-year NBA playing career.
While there is no official confirmation or announcement regarding Dunleavy's potential appointment as general manager, fans and industry insiders alike are watching with interest, speculating on what changes and moves may come with the so-called "Dunleavy era".